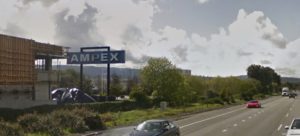 REDWOOD CITY, Calif. – A group in Redwood City, Calif. failed to save a landmark sign that was the marker for the headquarters of Ampex, the nation's pioneer maker of audio and video recorders.
Through the latter part of the 20th century, the word Ampex was synonymous with technology leadership and high quality recordings of music and television; they leveraged that professional brand into a consumer brand.
The company also began the nexus of Silicon Valley/Hollywood capital; the analog technology that was needed for the industry found a ready supporter in the innovative technology companies of Northern California. Companies mentioned in a local Burlingame Voice news site include Varian, Dalmo-Victor, Farinon and Lenkurt. Early 20th century pioneers like Palo Alto's Federal Telegraph, later part of ITT and maker of Kolster radios, came decades before.
Fast Company writer Harry McCracken wrote a great piece on the why of the sign's preservation; the frustrating thing about it is that the sign took up so little space, and so much of the other Ampex history is just that, history, saved in museums, and clearly identified. Writes McCracken:
"In a horrifying act of cultural shortsightedness, however, the Ampex sign is coming down. Stanford University, whose Stanford Health Care now occupies the land around the sign, has decided to dismantle it as it continues to develop the property."
The name Ampex derives from the name of technology pioneer, the Russian emigre Alexander M. Poniatoff, who called the company Alexander M. Poniatoff Excellence, or Ampex.
Shame on you Stanford.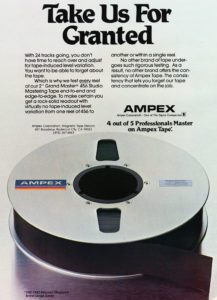 Ampex is still a well-known name, and it has a cachet that could be of value today if the successor Ampex company were ambitious. Perhaps it might even be a good takeover target for Adobe Systems (NASDAQ: ADBE) Even as late as the 1980s, they advertised their Grand Master cassettes in the early 1980s as being the Tape of the Stars, first at the behest of Bing Crosby.
The company is still around, but went bankrupt in 2014 and has reorganized. Thankfully, they have preserved their name, though it is little relation to the company that was before. The company would do well to re-latch onto this legacy, figure out a way to restore the sign somewhere around their neck of California, begin being a pioneer again.
Local sign extravaganzas are always key local landmarks, even as city planning and preservation boards do not know how to preserve them, and often fail. Frequently, the public is ahead of the bureaucrats, as these signs truly help locals direct themselves around town, and also mark important parts of history.
The frustrating part of the story, in addition to the removal of the sign, is that the history is still there, and it may well one day require a historic sign marker.
There is, according to McCracken, a need to find a permanent home for the sign, pointing up the need for a national group that will help protect commercial and brand history.
<script async src="//pagead2.googlesyndication.com/pagead/js/adsbygoogle.js"></script>
<ins class="adsbygoogle"
     style="display:block"
     data-ad-format="autorelaxed"
     data-ad-client="ca-pub-8293839430379338"
     data-ad-slot="5197403162"></ins>
<script>
     (adsbygoogle = window.adsbygoogle || []).push({});
</script>