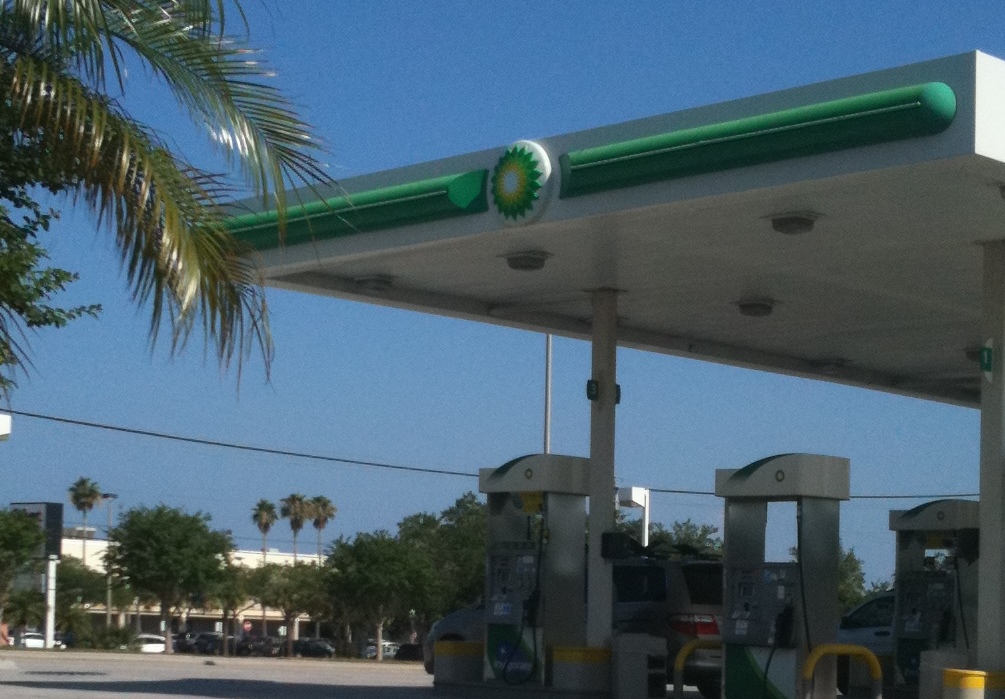 The news that BP stations are suffering under a growing boycott threat is natural and understandable. Consumers are frustrated with the federal government and Obama's response. They will have to wait until November to vote. So a boycott threat is really the only thing they can do. Better than throwing black paint on the signs, which happened in NY.
And it is consumers' perfect right to boycott. After all, while the stations did not cause the spill, the stations are paying franchise fees to BP. However small compared to BP's overall revenue, it is money, and I am not going to criticize consumers for doing what is their right.
That being said, I can't do that to the fellow on our corner; I know how I would feel if I had that sign on my station, and had to write royalty checks to BP every month. He's caught in the mess just as much as the fisherman who has to shut down his boat and draw a check from BP. Not that my little gas matters that much.
So what's a solution? First, let's look at what we can find out from the 2009 Annual Report about BP's franchisees.
First, BP in 2009 took 10,000 off the payroll by ridding itself of company owned stores. That was nearly 1/10th of the payroll. Sad, I am sure because I am sure BP benefits were pretty good compared to the local guy who owns the convenience store.
BP has over 22,000 retail franchises around the world, with 11,500 in the U.S., down slightly in 2009.
These are not all franchisees; they are in different categories such as dealers, jobbers, franchisees or brand licensees that operate under one of the many BP brands. I like the fact that BP still has "jobbers."
In the UK, they are growing the business with partnerships such as one with Marks & Spencer, and in the U.S. emphasis is put on their portfolio of brands.
Conclusion: The mess at the top of BP is going to cause a lot of small retailers a lot of trouble if the hole doesn't get plugged.
So what's the money picture on this?
I don't have the exact franchise fee revenue for BP (if you can find it on their site or filings, please leave a comment). But we can figure much out through what it costs to purchase a franchise. Some online sources such as Franchise Mall have the initial franchise fee of an am/pm station (that's one of BP's brands) at $70,000, with a Royalty Fee: 5-6 percent royalty fee and a 20-year franchise agreement. Other details from BP's U.K. operations show these elements are part of BP contracts.

Separate fuel supply agreement

Up-front franchise fee


Dealer pays an ongoing royalty fee based on shop and car wash turnover.
There is only one solution.
If BP is to save its brand and its station network, it must release its stations from their contracts until the spill is cleaned up, and offer to release them from the contracts in general. That would do two things. First, it would enable the stores to survive this period of consumer anger. And secondly, it would help the stores that are obviously suffering. Consumers could go to a BP and know that none of the money they are spending will go to into the pockets of BP, at least until the spill is done. When the spill is done, they can revisit.
I am not an attorney at franchise law, but I would hope, if BP is not so generous as to give its stations a temporary "out", then there are some state laws that give franchises some sort of leverage when consumers begin to boycott you and throw paint on your signs because of  your brand. In show biz, it's a morals clause, but we guess in the case of BP, they wrote the contract and the morals clause only applies one way.
Now, the rational person could argue all sorts of things about this; that it is pittance, that it won't do much good, that the stations signed a contract, and that BP will need as much revenue as it can for cleanup. That is true, but we are in a time with this spill that all bets are off.
I do think BP needs to be mercenary and practical about this. They need to ensure that they have a dealer network after this debacle is passed. So a few months of lost franchise revenue might be a small price to pay for preserving that network.