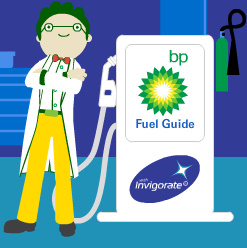 When companies merge, they are always equals, but one brand always gets dumped. That's exactly what has happened with Amoco, which finally got dumped by BP.
In the U.S. gasoline market, Amoco stood for something different, a FAST approach to fuel. Amoco, with its torch and red white and blue, was the speediest of the Standard Oil spinoffs. BP, once British Petroleum and now just BP, merged with Amoco in 1998. For the last 10 years, the Amoco brand appeared on BP stations in the U.S., as tiny little signs on gas pumps and on signage. We guess that was good of BP to keep the brand around as long as it did.
Well, in the last few months, the Amoco has gone. And what has taken its place? A new brand called Invigorate. It appears on signage at the pump where Amoco used to be, and is supposed to indicate that the BP brand is better than regular old gasoline. As a newly created brand, its not too bad, and it has a whole technology spin to it that makes it interesting. But why is it better than Amoco? (Note, there still is a mention of Amoco Ultimate, but you have to find it by searching.)
Invigorate comes with a bunch of dumb branding activities, including getting the "young crowd" (that's our quotes), to do stuff like skateboard and rock climb at various gas stations. Frankly, the "young crowd" that I see driving around would rather be pimping up old 1970s cars and burning lots of toxic leaded Amoco gas as they drive to tattoo parlors, but that's just my humble opinion. My 22-year-old neighbors are restoring a 1968 Galaxie, and aren't interested in doing rock climbing at the same place they buy their Mountain Dew and Swisher Sweets.
Amoco is really gone. When you go on the BP site, they mention all of the BP family of brands, including ARCO, Aral, Castrol and AMPM, but not Amoco. At least Exxon has had the decency to keep Mobil and Chevron the decency to keep Texaco.
Amoco should survive as a sub-brand of BP. Finding a new use for the Amoco brand would not only protect the intellectual property of BP, which can be lost if not used, but also provide for new areas where the brand could create value and identity.
Amoco could survive a number of ways, including:
As an off-brand of service station
As a fuel additive
As a niche fuel; for years Amoco was known for natural gas. Perhaps BP might use Amoco as a way to brand the un-branded natural gas sold by local utilities?
As a division of BP concerned with alternative technology, and nothing to do with gas
As a specialty service station brand
As a specialized franchised chain of car repair shops.
Through the years, the Amoco brand was not only associated with gasoline and fast cars but all sorts of petroleum products; ergo BP could even sell solar panels or plastics under the Amoco name.
Just some thoughts. But whatever you do, don't lose that valuable Amoco name to disuse. It's worth ALOT.