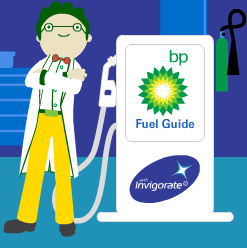 CHICAGO – Seven years ago, I proposed on Seeking Alpha that BP, formerly British Persia and British Petroleum and now just BP, bring back the Amoco brand as an option for franchisees. This was during the BP oil spill fiasco, which was, at the time, a big mess.
They just did it. Here's the quote from BP:
"The reintroduction of the historic Amoco brand is an exciting step forward in BP's U.S. retail growth strategy, and it clearly demonstrates our commitment to helping our branded marketers grow their businesses," said Rick Altizer, senior vice president of sales and marketing for BP Fuels North America.
BP consumer research found that the Amoco brand still resonates with many American consumers, and that both it and the BP brand appeal to similar audiences. In light of the findings, the two brands will share a similar marketing strategy, leveraging the strengths of BP's programs and the familiarity of the Amoco brand.
This is a very smart move, and long overdue. It is a good move that they have done it now, rather than as a defensive move because of the public relations issues with the oil spill, which is long since resolved and in some cases, forgotten.
The move will allow dealers to have differently branded stations close to each other and not seem to be repetitive.
As they implement this move, they ought to do a number of things for the BP brand. These might include re-emphasizing the BP brand in certain areas of the country. For instance, Florida is home to literally hundreds of thousands of British from the United Kingdom, Commonwealth countries and former colonies that had a positive view of BP. This would work also in the mid-Atlantic and D.C. area, which is highly international. Across the U.S., there are millions of multicultural Commonwealth citizens from Australia, New Zealand, India, Pakistan, Nigeria, South Africa, Canada and dozens of other places, and they all know the BP brand. This would help to differentiate BP from Amoco, and create a new market.
To emphasize this change, they could bring back the old BP shield design as a consumer brand, and embrace the idea of British Petroleum rather than being "beyond petroleum" as some marketing defines the company now. BP stations in Florida might actually connect with things British and Commonwealth, including food and beer. Remember. The first international show proposed by Netflix was about Queen Elizabeth, and it was a hit amongst every demographic and age and country. This does not necessarily mean cutesy giveaway wedding plates with Meghan Markle and Prince Harry, thought that might be interesting and highly amusing. This would recall the old gas station practice of giving away promotional glasses to kids.
It might instead mean support for Invictus games, giveaways and partnerships with Land Rover, Mini and Jaguar, and beer promotions with Newcastle, Guinness and the like. It also might mean the promotion of products related to Commonwealth British culture, which includes Arab and Indian brands, and U.K. soccer teams.
The company said it will have parallel marketing thrusts for the BP and Amoco brands. That might be a mistake. There is a slightly different feel to the brands. The Amoco brand was more about high octane fuel, and performance. There was a decidedly muscular feel to the brand, which carried a torch. Perhaps instead of marketing each brand as a convenience store, doing what is basically badge engineering, they might re-establish actual service stations with one of the brands like Amoco, so that the actual fixing of cars is associated with the brand.
Part of the issue with convenience stores owned by gas stations is that gas people, while good at getting energy out of the ground, are not good at marketing food. They are awful at it. Thus, companies like 7-Eleven developed in the '70s and now Wawa has eclipsed them in customer service. The gas is an afterthought, and the gas companies never properly supervise their franchisees. The bathrooms get dirty, the beer signs clutter up the windows, and the counters get filled with display racks of nasty cheap Swisher Sweet cigarillos. As my daughter says, the stations look "sus" as in suspect, and they do not appeal to a female consumer. This is the situation with many BP stations.
One important item. The Amoco brand never actually fully went away. It appeared on on pumps even after Amoco stations were branded BP. They used the Amoco brand as a product brand, thereby keeping the brand alive. Companies that drop iconic brands like Amoco need to institutionalize this practice, so that when times and business styles change, they can adapt.