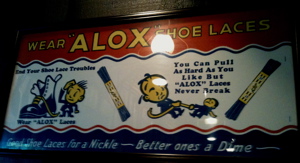 St. LOUIS – The walls of Cracker Barrel always have amusing signs, all real.
One brand we saw along at one on I-95 in South Carolina were Alox Shoe Laces.
Alox was founded by John Frier (1895-1974), who in 1919 invented a new way to make shoelaces by crimping a shoelace with a bit of metal. Frier later made kites and marbles (Wilder American Flyer brand), but was known for his laces. Their slogan was "Good Shoe Laces for a Nickle; Better ones a Dime."
Apparently, with Alox you could: "pull as hard as you like but Alox laces never break."
Today, there are but a few shoe care brands. Perhaps the only well-known shoe care brand is Kiwi; an upstart is Penguin. Another is Collonil; yet another is Meltonian. As far as we know, there is no more Alox.