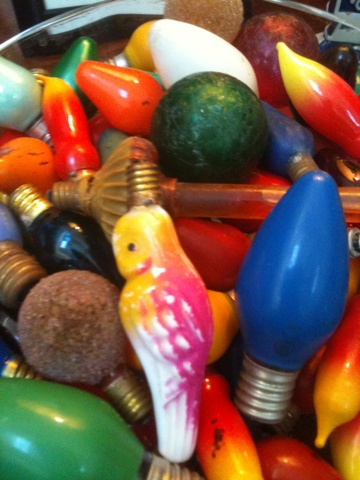 For those who like a traditional looking Christmas, there is no substitute to light from incandescent C-7 and C-9 light bulb, and no name more synonymous with Christmas lights than General Electric.
One can make the case that the outdoor Christmas light has been one of the greater (and most surreptitious) of methods of evangelism in the 20th century. Imagine something so flashy, so gaudy, so overt, that at the same time can allow the person installing the strand to publicly declare to his neighbors the excitement over the arrival of the Messiah.
Today, these incandescent bulbs are mostly used outside, as they give a glow to building. But some do use them inside; their only drawback is that they can get really hot, and should not leave them unattended.
The C-7 light is basically a candelabra-sized light bulb; the C-9 is the larger socket. General Electric was the pioneer in developing Christmas lights.
Sadly, General Electric left the Christmas business in 2000; however the brand lives on with the company Santa's Best Craft, a collaboration of HS Craft Manufacturing Company of Taipei, Taiwan and Santa's Best of Riverwoods, Illinois. They license the GE name for the current product lineup.
In the General Electric history A Century of Light, GE's innovations in developing the idea of Christmas lights are detailed. I am grateful to former GE Lighting staffer Ira Applegate for my understanding of the importance of GE's Christmas history, and to Jan Stevens, a retired GE Lighting employee, who gave me her copies of GE history books.
1915: GE is producing a number of decorative light bulbs, in different shapes that inlcude snowmen, Santa, birds, acorns, fruit and flowers.
1920s: The Paste and Paint department of GE, all of six employees, were making color coatings for Christmas tree lamps.
1934: GE offers multiple Xmas tree lights. This meant that if one goes out, the whole strand does not go out! Sadly, with cheap strings today, this is not always the case.
1940s: After trauma of WWII, Japanese begin to steal market share with imported lights.
1950s: Glass for Christmas lights were made by the GE Lamp Glass Products Department.
1962: GE, under leadership of Robert D. Corning, launches all-out effort to produce complete string sets and decorations for the Christmas Market. This leads to GE selling the Merry Midget string sets of small lights, which were sourced in Asia, but sold under the GE brand.
1973: President Nixon, playing the role of a real Grinch, on Nov. 23, 1973, asks Americans to dim their Christmas lights as a way to conserve energy, even though so much electricity is generated by nuclear, coal and hydro-electric plants. Can you imagine how this nasty little proclamation gave comfort to those in the Arab world? General Electric has $30 million worth of Christmas and string sets on the shelves, and $20 million is returned! It would take five years for the Christmas lamp volume to return to normal.
1977: GE's Merry Midgets begin to expand into all sorts of designs, including Tiara lights and Tinsel lights.
Below, some current Christmas light offerings from Amazon; many now are LED, and come in dozens of different styles. For original lighting, one will have to go to Ebay.