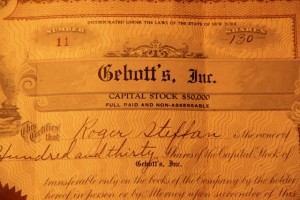 NEW YORK – BrandlandUSA reader Michael Gonzalez wants help from BrandlandUSA readers on an old New York brand name, Gebott's. He has a stock certificate from the company, and would like to get it back to a descendant of the owner, a certain Roger Steffan. The certificate is dated Sept. 1, 1921.
We did some searching and found out that there was a Gebott's in Brooklyn, which was a bakery company that sold nationally. We found a mention in a 1920s paper of a product called GeBott's Original Kream Frydkakes, and we wonder what else the company made, and whether the company was merged into another company, or just shut down.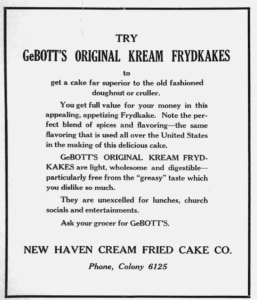 Writes Gonzalez:
Five years ago, I did some renovation work which included demolishing walls in an apt. in New York City, and I found this box containing coins, stamps, etc… I also found (2) stock notes for a company called "Gebott's Inc" and it was dated in 1921 and 1930.

I tried to Google the name of the person on the stock notes to see if I may be able to return it to the family, but I wasn't able to find anything, I am intrigued in knowing more about the company history and what exactly should I do with these artifacts being that I've had them for going on 6 years.
If readers have any information on the company, please add it below.