BROOKLYN – First the Dodgers and now this?
If you grew up in Brooklyn or the Northeast, you know of Drake's and their Yodels, Funny Bones, Coffee Cakes, Yankee Doodles and Ring Dings.
This week, we found that a package of Drake's Devil Dogs were sold with the Drake's duck on the box. But just below it, they have added the Hostess logo. The complete package now says Drake's by Hostess. Recently, Hostess also added its name to the Merita Sweet Sixteen doughnut packages, also a bad idea. Unluckily for Merita, the Merita name disappeared. So now they are Hostess Sweet Sixteen. And that makes us worried for the future of Drake's, which is owned by Interstate Bakeries Corporation (Ticker is IBCIQ.PK for their common stock) , which is in receivership. We hope that they know that one of their chief assets is their intellectual property, and not just Twinkies and Hostess, but Drake's and Merita, among many others.
Please keep the Drake's name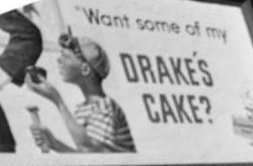 Hostess products are different than Drake's, and confusing the two is not helpful. Hostess is very middle America, with its Twinkies, Ho Hos and Cupcakes. Drake's is urban. In fact, Drake's products are less sweet than Hostess, and have a more European taste. For instance, a Devil Dog is perfect with coffee.Twinkies are not.
We did a bit of digging on the history of Drake's. The name appears in an old photo of a horse-pulled delivery cart in Arthur Schwartz' seminal book, New York Food. Then, the company was called Drake's Cake, and was made by Drake Brothers Co. at 1006 Wallabout Market, Brooklyn. The official site www.drakescakes.com says that the company was started by Newman E. Drake who baked his first pound cake in Brooklyn in 1888 and sold them by the slice.
We guess that Interstate Brands, because its general office is in Kansas City, doesn't have a good sense of them as a New York icon, and have misunderstood the importance of Yodels, and its Brooklyn heritage. If the Hostess name needs to be on the box, it should be hidden, or on the back. Being on the front does not help it, and instead confuses the customer.
While looking at the Drake's history, we researched other Brooklyn and Queens bakery brands. Cake brands associated with Brooklyn (and neighboring suburbs) include:
Entenmanns started off as a delivery company and began selling to supermarkets after World War II and became a national brand.
Cushman's was a city-wide bakery known for its deliveries. Online at recipelink.com, a number of people are searching for the recipe for their marigold cupcakes. Apparently these cupcakes were shaped like a pyramid with the top lopped off. Roadfood.com says that Cushman's competed with another bakery, Dugan's.
Dugan's was an Irish bakery, and a competitor to Krug's.
Pechter's (Pector's) was also a bakery brand. Today, there is Pechter's Rye. It is in New Jersey, but we assume it was the same company.
Ebinger's had retail stores in Brooklyn and Queens, and had a main bakery in Flatbus on Bedford Avenue. It was German, with German accented clerks, and closed apprently in 1972. S0me of its recipes are online (at Uncle Phaedrus Consulting Decective and Finder of Lost Recipes) including their Blackout Cake, Orange Cappucino Pudding Cake and Ebinger's Orange Glazed Layer Cake with Orange Butter Filling.
Any help readers could give us in sorting out these brands would be VERY helpful. Meanwhile, if you think Drake's needs to stay Drake's, go to the page called drakescakes.com and click on the address to send your email to Interstate Brands Corporation.