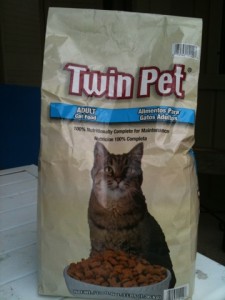 The nation once had many regional pet food brands. In my native Northern Neck, we had Huff n Puff, which was a cat food made in Reedville from the waste from that town's menhaden haulers.
Another familiar brand is Twin Pet, which still survives as a discount brand at Wal-Mart. Made by Simmons Pet Food of Siloam Springs, Arkansas, it includes canned and dry dog and cat food. I seem to recall the company sponsoring some sort of regional TV shows like Hee Haw; their ads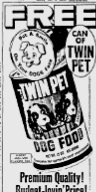 seemed to run with slides and voice-overs at the end of programs, rather than commercials.
According to the U.S. Patent and Trademark office, the Twin Pet brand dates from 1954; oddly when you run a search on the brand in their database, the registration shows up as dead, though the product is obviously very much alive. It was always sold as a discount brand, a market segment it still claims.