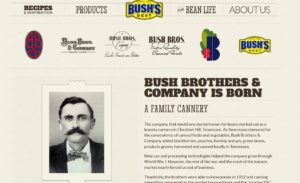 Chestnut Hill, Tenn. – If one wants to see the perfect template for promoting a consumer product brand, steal a few ideas from Bush Brothers & Company, makers of Bush's Best beans. The brand, founded in 1908, is still family owned, with offices and plant in East Tennessee. The brand takes every aspect of its story, and tries to connect with customers.

The company first offered pork and beans for the first time in 1934. During the depression, it was an inexpensive, filling food, and it was perfect for troops during World War II, when so much of the food production of the U.S. went to the war effort. They developed baked beans in 1969.
Bush's, like so many other canned goods brands, descends from a regional, independent cannery. In the early 20th century, every region in the U.S. had a local cannery. Whatever grew in an area was canned in an area. The Steinbeck novel Cannery Row was named after the sardine canneries along one waterfront street in San Francisco.
Canning is not a particularly difficult process, but with OSHA rules and grocery firm consolidation, most of these canneries disappeared during the latter decades of the 20th century. Another difficulty was the consolidation of farms, and the commodity approach to food. With fewer and larger farms, and factory like agriculture, there was less seasonal produce to package. For instance, Bush's originally canned what was nearby, and offered blackberries, peaches, hominy, and green beans.
The company evolved with the times, and that history is shared on their website and in a company store. In 2010, the company made a major commitment to the brand, re-opening the family's A.J. Bush General Store. It offers a history exhibit, store, theater and adjacent cafe.
Here are the eight things to consider that apply to other brands:
Regional Identity: The company is located where it began, and has ties to the community. The consumer also feels that connection, and trusts a product that is made in its original location, or a new location with identity. This is a problem with many brands that are sold to large consumer products companies; their identity gets lost when the production moves, and the brand becomes just another product. HP Sauce moved from England, and the Scottish brand Johnnie Walker Red moved from its hometown of Kilmarnock, Scotland. Even Lenox moved from New Jersey, also a disaster. Mrs. Fearnow's was ruined, as well, when it moved from Mechanicsville, Virginia. One trusts beans that are canned and cooked in a place like Tennessee.
Retail Offering: The company has a direct to consumer connection. A grocery brand, of course, will sell all of its products in grocery store. But having some sort of operation to sell things directly allows the company a touch-point with consumers. Even if such a retail operation merely breaks even, and seems difficult, think of it as getting your market research free. That they had a family store to re-open gave them the perfect opening. Tennessee is also the home of Cracker Barrel, which understands the intersection of retail and food.
Single Brand Companies Can Compete: There is a myth that if a company is independent, it cannot compete for grocery market shelf space and market share. Bush's shows how to do it. That is not to say that is easy for small brands, only that it can be done. Bush's had 100 years to do it, so perhaps it is an exception that proves the rule of how difficult it is.
Tourism: Most large brands need to have a tourist component. Some place connected to the brand where people can go. It just so happens that Sevierville, Tenn. is a big tourist destination. Also, Tennessee and Kentucky whisky brands are used to having a tourism component. So this is not an unfamiliar idiom.
Inefficiency: We are not saying that Bush's is inefficient. It is very efficient. But compared to a brand at a large consumer products company, where things like advertising, payroll and warehousing are shared among brands, Bush's has extra costs. But this is balanced by the fact that it has a large team behind the brand, all with a stake in the brand. If you need any evidence on this, read the comments on ConAgra's Ranch Style Beans.
Archive: Any company, and particularly a packaged food company, needs to keep its archives somewhere. While recipes can stay secret, collect as much of your history as possible, and present it to the public.
Snazzy Website: The Bush's website is easy to read, snazzy looking, and very helpful. It gives the brand personality. Even large consumer products companies could look at Bush's as an example of what to do.
Company Leaders Out Front: Bush's promotions feature the people who run the company. Seeing the person who runs the company inspires confidence in the product. You can get a sense of what the company is like by seeing what sort of people run it. Large conglomerates hide their staffs, and make their products generic. That is a wrong approach; people trust other people but they do not trust companies.