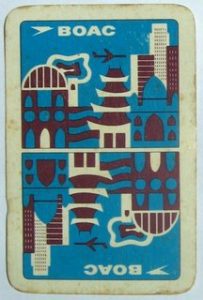 A recent campaign by British Airways points up exactly what United, Delta and American are missing in their approach to airline branding. Namely, a sense of history and drama.
BA's Brand Engagement Head Abi Comber, in an interview posted on YouTube, says the campaign is all about what BA stands for as a business.
The venerable airline has taken a bold move to brand itself as the world's most experienced. Its new campaign centered around "To Fly, To Serve" shows a narrative of British Airways, and its predecessor companies such as BOAC, BEA and Imperial Airways. The film is directed by Frederic Planchon; the flight director is Simon O'Connell.
British Costume Drama
There is great CGI work on the film, including animations of a Concorde flying alongside a VC-10. Each plane has been filmed with costumed passengers and staff.
This campaign is running not only on Facebook and other social media channels, but it is on major news networks as well. The big push comes as American Airlines is rumored to be running short of cash, and Delta and JetBlue, USAirways and Southwest all have stock prices less than $10 a share.
BA is now part of IAG, which now includes Iberia. Each airline is to be branded separately as a nationalistic flag carrier, but then is part of a larger whole. The intent is to add other airlines to the group.