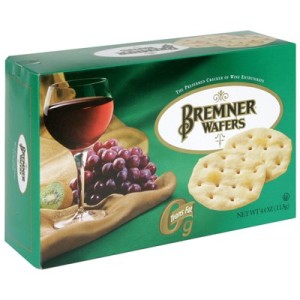 DENVER – One of the great cracker brands, still independent, is Bremner. They are classic cocktail party crackers, and none better.
Of course, Mr. Bremner said that himself in 1890.
"We acknowledge no superior in the quality of our goods and fear no competitors on that score."
– D.F. Bremner Baking Company
January 17, 1890
The company dates from the 19th Century, and was founded the year the Civil War ended by David F. Bremner, who operated a bread bakery in Cairo, Illinois.
The company remained in Chicago until 1984 when the Bremner family moved the operation to Denver, Colorado. Today, the Bremner Biscuit Company makes about six varieties of crackers, but the original wafers are the best.
They are proof that regional, independent food companies do not need to be part of a conglomerate.
Below, the brand on Amazon.