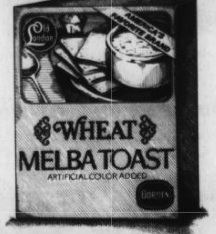 One of the genius Partridge Family episodes was when Shirley Partridge met up with a millionare man who had made a fortune in Melba toast. Lucky for us, you can read about the episode, which starred John Astin, on IMDB. Forever and forever, Melba toast has been amusing. I think at one time in the show, Danny just said "Melba Toast!"
And there is no melba toast brand more amusing than the best known Melba brand, Old London, a brand that appeared in a recent Mad Men episode.
Old London Melba is about 70 years old; at right a box from the early 1980s when it was owned by Borden. In the 1950s, it was made by the New York-based King Kone Corp, the company that made the Old London Cheesewich. In 1960, King Kone became Old London Foods. Today, the company is part of Nonni's Foods.
Back then, Melba was sold as the solution to being fat. Today, it's just another dried bread.
It does, however, go into the WASP cocktail pantheon of consumer foods. Here are our top seven WASP cocktail foods. Actually, one might be able to live on this, at least for awhile.
Old London Melba Rounds, served with something very wet
Pepperidge Farm Goldfish (the cheddar ones in the small bags are best)
Rubschlager Cocktail Breads (the little dry rye breads and such)
Triscuits (yes, some WASP people dare), and Ritz.
Bremner Wafers, those great white crackers in the classic green tins.
Blue Diamond Salted Almonds
Braswell's Red Pepper Jelly and Kraft's Philadelphia Cream Cheese