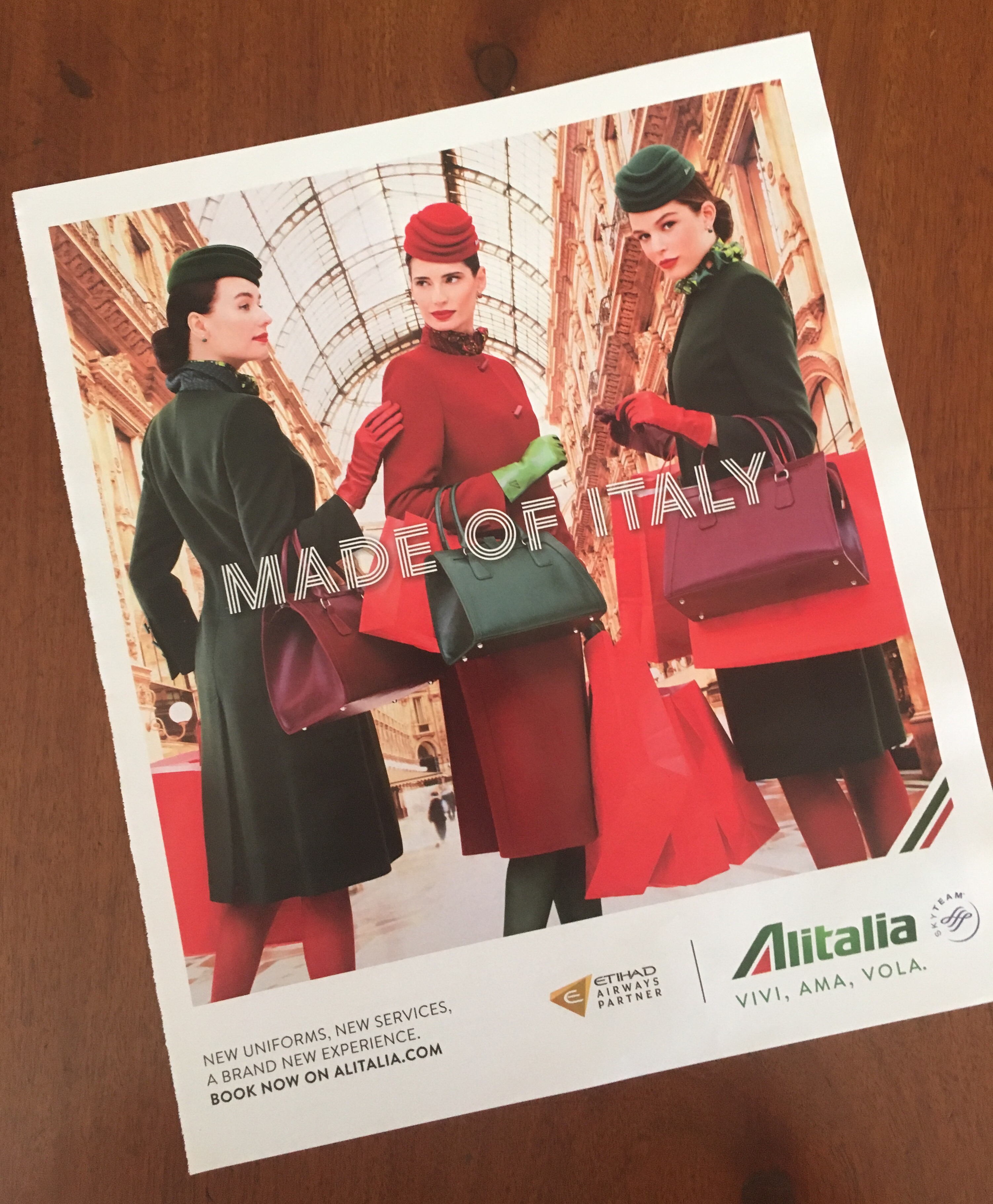 Uniforms are the original way to rebrand an institution. From Roman soldiers to Olympic athletes, clothes make the man. And the woman. And the institution.
Alitalia figured this out in a stylish rebranding. Late this spring, the national airline of Italy unveiled a new branding campaign with its central identity created by the fashion designer Ettore Bilotta.
The uniforms are made to reflect Italy, not only showing a fashion identity reminiscent of an early 1960s romantic Italian movie, but showing Italian craftsmanship. They are a throwback, with gloves, hats and formal wool jackets.
The reason for the branding is obviously to sell more seats; the undercurrent financial issue is that Alitalia's minority partner, Eithad Airways, is trying to return the legacy airline to profitability after Air France-KLM refused to invest more in the airline's losses. The fashion aspect is critical as Alitalia is in a fierce battle with Emirates for traffic from Italy to the U.S. It bears noting that investment from an Arab company is supporting a revived version of Italian identity.
The hats are an appropriate addition; it fits with Italy, as from the days of the earliest Christians, women wore hats in formal occasions. It also should not be forgotten that the hats, so appropriate in a formal setting as the home of the Roman church, make the airline more presentable in forward-thinking Arab countries without being offensive to Westerners. For instance, airlines like Royal Jordanian have their female attendants wearing hats in public. Its a very sensible and unifying place to be, fashion wise.
That U.S. airlines have ignored fashion in recent decades is due to the small mindedness of American carriers and other discount carriers, who have made flying the lowest common denominator experience that it has become. While Delta, United and American have made some steps to create a more fashion-forward image, U.S. airlines are still sold on price, creating a sort of Aeroflot feel for legacy carriers.
The 2016 Alitalia designs are reminiscent of the the classic Alitalia uniforms of Mila Schon. School was a Dalmatian-born designer whose 1960s fashions were favored by jet setters like late Lee Radziwill and Shahbanu Farah Diva, the Empress of Iran. School relied on classic lines and smart fabrics, as well as superb workmanship.
Uniforms are a cheap way to rebrand for an airline, or any company. While the process can cost millions, the reality is that flight crew (and other employees) still need to wear a uniform, and they continue to wear out, so they have to be replaced, no matter what.
Delta is redoing its uniforms, courtesy of Zac Posen. That project will apparently debut in 2018, after a long, secret process. London and New York tabloid newspapers reported that the initial designs were rejected for not looking nice enough on all attendants, and being too tight. Perhaps the next time, the airline might hire the designer quietly, work on the project, and then unveil the designer and the design when it is ready for use.
American recently redesigned its uniforms; they were criticized by some as being bland, and had the unfortunate problem of the reliance upon scarves for women, sort of an affliction of the 1970s. United revamped their uniforms in 2013; they are quite bland and have done nothing to advance the identity of the airline. United has quite a legacy, over the years hiring the likes of Ben Reig, Raymond Loewy and Jean Louis, the Hollywood designer. Louis, through Hart, Schaffer & Marx, did dozens of fashionable designs that helped brand not only the airline, but different parts of the airline, with special designs for Hawaiian, Asian and mainland routes.
Airlines aren't the only companies that can benefit from uniforms. Any company that deals with the public deals with the issue of what its employees wear; even if there are not specific uniforms for employees, a strong dress code can reinforce good brand behavior for employees. Thinking about why employees wear certain clothes helps companies understand better what they do on a day to day basis. Unfortunately, many companies have fallen for just getting their employees to wear a polo shirt with a logo. This creates a sameness, and companies that rethink what employees wear have a real opportunity.
Below, a bit about the Alitalia designs.
This rebranding is very smart, as it not only sells the airline, but it sells the country of Italy, which has lost some of its fashionable identity as illegal residents, depopulation and an aging population have made the country less, well, young and Italian.