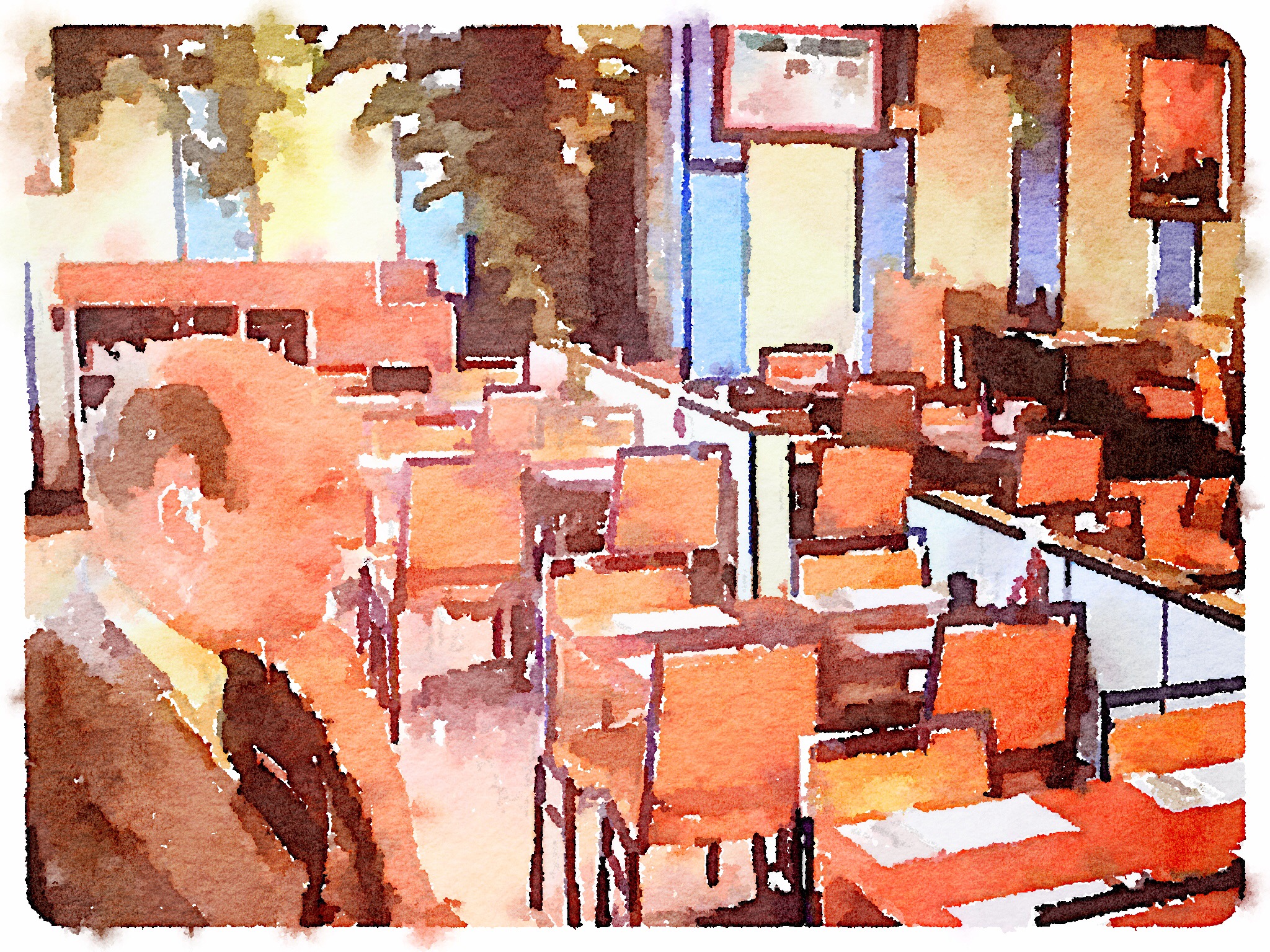 That Arby's CEO Paul Brown has joined the board of JCPenney. That raises the question.
After JCPenney brought back appliances, why not bring reintroduce food?
Part of the old joy of going to department stores was the element of surprise, and options for repeat visits. One way to do that is a restaurant operation and grocery items. Sadly, as chains merged and department store management became more dictatorial and unimaginative, food operations left the premises. In the U.K., department stores like Marks & Spencer all sell food, and are able to weather the ups and downs of economics by being diversified.
If a bad fashion buyer takes control of a merchandise segment for a season, they can kill a clothing retailer. If there is diversified merchandise, the damage is less.
Brown might be the perfect person at Penney, with experience at Expedia and Hilton. He revitalized Arby's, and understands hospitality.
Perhaps the most popular part of going to IKEA is the food, even though it makes up about 5 percent of the store's sales. The restaurant is not only a draw that attracts customers. It is a demonstration for the kitchen products that are sold in IKEA, and that food that is sold for take away. Anyone who has been to IKEA knows what the dining room serves; it is a simple menu of just a few items, including meatballs, salmon and chicken fingers. There are other reasons for IKEA to have food.
Why food has left department stores in the U.S. is really about mismanagement and a lack of understanding of its benefits.
A particular culprit might seem to be Macy's, but it was really their predecessor May Company, way back in the 1980s and 1990s, that was the evildoer in shutting down so many food operations. I say evil, because the decent restaurants in department stores were keys to the life IN the department stores. And when that life left, the store identity died as well. In recent years, Macy's and other department stores have realized the power of a food operation to assist sales, employee morale and store atmosphere.
The food service helps even out revenue; at times when hard goods sales are more modest, people still come for the food. It functions as an employee asset; having inexpensive, simple food helps keep employees around long term, and keeps them on site for their lunch breaks. It also helps brand IKEA; the low prices on the dishes help to reinforce the idea that prices are low in the rest of the store.
National retailers would do well to look at their food operations, or lack thereof. It's a way to find incremental revenue, polish your brand, and cement the relationships with your customers in a time when generic online sales with commodity pricing seem to be ascendant. The reality? People want to be out in public with other people, and food accentuates that.
What other retailers could improve food service? The first thing is that food service is not just about having a restaurant. It instead starts with hospitality; what things would make your customers more willing to stick around? What do you do to be hospitable to your visitors? In the real world, true hospitality starts with food. After all, its the one thing we all agree on. We have to have it. And when the food is good, people like whatever it is associated with it.
There was once a time when all department stores served food, for all the reasons that IKEA still does. It was good business. The problem is that a business that cannot run a food operation is one that cannot run other operations well. Food is a challenge; you have to deliver value every day, and stay on top of issues like cleanliness and food quality. So the reality of food is that if you don't do it well, your whole operation can suffer. But if you CAN'T do it well, your whole operation is rendered incapable.
IKEA solves this issue by serving a very small menu, and selling dishes that do not have much prep time. Some thoughts:
Sears, Roebuck & Company: Sears once had extensive cafeterias and food operations, some as small as a hot dog stand. Presuming that Sears Holdings wishes to stay in the retail business, why not find a leased partner who could operate in regional numbers of stores? That is, again, provided Sears really intends to stay in the retail business. This is a true opportunity, and there are many restaurant operators who might jump at the chance to partner with the nations oldest retailer.
Restaurants from Parking Lots: One option might be for the full service restaurant companies like Chili's to open up a small division that operates an extension inside department stores, under a different brand, or a sub-brand. So the restaurant keeps the food inventory, and operates the self-serv cafe like a separate counter.
Minority Participation: Chains are desperate to get minorities involved in their business. While being a product manufacturer is hard to accomplish as a small entrepreneur, one way that chains could attract food operations is to seek out local partners to run them as LLCs. Kmart has been able to preserve some sort of food operations with pizza and hot dog operations. Sears has a franchise operation of smaller catalog stores; why not create a unit in the model of Sears Hometown that allowed small entrepreneurs to open within other stores.
Start with Trucks: Why not get a local food truck operator outside to start? Or encourage managers to allow a couple of them in the parking lot? Or outside in those smallish garden shops that are almost always not well merchandised. Lowe's, the hardware store chain, often allows food vendors to set up out front. For Kmart, we don't even know that the chain will be around. However, a sports promotion in parking lots has been a smash success. Perhaps there are ways to find new audiences for the urban food trucks that seem to interest so many.
Farmer's markets: Is there the opportunity for Kmart and Sears or other retailers or mall operators to run farmer's markets in parking lots under one of the garden brands like True Temper.
Vending cafeterias: Perhaps the first step in offering food is having a vending machine. Walmart did this in its heyday with its cheap Sam's sodas. It became a trademark. With technology, how could we create spaces for food?
JCPenney: Penney has added appliances, to apparent success. Their redesigned stores would do well to offer some sort of light coffee shop and sandwiches, in a bright atmosphere of white, stainless steel and delicious smells. It would not even need to be extravagant, and could be done with a two-person staff.
CVS: The original purpose of a pharmacy was to fix elixirs and the like. Margins on pharmacy are now getting squeezed, and will continue to be squeezed. Is there an opportunity for a specialty health-oriented food operation that serves only organic items. This might not be in every store, but in urban or mall locations where the clientele would use it. Perhaps the operation would consolidate the refrigerated areas of the store, so that it would be an evolution of what is already there, rather than an entirely new thing.
Howard Johnson: The chain started with food and ice cream, and the brand has stabilized as a low to mid-grade hotel brand. Bringing back a food operation would help re-value the brand as something actually interesting. If the food were good, the average consumer might not think that the hotels are substandard.