Occasionally it is fun to look at a disappeared brand that was prominent on shelves. Such was the pain pill Vanquish.
It is still made by Bayer, and competes with Excedrin, Anacin and Goody's as an aspirin, acetaminophen and caffeine constructed pain reliever. It's quite a competitive and genericized category though; like soft drink companies, pharmaceutical makers like to have a product in each category, even if they aren't a market leader.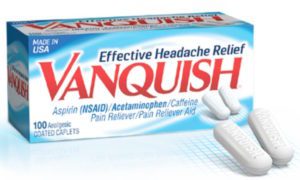 Above, a 1965 ad from The Internet Archive. It is interesting that it is marketed to women, even though today, the category has a more work-oriented appeal. But perhaps in the mid 60s, being home with laundry was true headache zone.
Vanquish was trademarked in April 1963, under the "alalgesic and antipyretic" category of trademarks. The first maker was Sterling Drug, and currently the trademark owner is Bayer Healthcare LLC. Sterling, of course, is the company that was granted the right to sell Bayer Aspirin in the U.S. through most of the 20th century, and kept that right until repurchased by Bayer.
It is interesting that because the name is a real word, there are fewer possibilities for brand extensions, as dozens of other companies use the name in other categories that even include smoking devices and cigars. Even a fat reduction technique for physicians.