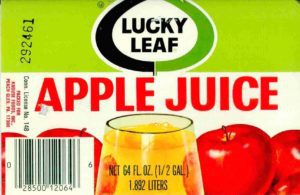 PEACH GLEN, Penn. – Supporting local farmers is often seen as finding fresh, local produce, or visiting a locavore restaurant.
But there are easier ways to change the food process. Buy American, and buy from co-ops and smaller suppliers in the center aisles, with prepared and canned foods.
Lucky Leaf, owned by Knouse Food Cooperative, is one of those farmer owned groups that makes middle-aisle products. Lucky Leaf is best known for pie fillings, but they are also known for a brand of apple juice and apple cider. Their sister product is Musselmans applesauce.
The Lucky Leaf brand first appeared in 1959 (the Knouse company has 1949 as its founding date), according to their USPTO registration. Pictured here, labels from the 1980s, in their trademark file. Their current label is well done, and classic looking, though the 70s version has a certain elegance.
The Lucky Leaf Knouse Foods website is useful. It not only shows recipes and history, they tell exactly how many people work in each packaging plant, and show the plant from the air. This is a smart idea to market to consumers, as they care about such things. These are the plants shown on their website:
Peach Glen, Pa. – Corporate Office, 360 acres, 415 employees
Chambersburg, Pa. Plant, 39 acres, 180 employees
Orrtanna, Pa. Plant, 631 acres, 240 employees
Paw Paw, Mich. Plant, 26 acres, 110 employees
Biglerville, Pa. Plant, 558, 220 employees
Gardners, Pa. Plant, 471 acres, 150 employees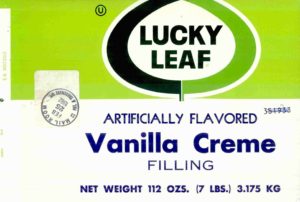 At most grocery retailers, there are far more of these local products that people might realize, and they are of good quality. In 2020, as supermarket shelves got emptied during the lockdown, shoppers stocked up on canned goods. Today, as shelves are mostly filled back up, it is time again to stock up.
Things are not easy for these businesses. In 2008, the company had to close an operation in West Virginia, because so many acres of apples had left production in the Martinsburg area and in Berkeley County.
While national grocery chains have reduced competition in their vendors, there is still enormous variety across grocery chains. How to support:
Buy multiples: When you see something in a grocery store, buy multiple items. Grocery chains' inventory systems see this, and will restock. Some chains have the ability for local store managers to stock particular items.
Check the labels: Who owns the product is not always clear, and the origin of the product is not always from the U.S.
Rotate at home: Having a storehouse full of food is part of being ready. Last spring and summer, there were runs on products. Things like pie filling, for instance, last on shelves.
Support food pantries: If you get an extra, send it to your food pantry, or your church food basket.
Check recipes: The Lucky Leaf site has over 300 recipes for filling.
Order online: Products need different food channels, and even a few purchases get noticed through different distribution systems. A product ordered through Shipt, and sold through a supermarket, dings the supply chain twice.
Visit LuckyLeaf.com