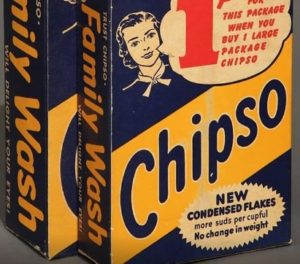 Even large companies abandon brands in favor of something new. Proctor & Gamble had a predecessor brand to laundry soaps like Tide, Era and Gain, the behemoth detergent brands of today. The brand was Chipso, a flake brand in boxes that promoted the use of safe suds for washing. It was ubiquitous in the 1930s.
Factories for Chipso were advertised in Ivorydale, Ohio; Kansas City and Port Ivory, N.Y. The latter factory was the supplier for soap for the East Coast, and P&G made soap there from 1907-1991, when the factor was shuttered.
Henry Ford Museum has a Chipso box in their collection. The have the dates as 1947-1957, but there are ads for it back in the 1930s. The product was advertised as being free of lye, which would deteriorate clothes.
It also was apparently part of a lawsuit regarding the product Chase-O, a 1912 Philadelphia product, with a too-close-sounding name. Advertising for Chipso exploded in the 1930s, with product claims about its ability to create suds without destroying the fabric. Some ad copy:
Just back from my honeymoon… Gray hair and a young heart…. Because Chipso gets underwear so white," Pictorial Review, 1932
"With Chipso, we don't have to rub it to pieces in order to get the dirt out." Ladies Home Journal.
John's suit has been washed in Chipso about 60 times." Good Housekeeping, 1935.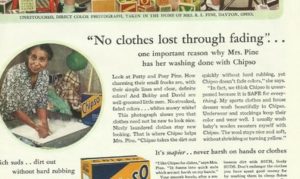 It was also sold as safer and more sanitary for hospitals. Hospital Management reported in 1931 that, "Even if Powdered Chipso costs considerably more than ordinary soaps, you still would find it unusually economical because of its greater factor of safety."
In the 1940s, P&G introduced, via radio, an elephant, Tuffy, representing Chipso's "husky washing powder" and Fluffy, a lamb, that promoted its safety.
It was gone by the 1950s. Back in the day, the company abandoned brands, rather than selling them.
Below, a Duke University archival photo of outdoor advertising from the 20th Century, which includes Bond Bread, Atwater-Kent radios and Chipso detergent.
More
Read a complete list of Procter & Gamble stories on BrandlandUSA.com