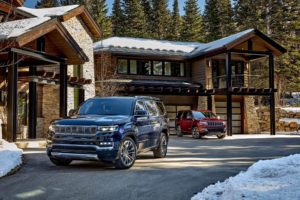 After almost a decade of hoping, and for the first time in 30 years, customers searching for a "true premium SUV experience" can now order an all-new 2022 model year Jeep Wagoneer and Grand Wagoneer. The return of the Wagoneer begins at a cost of $57,995; Grand Wagoneer has a starting U.S. MSRP of $86,995.
The Wagoneer will come in 12 pre-configured models with option packages. Customers can place a reservation through Wagoneer.com to select a dealer, and place a $500 deposit.
"Wagoneer and Grand Wagoneer customers expect a premium product, and they expect top‒notch customer service, and Wagoneer and Grand Wagoneer really excel at both," said Christian Meunier, Jeep Brand Chief Executive Officer, in a PR Newswire press release. "We're delivering American Premium at its finest, supported by a unique sales and service experience through our new Wagoneer Client Services."
The 2022 Wagoneer will be available in U.S. dealerships in the second half of 2021. It will be available in: Series I (late availability), Series II and Series III. Grand Wagoneer is available in: Series I, Series II, Series III and Obsidian.
The company's "modern interpretation of American success" creates a "new timeless, iconic design" with a seven-slot grille. The Grand Wagoneer Series III models feature raised aluminum badging.
The original Wagoneer was produced from 1961-1991. The last model was a downsized edition, and did not look like the original angular Wagoneers, which are so prevalent in advertising, and have a coterie of collectors and fans. Below, old posts with the hope of revival.
The prep Instagram blogger Arnold Steiner owns a green Wagoneer with wood grain paneling. See one of his recent posts below.
View this post on Instagram