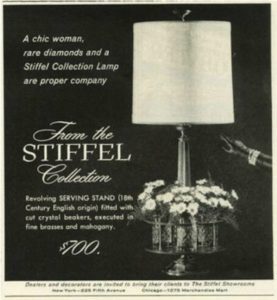 LINDEN, N.J. – The west coast lighting retailer Lamps Plus has struck an exclusive deal to market classic Stiffel Lamps, a brand that has returned production to the U.S. recent years.
"Stiffel is a brand with a great history. The lamps are truly unique and considered works of art," said Dennis Swanson, founder of Lamps Plus of Los Angeles, in a Business Wire release. "For decades, consumers have considered them one of the finest investments for their home, and vintage models have become valuable, highly sought after treasures."
Craftsman Ted Stiffel founded Stiffel Lamp Company in Chicago in 1932. Through the 20th century, Stiffel was known for a vast selection of different styles of lamps, as well as their invention, the pole lamp. The pole lamp was so famous that it was even copied by Sears and was the subject of a famous 1964 Supreme Court trademark case, Sears vs. Stiffel.

The company went bankrupt in 2000. The company was purchased by Salton, which shipped its molds to China. It tried to market with the name, but with production in China, and a company distracted by many different brands, the product was not the same, even as they put out press releases resurrecting the Stiffel pole lamp.
Salton in 2002 owned an astonishing list of household brands, but they were all mass consumer brands, and not crafted brands. These included Russell Hobbs, Juiceman, Melitta, Breadman, Haden, Maxim, Ingraham, Block China, Westclox, Calvin Klein, Hi-Tech, Timex Timers, Rejuvenique, Carmen, Pifco, Ultrasonex, Relaxor and under private-label brand names such as Kenmore and Cook's Essentials of QVC. Some of this portfolio is now part of Spectrum Brands.
The situation with Stiffel points up how leading American manufacturer and brand name was literally sold out from under the United States and shipped to China. This process of shutting down American factories and sending production overseas has been rampant, and it is good to see at least one situation where the situation has been reversed.
With any manufactured brand, there are multiple prongs to a revival. Company leadership needs ownership of the brand name, the URL, the recipes/methods of production, and the actual factory tools and expertise. One also needs some connection with the original makers and workers, so that production can be resumed. Lastly, the company needs a savior, a person that believes in, and has the capital for, the original vision.
In the case of Stiffel, the brand was revived and rescued in 2013 by a New Jersey entrepreneur, Cutting Edge Industries' Steven Filler. The line would go back to its original idea, selling high quality lighting to independent retailers.
"Stiffel lamps were zinc casting and that's exactly what we do. Our intent is to revive the brand," Filler explained in a 2013 article.
You can see the entire Stiffel Lamps lineup on their site, and information on Cutting Edge.