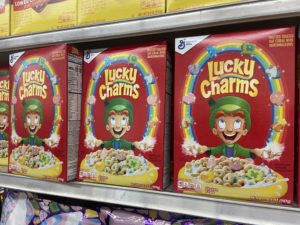 The General Mills cereal brand Lucky Charms, so magically delicious, has issued a promotional package of what they are calling Just Magical Marshmallows. The promotion is a limited time offer, and is sold in a foil type bag, and not a box.
The products are displayed in end aisles along with other General Mills cereals. The marshmallows are sold individually, and not as a mix.
Lucky Charms debuted Sept. 17, 1962, according to U.S. Patent and Trademark records, in the category of cereal. Like many brands owned by large companies, the brands are owned by a subsidiary company, General Mills IP Holdings II LLC.
The lineup of marshmallows varies from decade to decade. In 2020, it included eight types of marshmallows including hearts, stars, horseshoes, clovers and blue moons, unicorns, rainbows and red balloons.
Earliest lineups were pink hearts, yellow moons, orange stars, and green clovers. A full history of Lucky Charms is on the General Mills website.
General Mills, based in Minneapolis, Minnesota, makes brands that include Cheerios, Nature Valley, Blue Buffalo, Häagen-Dazs, Old El Paso, Pillsbury, Betty Crocker, Yoplait, Annie's, Wanchai Ferry and Yoki. Fiscal 2021 net sales were U.S. $18.1 billion.
Below, a 2020 commercial. Just because.