WHITE PLAINS, NY – The design and brand consultancy Little Big Brands has developed branding and product designs for a new project launch for the EU Colgate cleaning brand Ajax.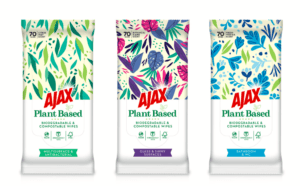 Ajax as a cleaning brand dates from 1904 as soap, and as cleanser from 1946. Through the 20th century its brand was expanded to detergents and other cleaning products and categories. The newest Ajax product is a new line of sustainable, plant-based disinfecting wipes for the European market. The company said that the new product represented an opportunity to grow the category with Millennials and GenZ-ers, for whom sustainability is important.
"The package design for this wipe needed to lean into design codes that were appealing for a younger demographic" said Richard Palmer, executive creative director, in a release. "From speaking with our target consumer in both the French and Swedish markets, we knew that we would need to deliver against a minimal design that felt simple yet chic."
The agency used the classic Ajax red logo, and surrounded it with new images. They call the colors eco-lush, with greens and plant based colors, and earthy modern with earth tones.
"Unlike the Ajax global brand vernacular we are all familiar with, our final, consumer-validated design perfectly balances the brand's expertise, while leaning into eco cues that feel fresh and stylish," said Palmer.
Little Big Brands is an independent, award-winning brand development and design agency that works with new and existing brands on design, redesigns and positioning.
Below a selection of Ajax images over the years to see how the brand has evolved. Below that, and just for fun, an animated U.S. Ajax ad from the early television era.
Colgate Palmolive once had Ajax with a separate trademarked ingredient, ammonial.

One tradmark category for Ajax, showing 1904 as first use. The brand is trademarked in multiple categories.

The best known of Ajax products, powder cleaner.

The powder detergent Ajax.

Ajax has also been in the liquid cleaner category.

The new design uses the consistent red Ajax with new designs.