If you haven't been paying attention to the used car market, now is the time to start. Why? Forty-one million used cars trade hands every year in the United States, and online marketplaces, like Craigslist and Facebook Marketplace, only account for about half of transactions. The largest used car companies, like AutoNation, CarMax and Carvana, each only account for one to two percent of the total used car market. And the top 100 used car retailers only account for 9.3% of the total used car market.
This means there's a massive business opportunity for both established players and newcomers in the used car space. Independent used car dealers, online used car companies, and online used car marketplaces need a strategy just as much or more than new car dealers, who have traditionally relied on the brand power of their franchise to draw in sellers and buyers.
No matter the size or of your store, the strategy should be one that should be supported with a brand strategy and marketing plan that takes into account the latest developments within this specialized niche.
With a shortage of new cars, the demand for used cars is higher than ever. At the beginning of the pandemic, car sales slowed as people contemplated what their "new normal" would be, but demand has come back full force. People are becoming increasingly mobile as we settle into the long haul of the pandemic.
At the same time, public transportation has been struggling due to labor shortages and mask mandates, and ride share companies are only now seeing pre-pandemic ridership levels. There has also been a macro mindset shift towards ownership of things vs access to things. Sharing a car with others is economical, but people are now seeking pleasure and joy rather than more deprivation.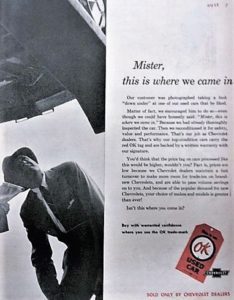 All of these factors combined have driven the value of used cars up 45% year over year. New car prices are also up, but Goldman Sachs says supply within the new car market won't fully rebound until the end of 2022. Used car prices are projected to remain inflated until the end of next year.
If you're a used car company, the next year will be critically important. People want to buy used cars and used car companies want to cash in. There are more profits to be had and market share to steal. What should your brand be doing and thinking about now and moving forward? Here's a start:
Use your brand to stand out
More people will consider selling their used cars in the next year, and they have plenty of options for who to sell to. A strongly articulated brand positioning will help potential customers understand how to think of you in the context of the many, many competitors that exist. Invest in a brand identity and product experience that make you memorable. Pull your brand strategy through to every action your brand takes, every message you put out and every experience you provide. If you are a dealer store, you can rely on and emphasize your connections to the car brand/marque. If you are an independent used car dealer or an online used car company, you need to pay attention to your brand, including your name, graphic identity, advertising, dress, staff training and showroom appearance.
Source cars from individuals
Used car retailers used to be able to buy cars in bulk from auctions and rental car fleets, but supply from those sources has been limited. Used car companies have to focus on sourcing cars from individuals in order to have a supply to then resell.
Understand people who are open to selling
Attitudes about car ownership have changed over the past couple of years. People who once thought they would hold onto their cars forever now don't see the need to have two or three family cars as they continue remote work indefinitely. Others might be putting more wear and tear on their cars as they pull away from public transportation. Researching and understanding the new used car audience is essential to ensuring your brand and product offerings will resonate.
Continuously upgrade your digital
Today's consumers value convenience and are willing to have almost anything delivered to their home. It's essential that you think about where and how consumers want to interact with your brand, whether or not they want to interface with a human, and how you can integrate digital experiences to help them streamline the entire buying or selling process. Rinse and repeat for your auction dealer audience — they too will want to buy and sell everything digitally from here on out.
Invest in growth marketing efforts
As a counterbalance to your brand efforts, it's critical that you invest in growth marketing while there's significant share to steal. Find the pockets of opportunity within your marketing ecosystem and start testing new tactics, immediately. Double down on the ones that work. Brands that invest in paid will have a significant competitive edge. There are too many competitors vying for used cars to take an 'if we build it they will come' mentality.