BRIDGETON, N.J. – While large firms like Conagra, Mondelez, Nestle and Campbell's dominate the grocery aisles and squeeze out small players, there are still holdouts of one-off grocery products can stand alone. One such item is Seabrook Farms Creamed Spinach. Seabrook Farms is the number one creamed spinach in the United States. At stores like Publix, it is sold alone, without advertising or promotion, and has such a loyal following it stays on the shelves, even without sister products.
The product is in a perfect niche. Creamed spinach is sort of a pain to make, and you need vast quantities of spinach to make it from fresh. It also keeps on shelves. On top of that, it is sort of "fancy" in a way that plain old frozen vegetables are not. It also stacks well; it comes small. So having a few around can rescue a meal in a few minutes.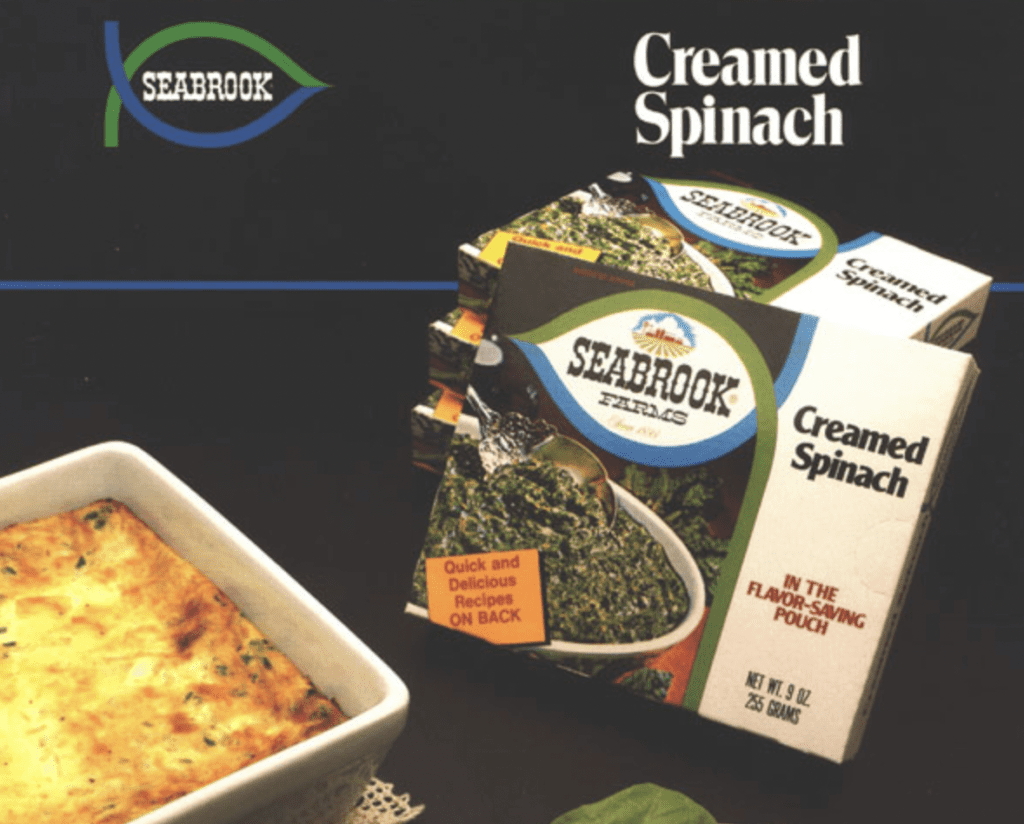 The Creamed Spinach is made by Seabrook Brothers & Sons, Inc. of New Jersey. They are a third-generation family owned and operated business that "grows, processes, and freezes 150 million pounds of Frozen Vegetables in the Garden State." They were founded in 1870 by Albert P. Seabrook.
Bridgeton is in the Southern part of the state, which still contains many farms. It Also has a strong Amish/Mennonite community, which lends expertise as a hub of agricultural production.
As a company, Seabrook offers a full line of vegetables, including asparagus and zucchini in both their own brand, and as private label. They also supply ingredients for food service. They export around the world, and list markets in Israel, Chile, Puerto Rico, Mexico, Saudi Arabia and Canada.
Wisely, they have not doctored up or mucked with their packaging. It is straightforward and the Seabrook Farms logo, with green and blue, still has a good 70s vibe, without appearing dated or cartoonish. Please do not muck it up.
A history of the company names a number of firsts, and a pioneering role in frozen vegetables.
Among the agricultural firsts at Seabrook was the use of overhead irrigation and gasoline-powered tractors. In the early '30s, C.F. partnered with Clarence Birdseye and General Foods to quick-freeze vegetables, which subsequently enabled Seabrook to become the first major produce supplier for the U.S. military.

Hidden New Jersey Website
Almost all national grocery chains carry the brand, such is its ubiquity.
Find out more: