KATY, Texas – Igloo is the world's original plastic cooler. This year, the company celebrates 75 years. In its promotional information, they claim that one in three American garages have an Igloo cooler.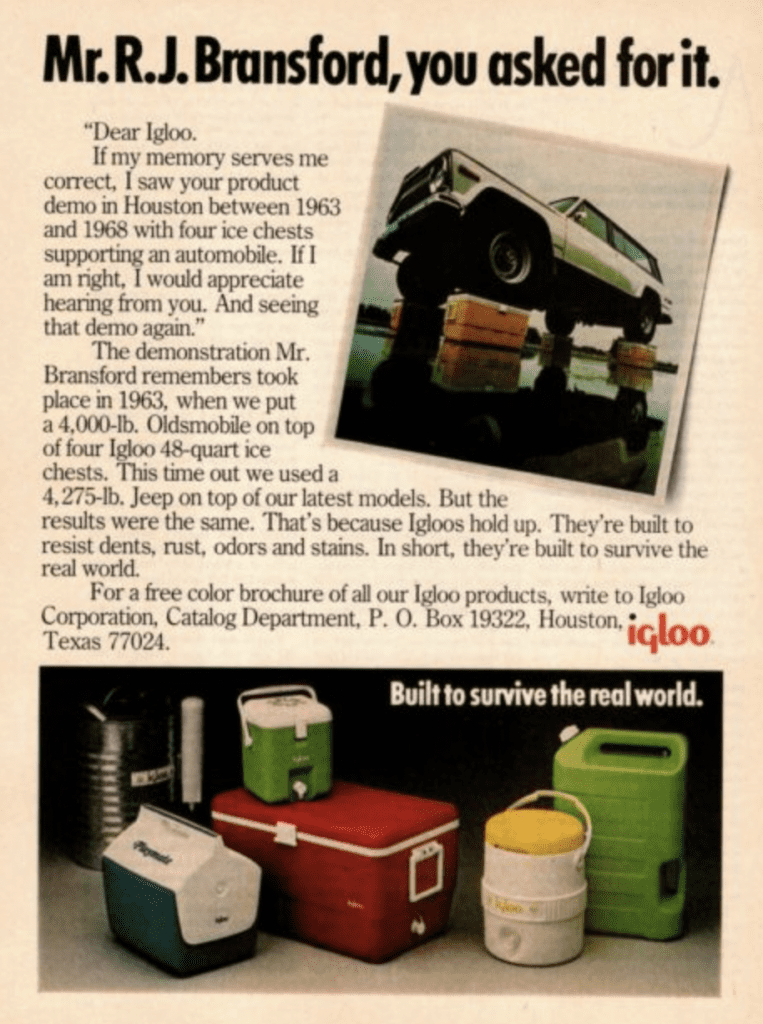 Igloo products, still made in the U.S.A., are so synonymous with boating and summer that for generations, Igloo coolers were, and are, props in the American recreational and work landscape. No matter income or class, everyone can afford an Igloo, and have it around for at least a few decades. It is the one product almost every American can agree on.
The Igloo dates from 1947. Its earliest incarnation was not a cooler, however, but an oil field drinks dispenser, made of galvanized steel. As the decades wore on, innovations included first plastic cooler, the red and white large cooler, and the portable Playmate, which debuted in 1971. In language, the company, and consumers, have called the large rectangular cooler the antique phrase ice chest.
Featured at Target
This summer, Target is now featuring their two-handled Retro Picnic Basket (see above photo) in their flagship stores. The full-line remodeled Super Target in Sarasota has Igloo ice chests dominating the main aisle dividing grocery and pharmacy, along with other summer items like beach chairs.
The Longaberger-like Picnic Basket cooler echoes the company's popular picnic coolers, with two handles that resemble an old-fashioned picnic basket. The coolers at Target are part of the company's Retro collection, which has a 1980s vibe. The Retro collection includes KoolTunes, a Playmate version with Bluetooth; a Bucket of Fun water cooler; the Playmate Mini; and the Little Playmate.
In 2022, the company is celebrating its 75th anniversary, looking back to its roots as a company that sold metal water coolers to oil-field workers. Their history video below tells the story, leading with a rather special view of a woody Ford Country Squire.
Early Innovations Well Before Yeti
The red Igloo ice chest was an innovation for a number of reasons. First, the plastic construction made it so the chest did not rust, which was key. But it also had a hatched or waffled plastic top, which gave the cooler enormous strength. Advertisements showed Jeeps sitting on top of Igloo products, such was their durability. The plastic used also had a sort of resilience to it; it was not smooth. The texture gave it a sense of depth as a product, while adding to strength.
The plastic ice chest was also lighter than the heavy Coleman metal cooler, which was brought back as a retro item in 2011. Coleman, a unit of Newell Brands, has invested heavily in trying to leverage and use its history to help market itself to new customers, while re-establishing connections with those who already value its history.
Competition from upstart Yeti has been good for Igloo. In their 75th Anniversary promotions, the company is stressing that it is the real part of the American landscape and family. Looking at the price of a Yeti, and the street credibility of Igloo, the whole Yeti phenomenon seems all a bit precious, and overdone, especially as not all of their products are American made. Sorry but "designed in Texas" is not quite the same thing as Made in USA. Perhaps it is time for some major on-shoring, and turning the Igloo/Yeti competition into another version of Coke and Pepsi.
Igloo on Dock & Field
Over the generations, Igloo water coolers became a fixture at every Little League, high school and college game in America. Originally, their water coolers were metal, but the company eventually offered a plastic version, most often in red and yellow. The genius of the plastic water cooler was that the top screwed on tightly, so you could get ice in it easily. But the screw on giant top meant that you could also easily clean it, and add things like Gatorade powder. The plastic aspect meant that it did not rust.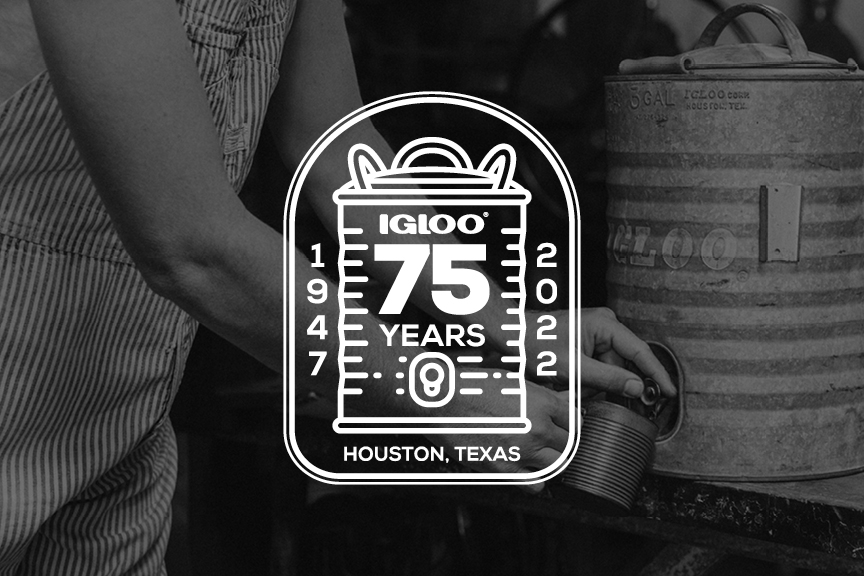 College campuses have been the ideal land for Igloo coolers. The Igloo Playmate, which pops open with a button and has a fixed top, comes in two sizes, one larger cooler size, and other close to the size of a six pack. Other classics include a wheeled MaxCold and mini versions of the Playmate.
Igloo is still one of the great items still made in the United States. It is a perfect item to manufacture in the USA, as shipping something with air in it takes up enormous volume. Also, plastic moulds and extrusion are something that can be done just as cheaply in the U.S. And even if the coolers were made overseas, you would still need to sort and package them, which is a large part of the cost embedded in the product.
Like Tervis Tumblers, Igloo products do well as co-branded merchandise. Currently there are licensed versions including Disney, NFL, and Grateful Dead. The latter is a perfect match, as the Playmate, decorated with stickers, accompanied Deadheads in tripping parking lot escapades.
In recent years, the company has stayed up with environmental trends, offering the Recool, the world's first 100% biodegradable cooler, which replaces the awful styrofoam cheapie. There is also the Ecocool, made from waste plastic. Their Party Bar cooler has a bottle opener on the outside and dividers on the inside. The Yukon Cold Storage Locker line is their super heavy duty collection. The TrailMate can roll across a beach. As one blogger said of the TrailMate, "It's sexy as can be. I mean I would marry the thing if it wasn't for being $250."
The company offers a number of ways that it engages with customers. It has a parts department that offers pieces for its vintage coolers, so customers can keep around an old favorite. They also have a company store near Houston, in their hometown of Katy.
Below, a close up of the Retro Collection cooler from Igloo. Note that the Made in America is featured prominently. Their CEO said in a press release in May that the company was America's most recognized brand of ice chest. The company now has over 1,200 employees.
"Celebrating 75 years as an American brand is a huge achievement we're extremely proud of and incredibly humbled by," said Dave Allen, president and chief executive officer at Igloo.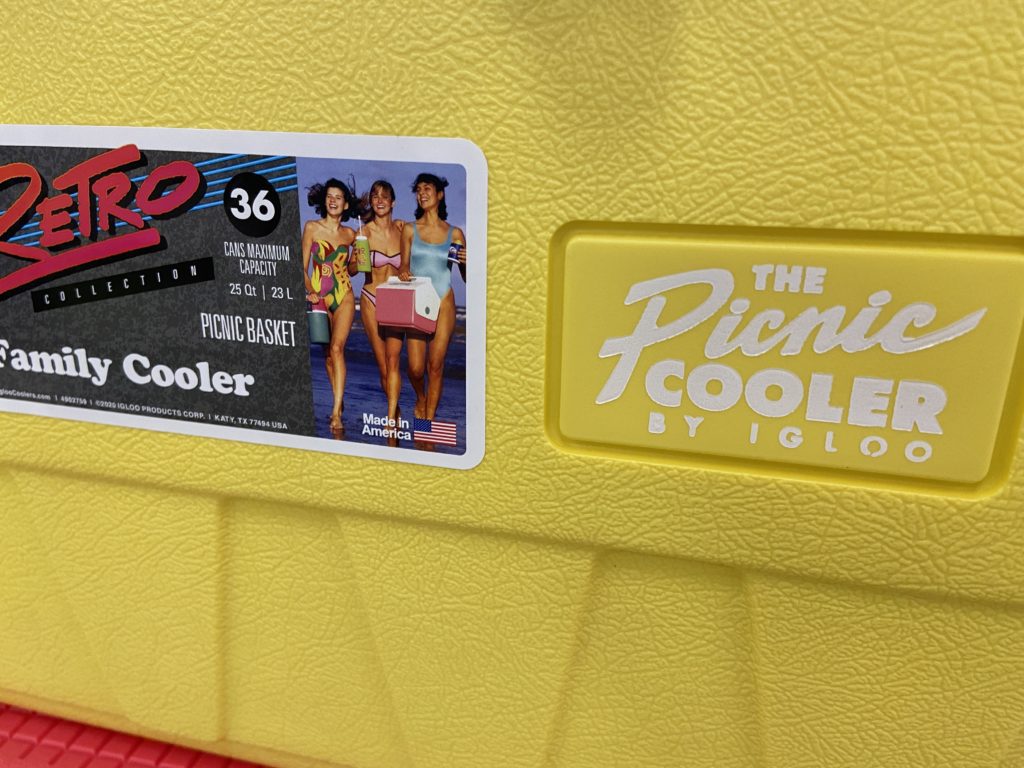 Below, some old advertisements and images of early Igloo.