DETROIT – The television station WDIV will celebrate its 75th anniversary tonight with a two-hour documentary narrated by radio's Dick Purtan, former WDIV Sportscaster Eli Zaret, and current WDIV Anchor Devin Scillian.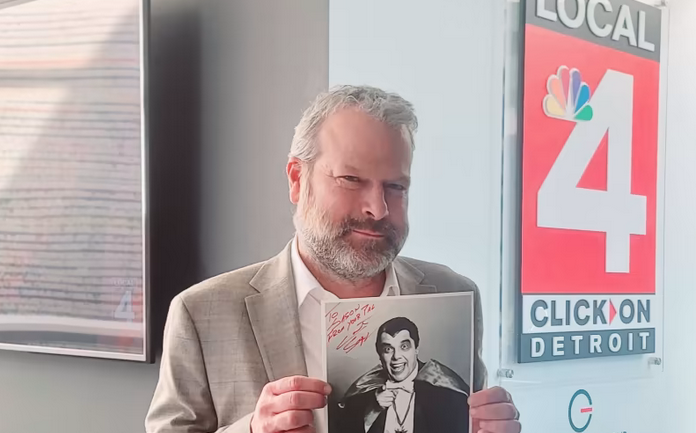 Today, the station is taking a nostalgic tour; this morning anchor Jason Carr was on their internet feed discussing station history, and playing old Wendy's and McDonald's Count Scary commercials from the station with a staffer, as well as discussing old PM Magazine segments.
The documentary is entitled "Going 4 It," a "nostalgic retrospective revealing the inside story of the rise of WDIV. " It airs Friday, November 4 at 9 p.m. The documentary will have segments from station fixtures like Milky the Clown, George Pierrot, Mort Neff and comical weatherman Sonny Eliot. The documentary also includes Count Scary and Sparky Anderson and the story of the "Go 4 it" campaign, mentioned in a Eli Zaret recollection. They have also released WDIV 75 T-shirts, including Tom Ryan's Count Scary, Bowling for Dollars and Saturday Night Music Machine.
Even as an elementary age kid I was watching Mort Crim and Carman Harlan. Sony Elliot. Al Ackerman. Eli Zaret. Dwayne X. Riley with Riley's World. Davy Marlin-Jones. Mal Sillars. Count Scary (who recently sent me an autographed promo photo, which is on my desk at the station). – Jason Carr

Jason Carr: Go 4 It! Bless You Boys. Count Scary. Bowling For Dollars. (It's all tonight!)
WWDT to WWJ To WDIV
The station signed on Oct. 23, 1946 as WWDT. In the analog era, it was and is still referred to as channel 4, an address shared by many NBC affiliates across the nation. It was owned early on by the parent of The Detroit News, along with WWJ radio AM 950, which dates from 1920. It later changed call letters to WWJ to match its radio call letters, and later WDIV. It has always been an NBC affiliate, as it was part of the NBC Red network.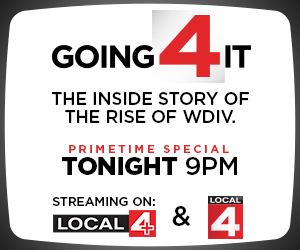 "The story of WDIV mirrors the story of Detroit. Tremendous early success, followed by some difficult years, and then an epic comeback," said Vice President and General Manager Bob Ellis, in a release.
"We never take for granted being Detroit's favorite TV station and realize that doesn't happen without the unwavering support of our viewers. Sharing this story reaffirms our commitment to serve this community," said Ellis "We've been in the city of Detroit for decades and will be for decades to come. This trip through time is our way of saying thank you for all the support and a way to renew our vows to do our part to make Southeast Michigan a better place for all of us to live."
Station Brands and Anniversaries
The anniversary (either by decade or yearly) is a potent promotional tool for radio and television. Many radio stations are now celebrating centennials, as the 1920s was the beginning of the industry. Television, while younger, came in just before or after World War II, so many television stations are celebrating 50 and 75 years.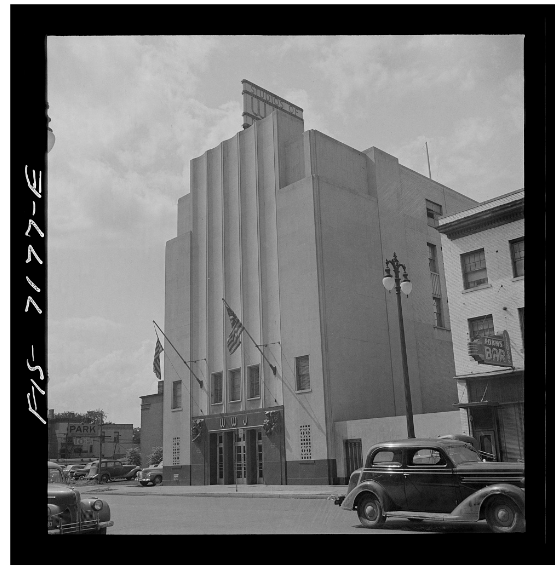 The documentary focuses specifically on the years 1978-85. The program includes moments and old film and video clips of shows, newscasts, and interviews with former anchors Mort Crim, Carmen Harlan, and others. Part of the story is how WDIV came from last to first place in the Detroit television market. Today it is known as one of the best NBC local news operations in the nation. The documentary includes:
The "Go 4 It" campaign in 1980 that delivered a message of hope, courage and challenge that caught the spirit of the city.
NBC, long mired in last place, started producing iconic shows like "Cheers," "Hill Street Blues" and "Miami Vice" which created large audiences that then stayed to watch WDIV's news.
The Detroit Tigers, who were shown exclusively on WDIV, and evolved into a championship team.
Carmen Harlan, a native Detroiter, joined Mort Crim as the stations co-anchors and was the catalyst that helped viewers and earn their trust.
WDIV is owned by Graham Media, formerly Post-Newsweek. Stations include WJXT in Jacksonville, Florida; WKMG in Orlando, KPRC in Houston, KSAT in San Antonio and WSLS in Roanoke, Virginia. The company formerly owned the WTOP radio in Washington, D.C.
You can catch a feed of the station at clickondetroit.com/live.