NEW YORK — The design firm Turner Duckworth has updated the design and logo for the Newman's Own food line, just in time for the brand's 40th anniversary year.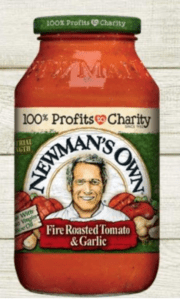 The chief marketing officer of Newman's Own, Nicole Malcolm-Manyara, said that the goal of the refresh was to "break through on shelves and connect consumers to the impact they are making when they purchase our products."
The brand dates from 1982, when actor Paul Newman and writer and editor Aaron Edward Hotchner collaborated on selling Newman's salad dressing recipe. It is still a best-seller. In 1983, the duo introduced a spaghetti sauce, and in 1987, lemonade. The brand is now a portfolio of food products, including frozen pizza, salsa and cookies.
"After 40 years of 'giving it all away,' the good people at Newman's Own approached us to help refocus the brand", said David Thompson, creative director at Turner Duckworth, in a news release. "Our goal was to leverage the refresh and new positioning to appeal to a younger audience, continuing the brand's growth while introducing a new generation to Newman's philanthropic endeavors through health and delicious foods."
Over the last four decades, Newman's Own has donated approximately $600 million dollars to help children facing adversity, as well as other causes.
Newman died in 2008. Hochner died in 2020, at the age of 102. It survived and grew on the halo of Newman's celebrity, and good looks. The chief appeal, however, was that the products tasted good.
The brand is actually owned by the Westport, Conn. company No Limit LLC, according to the U.S. Patent and Trademark Office. The brand was originally owned by Salad King LLC, according to filings.
Brands by Stars
The brand is in the category of brands named for famous people, aka George Foreman Grill. While Paul Newman is still a famous name, brands named after celebrities sometimes lose their connection with their founder. Few remember the Waring blender's connection to conductor and inventor Fredrick Malcolm Waring. However, the owners of Jimmy Dean Sausage, Tyson Foods, still use the late country singer's voice in television commercials.
The licensing of dead celebrity likenesses is common. Often there is no connection to actual celebrity, only an image. Sport brands continue after the fame of a celebrity has passed. Think Arnold Palmer, Sam Snead, and Stan Smith. There are also brands closely associated with celebrities as investments or pet projects, aka Joe Dimaggio for Mr. Coffee and Bing Crosby with Minute Maid.
The previous slogan was 100% Profits to Charity. It is now "Let's give it all away."