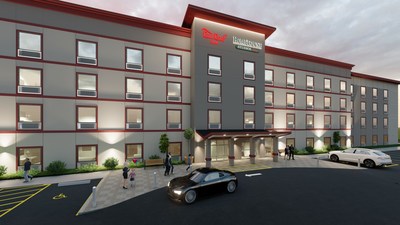 The 1970s, an era of Arab oil boycotts, inflation and Carter austerity, were the heyday of the discount motel. At the time, mid-tier chains like Holiday Inn, Ramada Inn and Quality Inn offered pools and dining rooms. Many of them were "luxe" in a middle market sort of way.
In came the discount motel, designed for businessmen that just needed a clean place to stay, or the family on a budget.
One of the earliest surviving discount brands was Econo-Travel (now Econo Lodge), founded in 1969 by Lloyd Tarbutton in Norfolk, Virginia with a single location on Military Highway. It was not the first. Motel 6 dates from 1962, founded by William Becker and Paul Greene in Santa Barbara, California. Super 8, and its English tudor stucco look, dates from 1974, founded by Ron Rivett and Dennis Brown.
With the discount motel chains, beds were often on boxes, so maids did not have to vacuum under them. Halls (or outdoor corridors) were wide enough to provide room for cleaning carts. Clerks would be night auditors. Amenities were rationed. Designs were standardized.
Ohio Hotel Entrepreneur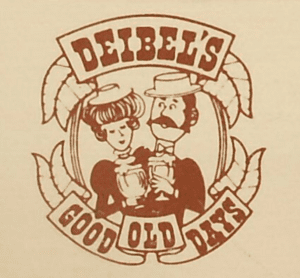 Of the survivors from that time, there is also Red Roof Inn, founded in 1973 in Columbus, Ohio. While the founders of other chains were often builders or serial entrepreneurs, Red Roof was the creation of James R. Trueman (1935-1986), a race car driver. Trueman died in 1986, but not before building the chain into a group of company owned hotels, all under one management, to give the chain consistency.
The original Red Roof Inns had a sort of ski lodge look, as opposed to a motel feel. The font was even a bit German gothic. The Swiss look fit for the brand; hotels in Switzerland are known for their cleanliness and efficiency. This contrasted with Econo-Travel, which had a Scotsman as the mascot, and plaids all around, signifying total economy.
Trueman's other venture was, according to Wikipedia, Diebel's Good Old Days. It too followed the nostalgic trends of the 1970s, as "old time" and "ye olde" themes flourished in restaurants.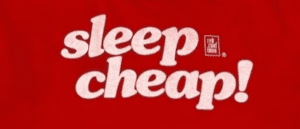 Red Roof Inn had a slightly different approach than franchised discount hotels; its units were company owned, meaning that the traveler got a fairly consistent approach, under the tagline "Sleep Cheap!"
With franchising in recent years, the brand has declined, even as the numbers of units grew. A lodging chain can easily be tarnished by just a few badly performing members.
Below, a billboard campaign from Red Roof from the 1990s, featuring comic Martin Mull.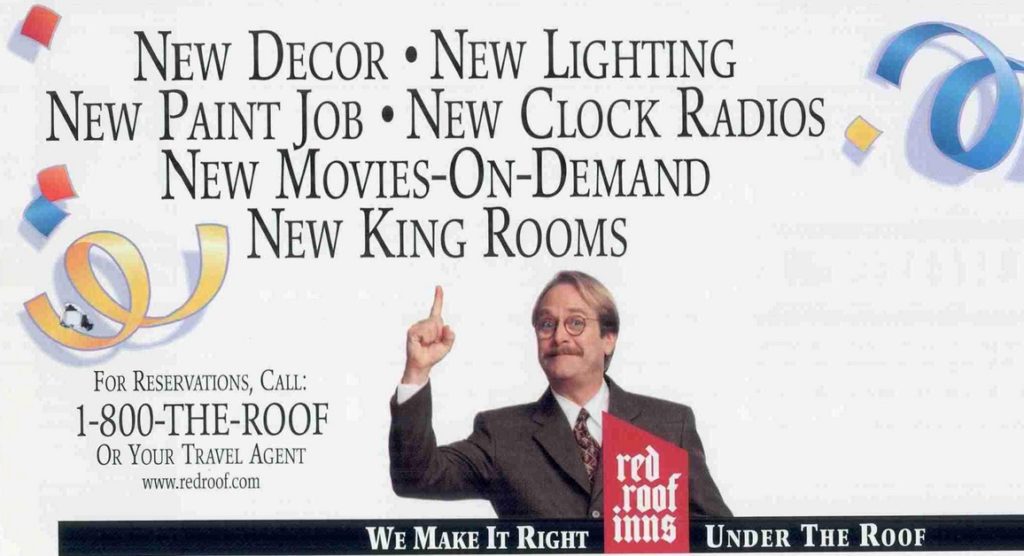 Today, it is an independent company. After the family sold its interests, it became part of the French hotel company Accor, which also owned Motel 6. Accor sold off Red Roof in 2007, and it became an independent company again. Today, it is one of the few large hotel brands that is not part of a larger brand family.
Red Roof Expands Again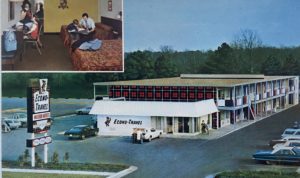 The company is led by George Limbert, who comes from a hotel family. He arrived in 2013 as corporate counsel, and later general counsel. He became interim president in 2020, and president in August of 2021.
The new Red Roof prototype is a combination of a Red Roof and its other brand, HomeTowne Studios.
The chain now has 675 locations in the U.S. and has expanded internationally to Brazil and Japan. The Red Roof portfolio of brands includes Red Roof Inn and Red Roof PLUS+. There is also HomeTowne Studios by Red Roof. The one off hotels belong to The Red Collection, a "hyper-local soft brand in the Hearts of Cities You Love."
Pictured at top: An early Red Roof model as seen in the USPTO filing for the trademark for Red Roof Inn. The early styling for the name had gothic letters and lower case, to give the feel of something German or Swiss.
Belo