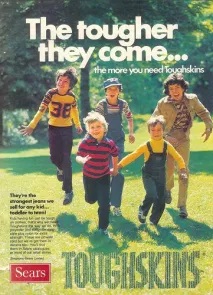 The news that Sears wants to buy Restoration Hardware shows that the venerable retailer is in desperate search of growth after its merger with Kmart.
While merging the two retailers might not be a bad idea, the reality is that Sears Holding Corp. (Nasdaq: SHLD) needs its current crop of store brands and needs to develop some new ones. To put it nicely, turning around Sears AND Kmart is a big challenge, and it will need every trick there is. (Well, almost every trick. Please don't license the Sears Catalog to Charmin.)
Some people at Sears know this. The company's Craftsman line is worth millions, ditto with Kenmore and Die Hard. But these brands only work well when they are connected to Sears. It seems weird to buy them at Kmart, thought I am sure they are selling.
The company, according to Business Week, leases those three brands valued at $1.8 billion from a Bermuda subsidiary. Sears does some cool stuff just to keep Sears interesting and alluring.
It keeps some of its very early stores open in Chicago, hell or high.
It even brought back a nostalgic mall version of the store, detailed on the excellent website Labelscar. Worth a trip to Georgia to see, we say.
And the history section of its website is exceptional. Someone at that company cares.
But Sears can do more. What is missing is a BIG stable of powerful brands like those days of old. We think back on the 1960s and 70s – its Sears Jon Boats, sold at the Ted Williams-led Sears Sporting Goods store, were unrivaled, as were its other sports branded offerings. With brands like Ted Williams, Tower cameras and Free Spirit, it had its own brands. It was all led by people like Carl Bjorncrantz, who ran Sears' industrial design department. (Designers like the legendary Charles Harrison also worked there.) Sadly, Sears apparently closed down its then Harrison-led industrial design department in 1993.
Sears needs to go back to those days of thinking of itself as an incubator of store brands. Perhaps Restoration Hardware, an innovator in resuscitating products many thought defunct, would be the perfect incubator test lab for Sears. In that sense, it could create enormous value for Sears as it repositions revived products.
Don't just look at Craftsman and think about putting a price on it, but instead think about what are the next set of brands that will be worth millions that it can leverage across its vast retail network. These could be old dead brands that it has not used in years, other retail brands unconnected with Sears or even a merger with a one of the new wave of brand holding companies like Payless Shoe Source, Iconix or Jones New York. These holding companies own tons of brands, and could use the distribution.Granted, setting up a new design department takes time, and the Sears turnaround doesn't have much. So, what are some brands that Sears could emphasize or buy now?
1. Free Spirit. Get these bikes rolling again. Sears uses the name for exercise equipment in Canada, but the brand still has punch here.
2. Toughskins. This Sears store brand was so well known that kids and parents demanded it after that iconic trampoline commercial in the 1970s. If Orville Redenbacher, Folgers and Tootsie Pop advertisements can be run over and over again, so too can Toughskins. They are tough pants that kids like tough. Toughskins Red. Toughskins Blue. It is on the shelves, but they need to promote it. It could be the next Boden.
3. Coldspot. A great fridge name which would work well with air conditioning, ice machines, tequila mixers, ice cream makers, freezers (duh!) and wine coolers. Plus, you could slap it on some $19.95 Thermos-like coolers by the door, and you'd be on your way to re-developing another brand. Make it a niche top line brand. Coldspot appliances were connected to the great industrial designer Raymond Loewy, so this bit of nostalgic fridge would attract the Mini/Target/Subaru crowd who wouldn't dare have Kenmore. (Click on the fridge above to get a link to the Raymond Loewy site).
4. Carroll Reed. This defunct ski and outerwear line would be the perfect counterpart to Lands End, though it has never been part of Sears. If Lands End is about sailing and summer, Carroll Reed is about winter and skiing. And I bet the brand could be found for a lot cheaper than Restoration Hardware, as it has been defunct. Slap that puppy on some Icelandic sweaters knit in Bangladesh, Mr. Edward Lampert, and you'd have next Christmas nailed!
5. Chris Craft. This boat maker used to have a great line of catalog, clothes and accessories, though it never was associated with Sears. Nevertheless, Sears could really push this motorboat brand and bring it back, and complement Lands End, which has a sailing focus. Plus, boat makers are struggling with the housing recession and could use a little licensing cash. Those pink and green duck shoes. Wow.
6. Palm Harbor. Sears was the originator of the mail order prefab house. This category is hot again, even at a time when the rest of real estate is suffering. With energy costs, the small house will be back. Why doesn't Sears buy a prefab maker like Palm Harbor, or develop its own kit house. Thats how you sell Kenmore… start with the house. And get Ty Pennington giving a few of them away. How about sponsoring an ABC "UN-EXTREME Makeover" for rich folks in McMansions who have become house poor in the latest mortgage mess. Drowning in credit card debt and mortgage balloons, they could move downscale to an affordable Sears house. (We are serious about this, by the way.
7. Eatons. Sears killed off this Canadian department store, though it did try to relaunch it. But bringing Eaton's back as a store brand (not store name) in Canada would utilize some lost goodwill, as well as create a new brand that had real meaning for millions of Canadians. Or reopen ONE store as Eaton's.
8. Roebuck. Don't forget the Roebuck in your name. Many still call it Sears, Roebuck & Company. It can still be Sears Holdings as a company, and Sears as as a store, and the store signs don't have to change, but occasionally, in formal reference, call it by the old name.