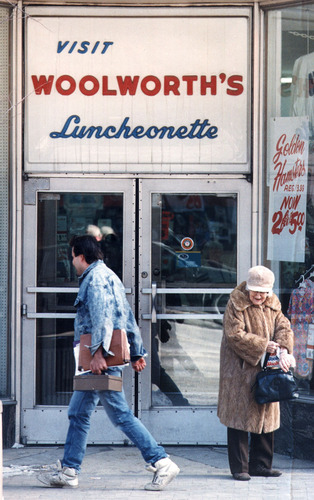 While Woolworth is still alive in Mexico, Bahrain, Oman, South Africa, the U.K. and Germany, Americans have had to go to eBay to get anything related to Woolworth's. And that's not only a pity, it's a lost opportunity for struggling Foot Locker, the company that killed the brand off in the U.S.
F. W. Woolworth's was once as powerful as Wal-Mart, and through the 20th century, it dominated every downtown in the Western world. But it lost its way, and stopped being a discounter, perhaps after its 1970s Woolco fiasco. Instead, it thought that because it was Woolworth's, it didn't have to have great locations, or sell things cheaply, which was its main corporate schtick. Well, that wasn't a good plan, and once glorious parent company that had retail brands like Foot Locker (it was Z on the NYSE ticker) gave up the name and the brand, and shut the retail company down in 1997. The company later renamed itself Venator, then Foot Locker, thought it stayed in its magical Woolworth building in Manhattan for a bit. Stupidly, it also shut down and wasted the enormous brand equity in Kinney Shoe Co.
So it's been gone for a decade. But it's not forgotten, and lives on in the rest of the world, including a wonderful British Woolworth's Virtual Museum. Why isn't there any trace of it here in the U.S.? Certainly, in the large retail landscape, there is room for a Woolworth website, even an online store. But right now, if you click on woolworth.com, you get a link to Foot Locker, the successor company to Woolworth's. That's too bad. We want F.W. Woolworth's back. There is NO good reason why future generations cannot get a turkey gravy platter on white bread at a lunch counter. And there is no good reason why you shouldn't be able to get that white bread turkey gravy platter at the same time you get a Petula Clark vinyl LP for $1.57 (you'll get the joke if you watched the YouTube video above).
In a serious note, and in honor of pure nostalgia for Herb Alpert records (hey, whatever happened to A&M Records, now that's a "sorta-dead" brand we want back too!!!) BrandlandUSA has officially made Woolworth's the July 2007 Dead Brand of the Month. This follows our June 2007 featured Dead Brand of the Month, General Cinema.
So how would Foot Locker, unsuccessful targeter of Genesco, bring Woolworth's back? At minimum it could ask a secretary to set up a $100 Yahoo store website and sell some Woolworth's brand promotional T-shirts to keep their historic brand alive, at least in a legal sense. But that's sort of lame, though we know it would be fun for the secretary. Even better, Foot Locker could rev up the licensing by asking the secretary to contact one of the better brand licensing firms, companies like IMC Licensing and Perpetual Licensing, and asking them. Get some ideas from companies like that on ways they could make some profit on the brand and license it out.
A little bit of licensing will help in so many ways. You never know when a little good news in the Wall Street Journal will be needed to buck up the old, and quite stuck-in-a-type-of-rut, stock price. But think a bit bigger. A franchised Woolworth lunch counter, done in a joint venture with Dollar Tree, would satisfy the consumer, and put a little IHoppin kind of Steak 'n Shake cash in the old Johnny Rockets. And the concept works. Ever hear of Cracker Barrel? It's all about finding shareholder value in underutilized assets, and repackaging old ideas for new generations. Note to Foot Locker; you can also extract some value from your other subsidiary, Kinney Shoes.
Right now, there is even a former Woolworth's turned into a five and dime, selling, you guessed it, knick knacks and lunch. Jan and Michael Stern have written about it; it's called Five & Dime. In Asheville, North Carolina, they have Woolworth Walk, an art gallery. What about art and lunch together, and call it, dum-te-dum…. F. W. Woolworth!
Wait. We're not the heirs to the legacy of the oldest and greatest retail brand in history. You are, Mr. Matthew Serra. So get to it, and bring Woolworth's back, at least in a few resort and specialty locations, and on the web. Margins are great on $5.99 hamburgers and little $5.99 sewing sets made in Hong Kong, by the way.
BrandlandUSA Rule: Keep a brand name alive any way you can. A brand is valued on a balance sheet as goodwill. If a brand is screwed up, you can close stores, or rethink. But whatever you do, keep the brand alive. Because if it is determined that there was another opportunity with the brand, you don't want to be the one that hocked the family silver and lost the rights to the trademark. In families, siblings get angry about that. In publicly traded companies, raiders, accountants and attorneys get a bit pesky about losing assets.