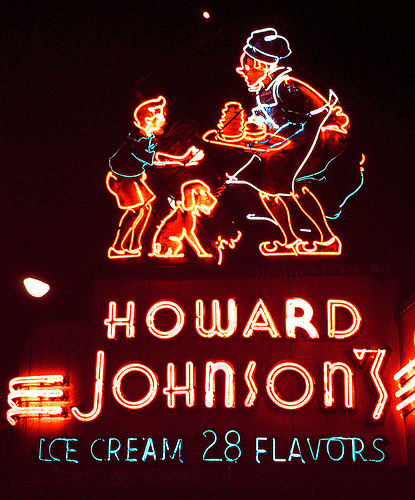 Are Howard Johnson's subliminally seductive clam strips returning to a hotel coffee shop near you? Could it be that HoJo has momentum?We talked to the editors of HoJoLand.com, the website that tracks all things related to Howard Johnson under the banner "Serving up Warm History of an American Icon." It turns out that 28 flavors and those little clam strip baskets might finally come back home to the American roadside.
A bit of background. There are two Howard Johnson's. The first is the hotel and motel chain Howard Johnson, once a part of Cendant and now part of Wyndham Worldwide, franchisors of brands like Days Inn, Baymont, Ramada, Travelodge and Knights Inn. The second Hojo is the restaurant operation, which has long since split off from the motels, and which has largely disappeared. While the number of Howard Johnson hotels has remained stable, each year more and more Howard Johnson restaurants close. Now, it's down to less than half a dozen. And that's bad. In fact, the only food you can get at a Howard Johnson these days are the chain's freebie Rise & Dine breakfasts.
At the same time the restaurants have closed, many exisiting Howard Johnson motels are still intact in places like Afton Mountain, Virginia and Sarasota, Florida, among dozens of destinations. While many of the orange roofs have been painted over, the structures are still there. In many cases they still have Howard Johnson motels still attached. While Hojo fans have hoped for many of the old locations to open, others have been working on restarting the restaurant company. The goal? That the chain can be recreated with an authenticity so it doesn't turn into something like Johnny Rockets, which sells nostalgia but not history. Perhaps that could mean reopening some old stores, opening new ones, and increasing the licensing of HoJo-branded frozen foods.
Hojoland.com believes in the new owner of the Howard Johnson restaurant brand, David Kushner of La Mancha Group. LaMancha is the licensee of the HoJo food & beverage/restaurant/ice cream rights). While he communicates with the HoJo ownership, he reminds that he is only speaking for himself, and not LaMancha or Wyndham Worldwide.
BrandlandUSA: How is the effort to bring back new shops going?
Hojoland: David Kushner, President of La Mancha Group LLC, which has rights to use the HoJo's/Howard Johnson's name for restaurants and food & beverage, is very busy seeing this project to fruition. While there have been some people who have questioned the validity of the project due to the length of time it has taken so far, I can tell you, that based on my communications with Kushner, this WILL happen. People don't seem to realize what a HUGE undertaking this project is. It's kind of like bringing the Automat back to life. Things are moving forward, and there are a lot of things that need to be done to basically bring a brand back from the dead. Planning on branding, marketing, franchising, design and so much more take time. But, I can tell you things have been done and are being done as we speak that are required to make this work.
BrandlandUSA: Are there individual entrepreneurs who wish to open up restaurants with the brand name HoJo?
Hojoland: Yes, there has been a lot of interest from potential franchisees about opening up HoJo's-branded restaurants and/or ice cream shops.
BrandlandUSA: Opening up a restaurant seems to be quite an easy thing. Why haven't any efforts stuck?
Hojoland: Well, again, to relaunch a brand that has been forgotten by many, as well as to educate a whole new generation that was even born when the HoJo's brand was still a household name, is a huge deal. Remember, it's effectively starting from scratch, so everything from logos to menus to building design comes into play.
BrandlandUSA: Is this new food licensing deal going to help get the product back on shelves?
Hojoland: Yes, remember the first thing that need to be done after the manufacturer, Fairfield Farms Kitchens (FFK) shutdown, was to maintain the current manufacturing and distribution. That has been done. Now, as part of La Mancha's overall efforts, I believe that one of their many goals is to increase not only distribution, but there are plans to expand the products offered.
BrandlandUSA: Where can you buy Hojos recipe products today? Are there any major stores that carry it?
Hojoland: There are major chains that still carry HoJo-branded food products. Stores such as Stop & Shop, Shaw's, IGA and others carry HJ products.
BrandlandUSA: Why hasn't Cendant taken more of an interest in the revival of the food brand, at least on a novelty level in bigger tourist destinations like Florida and New York?
Hojoland: Remember, Wyndham Worldwide (formerly Cendant) has licensed the brand to La Mancha Group. It's La Mancha's responsibility to guide the brand back to prominence. I believe, unlike with Franchise Associates, Inc. (FAI) which owned the restaurant and food & beverage rights before La Mancha, an excellent relationship exists between Wydham and La Mancha, and that relationship will be a very positive thing going forward….La Mancha and Wyndham's relationship, in my opinion, will create some great synergies in the future!
BrandlandUSA: Are there Howard Johnson hotel franchisees who have taken an interest in what you are doing?
Hojoland:In terms of my HoJoLand.com website, if that's what you mean, yes. From time to time, I receive emails from HJ lodging operators asking for info, such as where to get memorabilia they can display in their buildings. I think there are a good amount of HJ
lodging operators who do realize the glory of the brand's past.
BrandlandUSA: Does La Mancha or the Wyndham own the Pieman logo?
Hojoland: Ultimately, Wyndham Worldwide owns everything HoJo-related, but Wyndham has licensed their use exclusively to La Mancha.
BrandlandUSA: What the other restaurant chains that are no longer around that have some residual value in the eyes of consumers?
Hojoland: I think there are some extinct chains, though not many, (Horn & Hardart "Automats" for example), that I believe still have mileage in the brand.