The brands Packard Bell and Gateway will live on, even after their purchase by Taiwan's Acer.
On the tech site The Inquirer, Paul Hales reports that Gianfranco Lanci, the Italian who runs Acer, will keep the Packard Bell and Gateway brands, the former a relic of the early radio era and the latter of the earl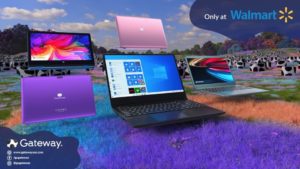 y PC clone era. Lanci, according to a report by Hales, believes that companies that sell commodity products need to sell under multiple brands to respond to different markets, and not try to merge them when they take them over. BrandlandUSA loves his approach.
"It makes sense to follow a multi-brand approach. If you look at other commodity markets like the car market, successful companies run multiple brands to address different market segments. Acer will pursue just such a multi-brand approach, Lanci said. In the this market, companies post-acquisition usually subsume acquired brands in order to boost the main brand. Acer won't."
This is smart stuff; other Asian companies have been stuck with new brands like Thinkpad and Lenovo. This has happened while numerous great computer brand names have gone by the wayside, even though they might have had equity, and could have helped their parent companies gain market share. (For a history of some of this historic computing brand names, check the University of Virginia's Computer Museum; a photo of their Burroughs computer is found by clicking here.)
When we say this, we know we are in dangerous territory. Because we know that if you took the Underwood typewriter brand and stuck it on a computer, it wouldn't help the computer sell. People wouldn't get it, or think Underwood was a new name. However, if a company used Underwood or Royal to "brand" an add on USB keyboard, that might sell to consumers. If that approach were successful, and a technology feel was added back and associated with the Underwood brand, it could, perhaps later, be used to sell PC clones. A few dropped, but still famous names which could have uses include:
The

Sperry

,

Burroughs

and

UNIVAC

product names, which were all merged to form Unisys (a good company name, with a good ring, that echoes UNIVAC). But just because the company is called Unisys, that doesn't mean that the brands under it needed to disappear. They could all appear as product names for new model computers by Unisys. Or at minimum, Unisys could attempt to license the images, logos and history of the brands for products that would bring licensing revenue to Unisys.
The

Remington Rand

computer and brand. The situation with Remington is better. While the computing brand has gone, at least the name Remington, which has gained clout over nearly two centuries and is one of the great American brand names, has become diversified; its brand survives on Remington electric razors through Remington Products and sporting products through Remington Arms. Assuming you could get all the trademark stuff straight, Remington Rand could very well also be licensed to a cellphone maker as a new model name; it would connote technology AND guns.
The

Digital

and

DEC

brands. Hewlett Packard apparently owns the Digital and DEC websites and has the last claims on brands; this brand could very well be used as a sub-brand if Hewlett-Packard needs to branded IT services, help desks or niche corporate server hardware sold by HP. For instance, it uses the product names ProLiant and Superdome. It would be a kick if they added the name Digital to the product list again next time they launch a new server. No one would buy a computer for this name, but it would be a kick, and it would be a way to keep the brand alive, as well as generate a good bit of press and a message to consumers that HP has history on its side.
The

Selectric

brand of IBM. Selectric typewriters were the best typewriters ever made; obviously the market for them disappeared. Yet the value in their approach to keyboards remains. With the Selectric, the "brand" was typing comfort combined with great product design, and that might still have value today. Could the brand be attached to an IBM licensed keyboard or MS Word software Add on or template service that had the same sense of touch and graphic sensibility that the Selectric Typewriter had?
Other related thoughts:
There is no reason why the Packard Bell can't be licensed to radios and TVs.
The Crosley brand has been revived on nostalgic products, but there is no reason why it can't also go on HD Radios. In fact, antique brands like Zenith, Crosley, Philco and Packard Bell are PERFECT to help sell new technology like HD Radio. Folks over 50 know these brands, and the 50-90 market has a great big fear of technology, and lots of free time.
BrandlandUSA Rule:
If you sell commodity products, keep lots of brands handy. Nothing wrong with coming up with a new company name when you merge a few companies, but that does not mean that the subsidiary brands names of your products need to die too. In fact, keeping the older brands and words alive keeps connections with different segments of customers. New products with new names can bring in new customers, but killing off an old brand to reach the same customer means LOST customers.