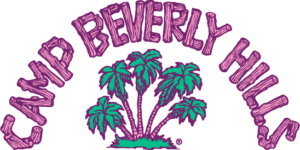 LOS ANGELES – The brand-licensing agency Global Icons is now representing the fashion brand Camp Beverly Hills. Originally launched in 1977, the first store was located off Rodeo Drive.
Throughout the 1980s, the brand expanded and was sold in major department and specialty stores nationwide. At its height, Camp Beverly Hills was licensed across the department store landscape.
Global Icons says that it will re-establish the brand's "LA roots" with the launch of an exclusive "capsule collection" and Pop-Up store at the retailer Fred Segal and on Fredsegal.com in Spring 2021.
Gateway, the cow-spotted personal computer brand is back, this time at Walmart. A press release said that the "laptops and tablets combine style, performance, and value in a wide range of products for consumers, students, and creators. Incorporating the latest technology for faster connections, sharper graphics, and immersive experiences, the new devices feature a fresh, clever design that embodies today's style and aesthetic." Gateway was one of the early and big PC-clone brands that followed IBM, along with Compaq, Dell and Acer. The brand is owned by Acer. "The Gateway PC brand and its renowned cow-spotted boxes have been well-loved in

the United States

since 1985," said spokesman

Jade Zhou.

Marketing materials are by Company X, a Los Angeles agency.
The Australian Motorists Petrol company, which later became Ampol, is back in to Australia. Ampol, founded in Sydney in 1936 by Sir William Walkley, was a brand and formerly Caltex Australia, which itself was formed as a joint venture between Standard Oil Co. of California (Socal, later Chevron) and The Texas Co. (later Texaco) on July 2, 1936. The managing director and CEO of Caltex Australia, Julian Segal, said in a press release that the announcement was a great opportunity to bring back the brand. "Ampol is an iconic Australian name – a brand which reflects our deep Australian heritage and expertise," said Mr Segal.  Last year, Chevron gave notice that it would terminate the license agreement for use of the Caltex brand in Australia, hence the return.
The Wagoneer is back, after years of hope from fans. First offered in 1962 for the 1963 model year, Wagoneer was the first four-wheel-drive car with an automatic transmission. The 1984 Grand Wagoneer marked the beginning of the premium SUV; it is a highly collected item, in spite of the paint jobs of the 80s, which were infamous. "The original Grand Wagoneer was the first premium SUV, and its timeless design combined with the soul of Americana helped it achieve an iconic place in many hearts," said

Ralph Gilles

, head of design – FCA. "The Grand Wagoneer Concept (seen above) is inspired by the original, but with a modern interpretation of luxury and freedom. We strived to create an elegant design with a timeless silhouette, featuring countless beautifully crafted details that come together to give it an undeniable presence."