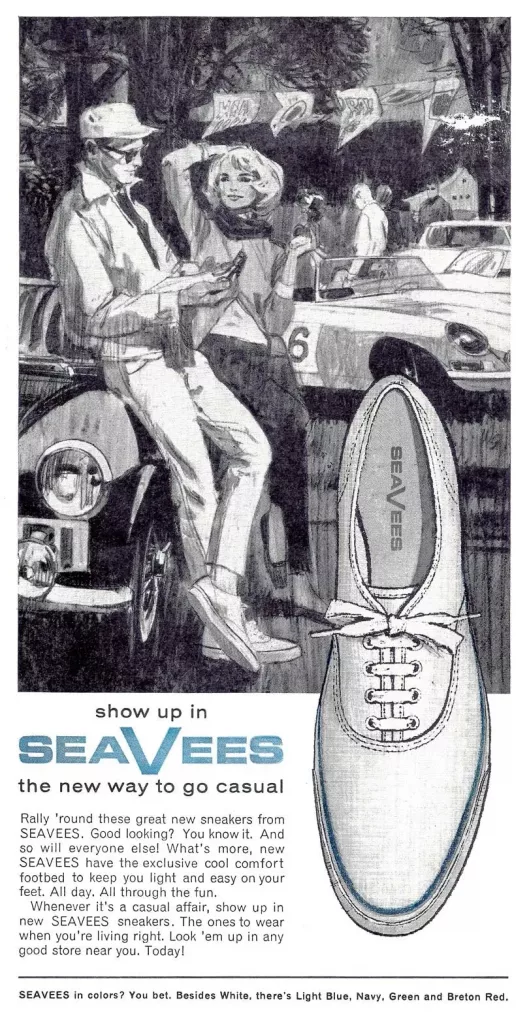 Today, the sporting shoe industry is dominated by shoe companies that just make shoes. Shoes for boating, running, cross training, golf, football and the like are all in the domain of sportswear brands.
But during the early 20th century, a key element to sporty shoes was the rubber that was inside them. The beginning of rubber in shoes came early on; Marquis Mills Converse, a manager at a footwear manufacturing firm, opened the Converse Rubber Shoe Company in February 1908. Colchester Rubber was also an early maker of what were often called "tennis shoes" a name by which many still refer to any lace-up shoe used for sports that has a soft top.
But a large number of footwear brands were actually made by the tire companies themselves. Today, the shoe lines continue on (Nike owns Converse which sells the Jack Purcell), but Goodyear Footwear has an impressive lineup of sportswear and shoes.
In the 20th Century, tire manufacturers knew that it was good business to sell products with your company name in other related areas. This was not only true with tire companies, but a plane company like Grumman would make sporting canoes, and Chrysler, the maker of tanks and cars, made sailboats and marine engines.
Oddly, tire companies (and other industrial giants) pay millions to advertise sports teams and players, yet they have avoided these markets for products, as they see them as peripheral to their market. So a self-sustaining unit, which may not have the margins of an automotive part, is sold. And then the company pays money to other companies to promote their brand.
Shoes that were derived from tire companies include:
B. F. Goodrich not only made Jack Purcell tennis shoes, but they made SeaVees, a sort of rubber soled canvas Top-Sider, and PF Flyers, a boating shoe. SeaVees were revived in 2008 by
Firestone had a whole line of its brand of shoes; the performance of the rubber in the shoes matched consumers' ideals of the performance of the rubber in tires. Even in the 1920s, it was a major force in sportswear.
United States Rubber, later UniRoyal, made Keds. Keds, once part Stride Rite, was founded in 1916. The original shoe design, the Champion, was the first mass-produced sneaker. They are now part of Wolverine World Wide. The Keds line spawned Pro-Keds, a professional basketball show, best known for two stripes on the outside. The Uniroyal tire is now made by Michelin. Uniroyal dates from 1892.
Dunlop, a spin off of well known Dunlop performance tires, is still a major sportswear brand, especially in former countries of the British Empire, including Australia, where Evonne Goolagong and Margaret Court wore the shoes, true tennis shoes. The tire company Dunlop is part of Goodyear, and Sumitomo Rubber. The roots of the company are in Dublin, Ireland with John Boyd Dunlop's Dunlop Pneumatic Tire Company, which was originally about bike tires. The idea was not just to have them be rubber, but to put an inflatable part inside, to give it cushion. Dunlop has a true Victorian feel, as Dunlop was founded in 1889 at the height of Victoria's power. Dunlop's make shoe line is a professional one for called Dunlop Protective Footwear. The brand ownership of the Dunlop company is complicated; different companies that were part of Dunlop across the world are owned by various companies. Sumitomo Rubber Industries, Ltd. purchased Dunlop Sports from Sports Direct International plc in 2016 for $137.5 million.
Goodyear Footwear has a complete line of footwear, including rated items for industrial use. They relate closely to the brand's sponsorship of NASCAR, and a separate Goodyear clothing line.
Below, a vintage Keds ad, with a clown named Kedso. At bottom, some images from rubber company shoes.