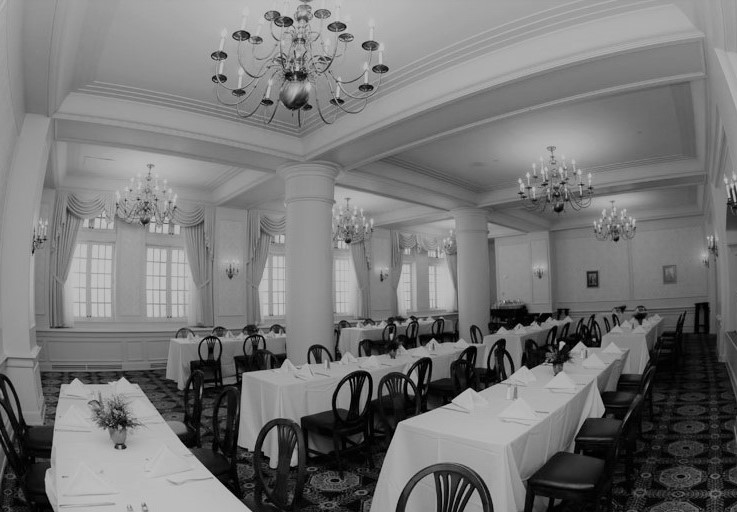 How about a hopeful story of a brand that came back? Reader Brian Stevens of Indiana writes to us that the L. S. Ayres & Company was a fixture in Indianapolis (along with department stores like Block's, Wasson's, and L. Strauss) from 1872 until it was swallowed up by what he calls the "Great Non-Descript Department Store MegaBlob du Jour" in 1991. Stevens writes:
The L.S. Ayres Tea Room was a beautiful, high class tradition from 1905 to 1990 when it closed. Everyone, of every social class ate there, many during back-to-school or Christmas shopping trip downtown. Most of that wonderful "downtown experience" of shopping, strolling. Eating and seeing the sights is long gone as it has disappeared, I'm sure, from most metropolitan cities around the country. Funny, how we don't miss these traditions until they're gone or we simply let them slip through our fingers so slowly?
Amen to that.
The store closed and the contents of the Ayres Tea Room were dispersed.
Recently, the Indiana State Museum reopened the L.S. Ayres Tea Room as a restaurant when it opened its new location in White River State Park in Indianapolis. Says Stevens, "As you tell, a little, by the photos, they have lovingly restored all the atmosphere and elegance of the original and brought a tradition that can once again be shared by families from all over Indiana and parts unknown. We have Circle Center Mall now so they can also shop."
A bit about the restaurant, which is operated by Crystal Food Services. Info is taken from the state museum's website:
Visitors sit at the actual tables and chairs from the original Tea Room that were found in Café Max in Culver, Indiana. The café's owners had purchased the furniture from auction after the Tea Room closed in 1990.
Reproductions of Tea Room wall coverings, draperies, furniture, chandeliers, the treasure chest and a re–design of the reception desk are included.
Menu items include the popular Chicken Velvet Soup, Chicken Pot Pie and Pecan Ball.
The children's menu features items such as the Hobo lunch and Ice Cream Clown.
The L.S. Ayres Tea Room is not the only reconstituted restaurant in a museum. In fact, moving an old restaurant TO a museum is a perfect match for both. The museum gets income, and the public gets a real, living taste of its culinary history. For instance, Colonial Williamsburg has recreated a number of actual taverns from the Colonial period.
In Pensacola, the Navy's Morale, Welfare and Recreation department operates the Cubi Bar Cafe at the National Naval Aviation Museum. That restaurant was once on our Navy base at Subic Bay, Philippines.