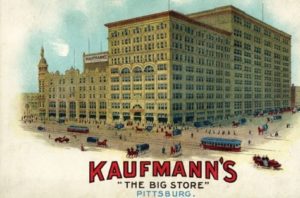 PITTSBURGH – Because many downtown department stores have failed under the current model of Macy's, there is a misunderstanding of what a department store is, and whether a department store is a valid idea. Currently, the idea of a department store is a massive, massive clothing and accessories store, with some other things thrown in.
But that was not the original idea of the department store. In its origin, the store went from a general dry goods store and evolved into a what in my home state of Richmond was a tall mall.
The "tall mall" was the nickname I heard when describing department stores in downtown Richmond. Richmond's Thalhimers, like so many other department stores with 19th century origins, began as a small independent store and grew in complexity over the decades. Even as the company grew its sales in its core retail division, the owners gradually added many leased departments and properties. Thalhimers in its heyday included a coins and stamps shop, a travel agency and a city utility payment office as part of their credit card operation. That is on top of the usual idiom of having leased counter space of jewelry, cosmetics and some fashion lines.
As Thalhimers added other lines to their men's, women's and children's fashion, it became a very complex retail mix, with a series of restaurants, boutiques and the like. The store became, in the end, a real estate play that made money off of revolving credit. To grow and add traffic and sales, the stores added leased vendors to fill out the product mix. Thus each "store" was not just one piece of real estate, but it was perhaps a dozen of small parcels of land, all connected together. In Richmond, like so many places, the geography of the store was not actually one building, but it was a labyrinth of smaller buildings with a facade to help pull it all together.
This discussion is background to what is happening in Pittsburgh. There, a new development of the historic 1887 Kaufmann's department store (which had been a Macy's) is going to be called Kaufmann's Grand on Fifth. The development includes a hotel, retail, apartments and office space. The building, purchased from Macy's by Philadelphia's Core Realty for a reported $15 million, is managed by local Cushman & Wakefield affiliate Grant Street Associates. The 2016 sale was the deal of the century; the most iconic, historic and notorious piece of real estate in the city for the price of about 15 McMansions.
The brand name Kaufmann's is synonymous with Pittsburgh, most famous with the family's Medici-like patronage of the Kaufmann murals and Frank Lloyd Wright and Fallingwater. Anyone over the age of 40 is familiar with the name, and any millennial under 30 is bound to be interested in the history. If that has missed them, they will have a passing knowledge of the Kaufmann's clock, which is still labeled and is a famous icon downtown. Kaufmann's, like so many other downtown stores in so many cities, defined and indeed created the identity of Pittsburgh.
Core Realty and Grant Street aim to capitalize and celebrate this heritage as they redevelop the giant store. "The overwhelming gratitude we received from the Pittsburgh community was something special," said Grant Street vp John Jackson, in a snappy video describing the project. "People are really looking for an experience nowadays."
As obvious as the project is, and as experienced as the developers are, it needs prayer and support. It is a terribly complex project, particularly for the ground floor retail spaces. The video launch of the project is quite good, produced by Studious One Digital Film Arts of Pittsburgh. Actually, if you care about such things, it may make you a bit good weepy, as it explains in great detail the rationale for the project, as well as gives you a quick overview of the history of the department store and the notable features of the building.
The Kaufmann's project is one of many redevelopments of great department store buildings. In my hometown of Richmond, the old Miller & Rhoads is both a Hilton, a retail development, and an apartment complex. Nearby Thalhimers, sadly obliterated by downtown "boosters" still has a piece of the store on Grace Street still extant.
Local developers would do well to look at the previous brand names of its department stores as they revive old buildings and districts. It gives projects an instant sense of credibility. Macy's would do well to also examine the Burdine's property in Miami, the A&S property in Brooklyn and the Marshall Field property in Chicago to see ways they can capitalize on the previous identities of their stores. The Burdine's identity is particularly powerful, as Florida is such a distinctive retail and tourist market.
Department stores around the country have been converted to many uses; some like Norfolk's Smith & Welton are downtown college buildings. This has happened in many other places, including Austin. Frankly, its more interesting to go to community college in a converted building that has some patina.
Other department stores that have had new lives in mixed use arrangements:
Hanny's in Phoenix is now Hanny's Restaurant
The San Antonio Towne Place Suites department store was the former Neisner Department Store
Burma's Sofaer brand identity is now a restaurant.
Milwaukee's Shusters is now apartments and the Mitchell Street Mall
The Kessler Lofts is an apartment building in the former Kessler's Department store on Third Avenue. It's a tiny project, but one that actually uses the original store name.