This spring, JCPenney unveiled a new shopping position. "Shopping is Back." The company used a fictional character named Penny James, or "Ms. James," to sell the slogan. She is played by Melissa Villaseñor, a comedienne and current cast member of Saturday Night Live. In the campaign, Ms. James samples the offerings of the 120-year-old retailer, in person, from optical shop, to dresses, to salon.
The campaign is part of a turnaround strategy for JCPenney, led by Marc Rosen, a former Levi's executive. Rosen came in the fall of 2021, after the company's May 2020 bankruptcy. The company could have been liquidated, but its stores were the surviving anchors at hundreds of malls. The malls, and nearby stores, needed JCPenney, even if it was ailing.
Simon Property Group Inc. and Brookfield Property Partners LP came to the rescue, surmizing that JCPenney was worth much more alive as a tenant, than dead. They restructured, closing hundreds of stores, taking the store count from 1,100 to 689. They then brought in Rosen, who comes from a department store family. His family owned the regional department store, Chozen's, run by his grandfather and great uncles in Minnesota and Iowa.
For JCPenney and Rosen, the idea is to serve the middle-market customers that have stuck with the retailer. This was not the approach of former CEO Ron Johnson, the former retail boss at Apple. Johnson, enamored with technology, seemed to dislike the actual Penney customers, and wish for others. While Johnson was hired in 2011, his mistakes still reverberated through the company.
Rosen took the perfect tone when JCPenney announced his hiring. "I have spent my career focused on iconic American retailers and it has given me a unique perspective on the value of heritage brands," Rosen said in a press release. "Joining at this milestone moment in the Company's history, I am eager to propel the business into its next era and connect with our customers in new ways."
Nationally, Rosen's recipe seems to be working. Revenue for the retailer this year is expected to be about $9 billion, up 10% from 2021, but down 16% from 2019, according to The Wall Street Journal. The company still employs approximately 50,000 associates.
Perfect Market in Red State Florida
The company's stated position is "a shopping destination for diverse, working American families. With inclusivity at its core, the Company's product assortment meets customers' everyday needs and helps them commemorate every special occasion with style, quality and value." To that end, the company's store in Port Charlotte, Florida is a perfect petri dish to observe whether this time-tested but revived strategy of targeting America's median income families is working.
The store, opened in 1989 by Miss Universe Angela Visser, is located in the struggling Port Charlotte Town Center, originally a deBartolo mall. The Sears at the mall closed in 2019. The Macy's, originally a Burdines, closed in 2021. Many of the national tenants of the mall are gone, although stores like DSW, Pink and Hollister remain, giving it the feeling of hospice. The mall today includes anchors Dillard's, Beall's and JCPenney.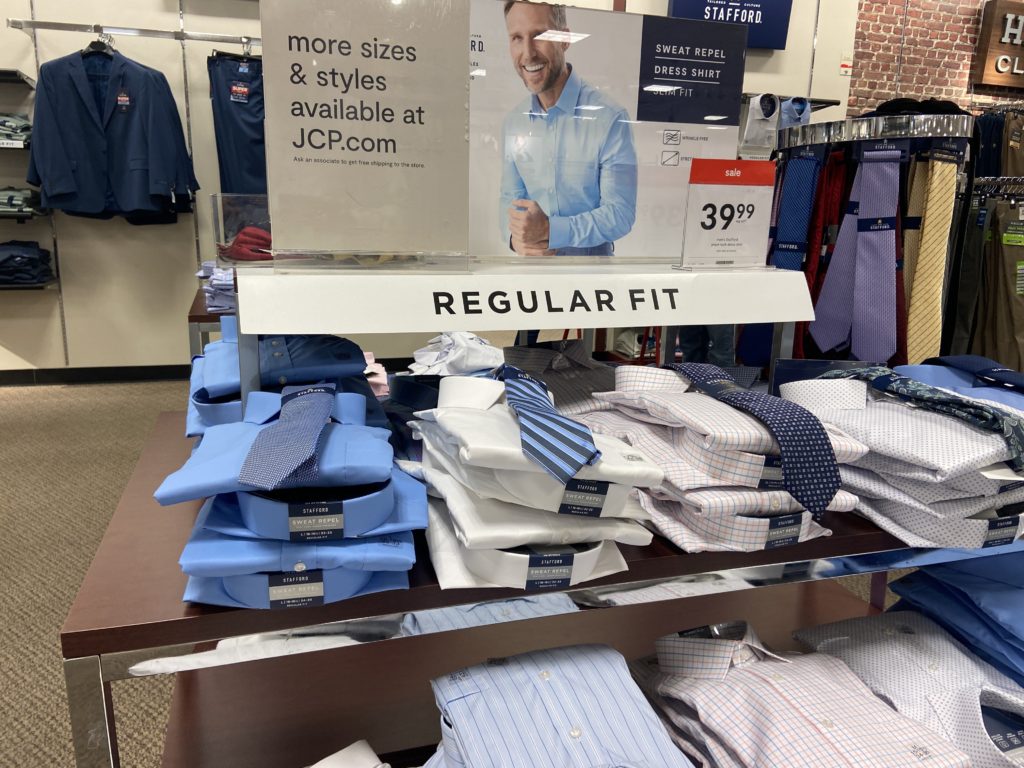 Port Charlotte fits the chain's demographics perfectly. Located on the Gulf coast of Florida, north of Ft. Myers and south of Sarasota, Port Charlotte is what best might be called Red State diverse. It is among the fastest growing regions in the U.S. The city's housing stock is mostly slab, concrete-block tract houses developed by the Mackle Brothers of Miami, beginning in the 1960s. The company attracted thousands of middle and upper middle income Americans to their developments across Florida, in places that include Marco Island, Key Biscayne and Spring Hill. Today, Port Charlotte and nearby North Port, also a Mackle creation, today have a diverse, church-going middle class audience, perfect for the new/old JCPenney mix.
Neighboring development projects left thousands of vacant building lots, which make a continuous supply of plentiful starter houses. That means that the early white population, and children, were able to stay, if they wished. And children took over and retired at their parents' houses, after the original owners died.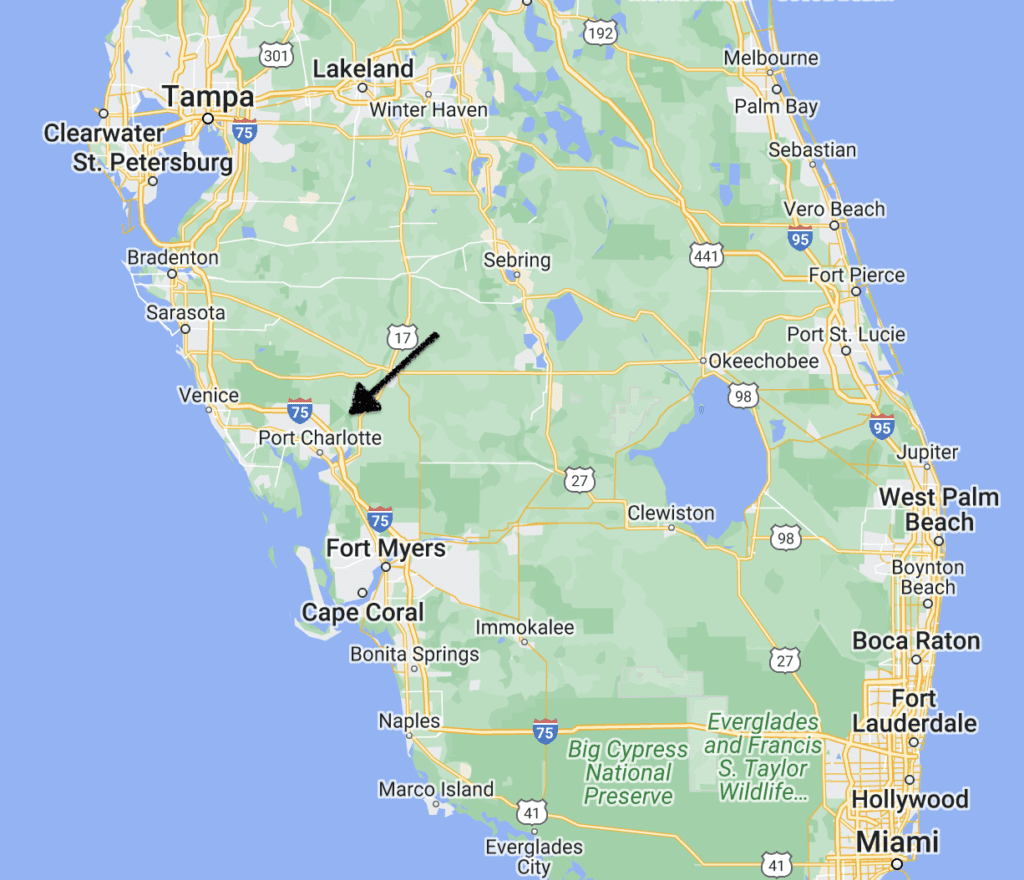 The region was and is also popular with northern civil service retirees, many of which came on junkets to buy lots and build retirement houses. Many were first generation arrivals from Anglo-Caribbean countries like the Bahamas, Jamaica and Trinidad, as well as Puerto Ricans. All of the groups apprecated that the real estate prices were good, the beaches were close, and the weather was like home.
On a recent day's visit, shoppers at the Penney's reflected local demographics, and were both English and Spanish speaking. There were even Russian speakers. (Nearby North Port, in particular, has tens of thousands from places like Poland, Ukraine and Russia, most of which are evangelical Christians who came to the U.S. for religous freedom.)
On a Fourth of July sale weekend, the store was well appointed, with store displays and signage perfectly turned out, though a big Haggar sign was missing an R. Shoppers were waiting in line for store clerks, but not too long. Customers were about two deep at cashier sections. Some customers were also returning items from jcp.com, a good sign. Clerks were able to handle the exchanges and refunds adeptly. The store, however, operates on a more limited schedule, opening later than the rest of the mall.
History of James Cash Penney
In their new marketing, the company has brought back their oldest reference, the Golden Rule. James Cash Penney founded J. C. Penney in Kemmerer, Wyoming as a store called Golden Rule. Their company description plays this up:
Since April 14, 1902, JCPenney has lived by The Golden Rule to bring style and value to working families across the country. The Company evolved with these families by redesigning shopping experiences, embracing fashion and cultural trends, and enriching special traditions. Today, JCPenney proudly brings back shopping as the only one-stop destination providing diverse customers with fashion, quality, convenience and value no matter where, when or how they want to shop.

From an April press release from JCPenney.
Rosen, in his prior position at Levi Strauss & Co., headed the company's company's Digital Enterprise Office. Evolving with "The 120-year-old JCPenney brand is iconic. We must protect what the brand represents while evolving how it expresses who we are today," said Rosen, in a release.
The company this June hired John Aylward, former chief marketing officer of of the charity CARE, as its chief marketing officer. Sharmeelee Bala, of Gap, is the new chief information officer. Katie Mullen is the new chief digital and transformation officer, specializing in jcp.com.
New Brands, Old Favorites
JCPenney has succeeded in the past by doing things slighty differently, and outlasted mid-market competitors like Montgomery Ward, Sears and F.W. Woolworth. It kept its catalog well into the Internet era.
After the Covid retail collapse, it began offering new brands, including the Marshall Field's brand Fieldcrest. Another "brand" recently added is a license from the estate of Marilyn Monroe (seen here) from Authentic Brands Group. There is synergy between Penney and Authentic Brands. Authentic Brands offers a long list of ideas for Penney, including entertainment and sports figures like Elvis Presley, Muhammad Ali, Shaquille O'Neal, David Beckham, Dr. J and Greg Norman. Other brands include Sports Illustrated, Reebok, Eddie Bauer, Spyder, Volcom, Airwalk, Nautica, Izod, Forever 21, Aéropostale, Juicy Couture, Vince Camuto, Lucky Brand, Nine West, Jones New York, Frederick's of Hollywood, Adrienne Vittadini, Van Heusen, Arrow, Tretorn, Tapout, Prince, Vision Street Wear, Brooks Brothers, Barneys New York, Judith Leiber, Herve Leger, Frye, Hickey Freeman, Hart Schaffner Marx, Thomasville, Drexel and Henredon. While not all the brands might be appropriate, Authentic can use Penney's as a test market, and Penney's has a large store of ideas.
In the current product mix, the look is actually quite staid, with these fresh brands sprinkled throughout. This echoes the chains strengths, which were to offer time-tested products, in good taste, at reasonable prices. The chain always had a following in upper and upper middle class households; the nickname "Jacques Penné" was a reference to its popularity in WASP households. In 2017, the company even opened a pop-up Jacques Penné in New York, with celeb guests like Nicole Richie. A recent re-opening in McAllen, Texas emphasized Mexican connections. The store is the closest to the border crossing and Hidalgo, and a popular stop for Mexican consumers seeking U.S. goods.
Future Plans & Ideas
While much of the feel of a JCPenney store remains, there have been changes. The chain was once one of the nation's leading appliance retailers. It brought them back only to get rid of them again. It did bring back a larger home section, which had been a missing element.
This spring, it proposed a purchase of Kohl's, a questionable choice. It is re-emphasizing its own cosmetics section; a partnership with Sephora was not drawing customers to Penney. It is also emphasizing its salon, photo and optical departments. Each of these make Penney more of a destination, and provide regular foot traffic.
Below, a slideshow of the store, including company photos and images from Port Charlotte:
Exterior of the Port Charlotte store.

Menswear still offers St. John's Bay. BrandlandUSA photo.

The menswear section, though the Haggar is missing an R.

A signature of all the stores is J.C. Penney Co. Fine Jewelry counter.

Types of men's pants are explained. That they have gone this far with merchandise indicates attention to their in-store experience. BrandlandUSA photo.

The JCPenney Fine Jewelry counter.

Bulova section of the jewelry counter. An emphasis in the turnaround is better brands.

Jewelry sale information for Fourth of July weekend, 2022.

Prior to Rosen, the company put together a store prototype using old themes. JCPenney photo.

Ms. Penney in a promotional photo.

Aisle displays feature Shopping is Back slogan at the company's Port Charlotte, Florida store.

A partnership between Sephora and JCPenney is still featured in Port Charlotte, Florida.