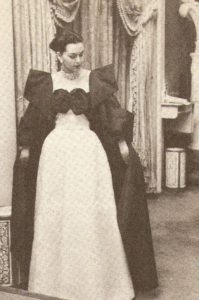 The May edition of Vogue magazine profiles Osmothéque perfume conservatory in Versailles, where over 1,800 scents are stored, including 400 parfums disparus, or disappeared perfumes. The story is written by Erika Kawalek, who goes on a "journey to replace her favorite scents."
The Osmotheque website lists of dozens of perfumes by database according to year launched, brand name, type of scent and parent company. At the Osmothéque conservatory, the old scents are stored in a temperature controlled basement inside "metal flasks filled with argon gas."
The article mentions perfume sleuth Anitra Earle in New York, who found a bottle of Mitsouko bath oil for the Vogue writer. Apparently, Earle has 20,000 names of "perfume widows" who search for "disappeared" scents.
What are some of the notable scents?
Tabac Blond by

Caron

, which was created by Ernest Daltroff in 1919. At the shop, you could bring in perfume bottles and have them refilled.
Le Fruit Défendu.
Nuit de Chine.
Iris Silver Mist by

Lutens.

Rose Jacqueminot by

François Coty.
Popular old scents
Woodhue by

Fabergé.

Rose Barbare by

Guerlain.
Vintage Scents, Some Reformulated
Revived Perfume Companies
Paul Poiret's Parfums de Rosine. The Poiret parfumerie closed in 1991, but the name was revived by Marie-Héléne Rogeon in 1991 as

Les Parfums de Rosine.
Disappeared Scents
Iris Gris by Jacques Fath. The perfume was created by Vincent Roubert in 1947, was discontinued in 1954. Replacement iris scents?

Vogue

recommends Bois d'Iris from Different Company, Iris Poudre by Fréderic Malle and 28 La Pausa from Chanel.

Société Colette

, a Parisian parfumerie that opened in 1932.
Scandal by Lanvin. It was composed by André Fraysse in 1933 and was shut down in 1971.
Where to find old perfumes?
Roja Dove

, the parfumerie on Harrods fifth floor, has old perfumes from around the world. There one might find disappeared brands like

Schiaparelli's

Shocking (recently re-released) and

Guerlain's

Liu.