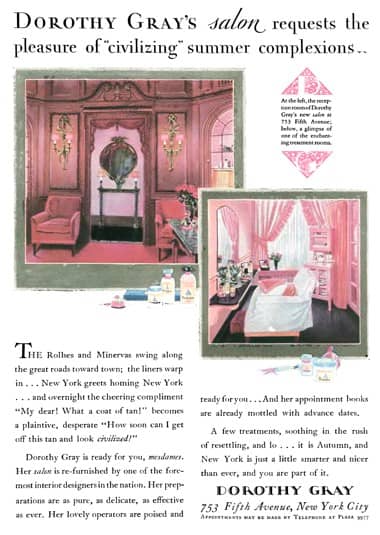 This weekend in Sarasota, we met a fantastic lady, Ruth Hartman, who was one of the early pioneers of advertising in New York. She had worked at three major ad agencies in New York City (including Dancer Fitzgerald) at a time when women were far and few. We asked after her old accounts; were there any favorites?
One of the most interesting, she said, was Dorothy Gray.
What was Dorothy Gray, we asked? It's not around anymore, she said, but it was one of the great cosmetics companies of the century. They did mostly print advertising. We said we would find out more.
Online, there is plenty of advertising; a quick Google search shows the website TVParty.com selling a wacky Dorothy Gray commercial the company ran for a face wash. In the commercial, it was proven that Dorothy Gray could make radioactive dust disappear! We told her we would search for some more history.
It didn't take long to find. While the company is gone, it appears that the company's face cream, Dorothy Gray Satura Moisture Cream, is still sold by Walgreens! Actually, the name brand survives, ready for a larger revival. It is owned by Hamilton, N.J.-based Ascendia Brands, Inc. The company describes itself as a leader in the "value and premium value segments of the health and beauty care products sector." A recent SEC filing said this about Dorothy Gray:
"Dorothy Gray Satura – Introduced in 1916, Dorothy Gray is an "upscale" line of face cream products specifically designed to address the needs of dry or mature
skin. The brand enjoys limited domestic distribution, with revenues generated primarily by sales to Korea and other international markets."
Other than Dorothy Gray, the company owns some great underutilized brands, including Mr. Bubble, Calgon, Baby Magic, Ogilvie and Binaca. Not only are these well-known names, they are brands that have cult followings, particularly Mr. Bubble and Ogilvie. Brands that have cult followings are excellent candidates for renewal, as they not only are known, they are funky enough to have logos that might sell on TV shirts, or would sell to college kids.
A bit of history. In November 2005, Ascendia bought Baby Magic, Binaca, Mr. Bubble and Ogilvie, and in February 2007 it acquired Calgon. It has two manufacturing facilities, one in Binghamton, New York, and another in Toronto, Canada. So it has some good brands. The company has recently de-listed from AMEX and its stock is now sold over the counter. The company has recently brought in a new board, and has a slate of new officers, including Robert L. Caulk, Mitchell P. Goldstein and Marilyn Feuer.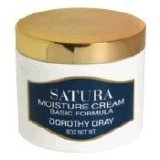 Dorothy Gray, when it was a company, was giant, and it produced dozens and dozens of brands. Ebay power seller Cleopatra's Boudoir knows all about the perfume brands, and has published a list of those brands on her profile page. Here they are; many are also for sale on her site.
1922 Beautiful Lady
1922 Doritina
1922 Bouquet Yvette
1936 Elation
1938 Flutter
1938 Nosegay
1941 Lady in the Dark
1947 Savoir Faire
1948 Indigo
1953 Wedgewood
1954 Figurine
1957 Aureate
1969 Midnight
1971 Dee Gee
What would be our advice for Ascendia? Do we dare?
First, they should recognize that they have some good assets, assets that could have had as much value as Oil of Olay or Estee Lauder. While these brands do not have much valuation now, with proper management, they can be brought back to some semblance of their former selves. Second, they need to go back and revisit these products to see where mistakes were made along the way. This would mean buying up some old products from Ebay collectors, doing some library research and finding some of the folks who worked at the various brands when they were in their heyday. Third, they need to plan on how to revive each of their brands using research, sensible planning and a bit of nostalgia. And lastly, they need get their brands out of the value and premium value segments, and realize that they have first rate brands that need to be positioned as such. Dorothy Gray has some life left in her.