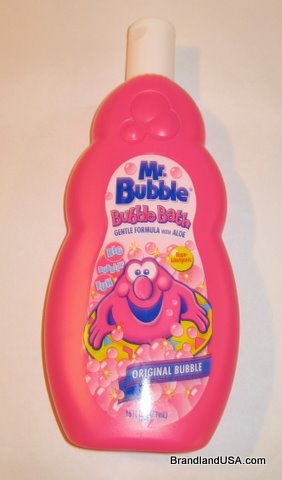 Still wondering about our old deodorant friend Tussy
That staple of 1970s tub time, Mr. Bubble, has found a new home at Minnesota-based The Village Company. Mr. Bubble was part of the consumer products portfolio of Princeton, NJ-based Ascendia Brands, which went bankrupt in August 2008.
Mr. Bubble was part of a long number of fascinating brands owned by and assembled by Ascendia; we talked about them in early 2008. While the company was ailing (it's hard to do Proctor and Gamble on the cheap), they had this iconic list of powerful brand names that were (and still are) quite valuable including Tussy, Calgon, Mr. Bubble, Binaca and Ogilvie.
The most storied brand that Ascendia owned was Dorothy Gray, which was the Revlon or Maybelline of the middle part of the 20th century. The company was allowed to wither and only its Satura Dorothy Gray cold cream survived as a brand. There are a large number of BrandlandUSA readers searching for Dorothy Gray Satura; apparently the brand has a following in Korea, or so say Ascendia's SEC filings.
While a bankruptcy is never nice, it is good that many of the former Ascendia brands have ended up with smaller, more entrepreneurial companies that can develop them better and tap into their legacy. Here's what happened to some of the other brands.
Dr. Fresh Inc. of Buena Park, Calif. bought the Binaca, Tek and Dentax brands of dental products
Village Company purchased Mr. Bubble
Helen of Troy (NASDAQ: HELE) bought the Ogilvie home perm business
We still don't know what happened to Tussy deodorant (that's the one you put on with your fingers as a cream) and Calgon (take me away) bath beads.
However, Grand Brands LLC brought the Lander brand name; Lander was founded in 1920 by a fellow named Charles H. Oestreich and it makes a wide assortment of health and beauty aids including shampoo, mouthwash and foam bath.
Other products sold by Lander (which was more a company brand than a product brand) included a large number of perfumes and over 30 brand names and four subsidiaries including Lundborg Perfumers Inc. and Mac Gregor Men's Toiletries Inc. We found a list of Lander perfumes from the Ebay seller Cleopatra's Boudoir. They are:
1917 Pixie, reintroduced in 1954
1935 Movie Star
1937 Dorothy Deanne
1937 Dorothy Reed
1939 Romantic Days
1940 Black Orchid
1942 Black Panther, reintroduced in 1962
1943 Cave Man
1943 Forbidden Secret
1943 Stolen Secret
1943 Untamed Perfume
1943 Tiki
1947 Golden Apple Blossom
1947 Golden Corsage
1947 Golden Gardenia
1948 Emily Page1950 Samezi-Soir