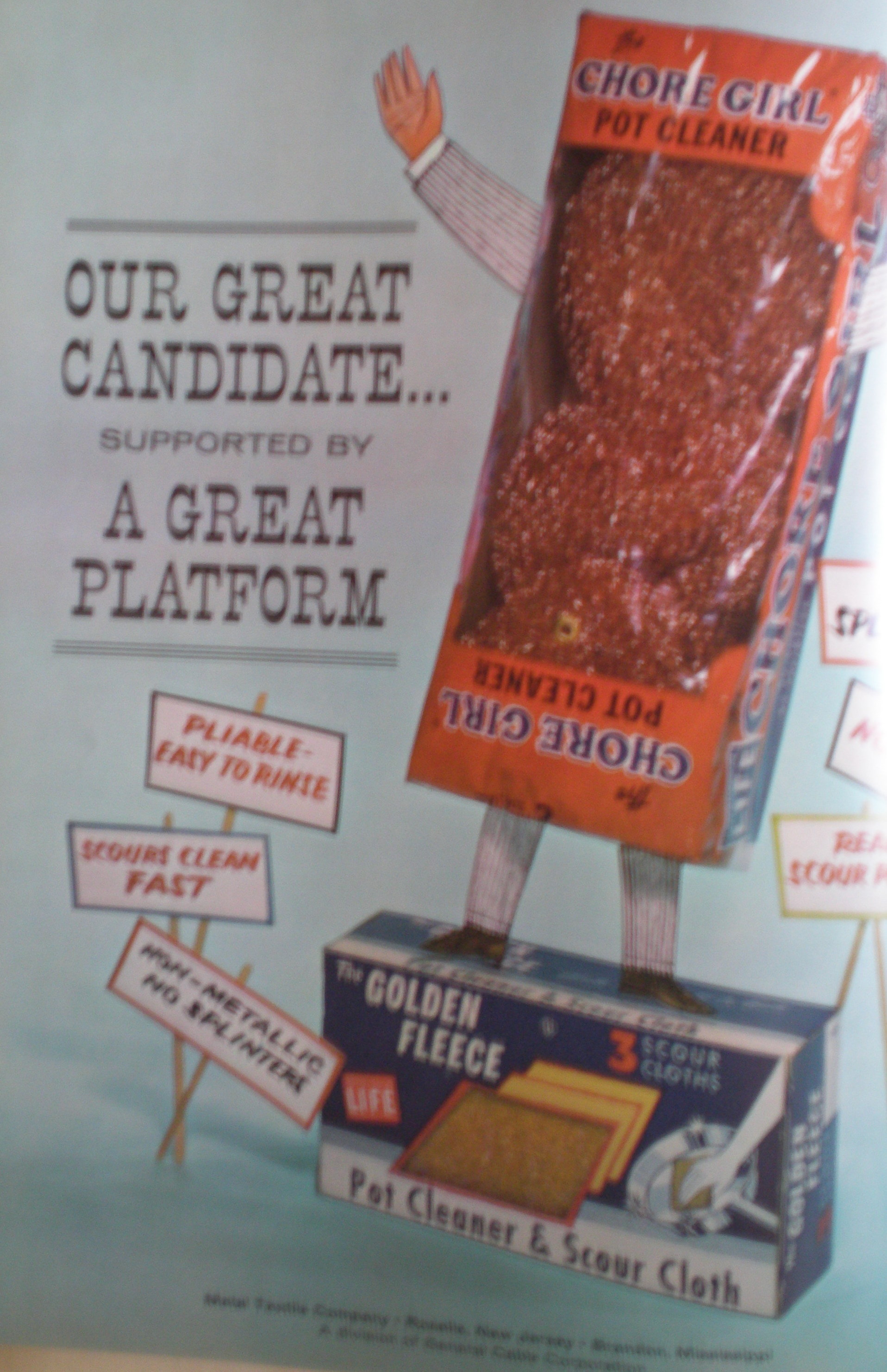 Looking back on the 1964 Democratic National Convention in Atlantic City through the lens of their official program, we see another America, and another Democratic Party. The program, designed by the ad agency Doyle, Dane Bernbach Inc, was dedicated to the memory of John F. Kennedy, and had a pro-business, pro-defense and overall optimistic feel.
An interesting sidenote. Doyle Dane Bernbach was also responsible for LBJ's famous "Daisy" commercial that sidelined Barry Goldwater.
Today's sponsor list for the DNC sounds remarkably the same; indeed Union Pacific, Pepsi, Coca-Cola, Xerox, Lockheed Martin and Ford were sponsors in 1964, and are sponsors at the 2008 convention.
Below are 75 of the advertisers from 1964. It is an instructive list. Of course, there are many companies that are still around, including Xerox, Kodak, Continental Airlines and BorgWarner. But many have disappeared including Matson Lines, Pan Am, Bohn Aluminum and dozens of others. The list reeks of a disappeared America that actually made things.
Here are 75 of the sponsors:
Ford Motor Company and its Ford Country Squire, with subsidiaries including Mustang, Falcon, Fairlane, Ford, Thunderbird, Mercury and Lincoln-Continental.
Universal American Corporation, based at 200 Park Avenue, New York, parent of Paul Hardeman, Bohn Aluminum and Brass, Amron Corp, Bingham Stamping, American Pulley, Morse Twist Drill & Machine, Norma-Hoffman Bearings, Super Tool Company and Van Norman Machine Company
Matson Lines, offering round trips on the SS Lurline to Hawaii.
Champion Papers
Pepsi-Cola
Union Pacific Railroad
Cenco X-Ray, distributor for Ferrania Radiographic Materials, a division of Cenco
Xerox
Canadian Club
Douglas Airplanes

Paul Hardeman Inc., parent company of Young Spring & Wire
Southern Railway System
ITT (providers of communications systems)
Fishbach and Moore, electrical contractors
The Milwaukee Road
Lockheed Jetstar
Anaconda Company (mining copper and aluminum)
American Airlines
Ralph M. Parsons Company
Continental Airlines
TRW, which then stood for Thompson Ramo Wooldridge Inc.
Litton Industries Inc. of Beverly Hills
General Cable Corp., parent of Chore Girl Pot Cleaner and The Golden Fleece Pot Cleaner and Scour Cloth. (The question is when did Chore Girl become Chore Boy?)
Pan American World Airways. The tagline? "When all the votes are in, you're a candidate for a well-deserved rest."
Pabst Blue Ribbon, Pabst Brewing Company, Milwaukee, Newark and Los Angeles
Ling-Temco-Vought or LTV and their Altec Division in Anaheim and the University Division in Oklahoma City. LTV made high fidelity sound components and sound systems of all types, a world leader in sound and electro-acoustic research and development.
FMC, with divisions American Viscose, Bolens, John Bean Inorganic Chemicals, Niagara Chemical, Petro-Tex Chemical Corp.
Reynolds Aluminum
U.S. Industries
Atlantic Coast Line
Kodak and their Verifax Cavalcade Copier and Kodak Readyprint Copier
Avco
Martin Marietta
The Carlyle Hotel, New York
MGM
Universal Engineering, David Nassif , President
Universal City Studios
Johnson & Johnson
Hughes Aircraft Company and divisions
York/Borg-Warner air conditioning
Embassy Pictures, Joseph E. Levine
Ryan Aeronautical Company, San Diego
New York Central, with its hotels including Barclay, Biltmore, Commodore, Park Lane, Roosevelt and Waldorf-Astoria.
Continental Motors Corp.
Brown & Pomerantz, Consulting Engineers
United States Lines
Lytton Financial Corporation, Bart  Lytton, President and chariman of the Board, with division Lytton Savings and Loan. (Lytton looks a bit like Mr. Drysdale, eh?)
ABC Television Network
Routh Robbins Real Estate, Alexandria, Virginia
Seven Arts film producers, Beverly Hills
Sperry Rand Corporation
E.W. Axe Co., Inc., Tarrytown, NY
Del E. Webb Corporation. Now a part of Pulte, and a sister company to DiVosta. Still does retiree developments. Perhaps a more glamorous brand then than now, but it could be brought back.
Screen Gems It is still going strong.
California and Hawaiian Sugar Refining Corp., Ltd. Now a part of Alexander & Baldwin, we think.
Flying Tiger Line Purchased by Federal Express
General Precision
Gilbert Systems Inc., with divisions Gilbert Carrier, New York Haulage, Nelson Trucking Serivce
Loral Electronics including A&M Instrument, Alpha Wire, American Beryllium, American Metals & Ceramics, Arco Electronics, Lermer Packaging, Loral Electronic Systems
Stanley Warner Corp., with divisions Playtex, Stanley Warner Theatres, Tylac, Southern Latex, Isodine, Sarong, WAST Television, Morning Star Paisley, Physicians Products
Georgia-Pacific
Eastern Air Lines
Shell
General Dynamics Corp.
Aerojet-General Corporation, a subsidiary of General Tire and Rubber
Spiegel Catalogs
Republic Aviation Corp., of Farmingdale, Long Island
Union Oil Company of California, manufacturers of Super-Royal Triton, the "Amazing Purple Motor Oil."
Federal Pacific Electric Company of Newark
Struthers Wells Corp., producers of Thermo-Flood oil industry components, nuclear marine propulsion components, nuclear equipment, distillation euqipment, sea water conversion, crystallizers and evaporators
Avco Corporation, and their Lycoming Division, makers of aircraft engines
Coca-Cola