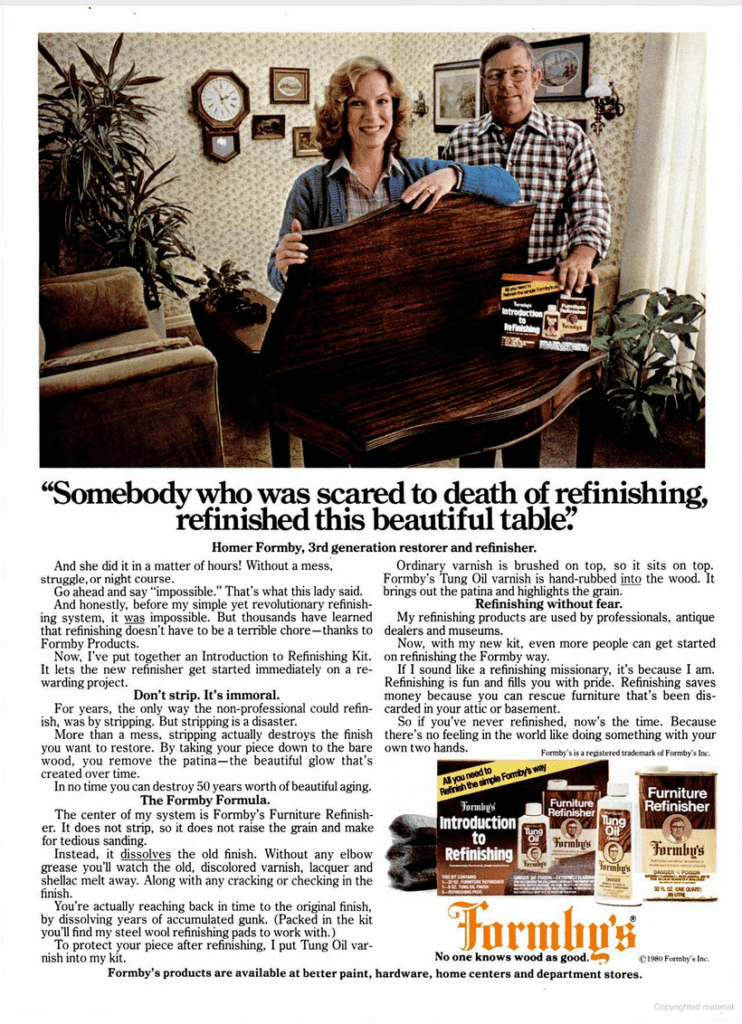 Minwax and parent Sherwin Williams have shuttered the beloved Homer Formby furniture refinishing brand. With the closing, a whole approach to conserving furniture has disappeared.
An online search for the brand, eponymously named by America's most famous furniture fixer, refers customers to a defunct web page for the Sherwin Williams varnish subsidiary Minwax. None of the Formby trademarks at the U.S.P.T.O. have been renewed.
The Minwax page redirect says,"Oops. Formby's is no longer available. But! Have you tried Minwax?"
The genius of Homer A. Formby, and his line of furniture restoration products, was to teach everyday people about antiques and patina. Before there was the American version of Antiques Roadshow, Homer Formby was on television on his ubiquitous weekend TV shows, encouraging Americans to learn the story of a piece of furniture as you figured out how to restore it.
At the time, Formby criticized sending furniture to "dip and strippers" that took every bit of finish off of the wood.
Instead, with the Formby method, you removed the caked on and cracked shellacs and varnish carefully, and then rubbed tung oil into the wood to help bring the piece back to life, and build a new finish. Formby likened old wood to driftwood. Wood dries in the sun and water, and oil is the solution.
The Formby rule? "Don't Strip. It's immoral."
His approach is the opposite of the current trend of painting old mahogany antiques, or stripping other furniture back to blond, so as to imitate faked antiques in the style of shiplap Magnolia or Restoration Hardware. Formby also gave out recipes for the refinishing of wood floors, which today are ruined so often with belt sanders and chemical coatings.
The History of Homer Formby
Homer Formby, a native of Jacksonville, Florida, was a "third generation" (this appeared in many of his ads) antiques dealer and restorer. There is little biographical information on him online. An ancestry search has his birthday in 1924, and that he had four brothers and a sister.

He had his own antiques store in Monticello, Florida, according to tourism guides. From his own restoration work, he developed and sold a proprietary formula for furniture refinishing. He later lived in Memphis, though the company was in Olive Branch, Mississippi, just across the Tennessee border. Formby was a fan of everything rustic, including building himself a Rustic Log Homes kit house.
The company and brand exploded in the 1970s, when inflation drove up the cost of new furniture, and America rediscovered a love of antiques. During the Bicentennial, there was an absolute craze for house museums, history and a "ye olde" look. Further encouraging the trend were period family television dramas like Little House on the Prairie and The Waltons, all of which idealized this simpler time in American history.
The decade was also one of recession and corporate downsizing, when thrifty consumers sought out old antiques to "flip" or keep. Even as late as 1990, during the George Herbert Walker Bush recession, he saw sales go up. In 1990, the Chicago Sun-Times said his business was a "sure fire indicator of the nation's economic health:
"Every time we have a little dip in the economy, our business starts going up. It;s been growing 10 percent a year. In the last few months, we've seen it go up to where we'll probably have 20 percent increase for 1990.
TV Fave as Big as Bob Ross
The Homer Formby brand grew through demonstration TV shows, and free booklets. The Memphis advertising firm Durham and Associates, founded by the late John Durrell Durham, developed practical ads and programs that always had Formby as the spokesman. The programs were not just about using his products; they were practical solutions to things like cracks, missing veneer and water rings. They were eminiently satisfying in the way that Dr. Pimple Popper fixed boils.
Formby, who now might resemble an early hipster in his trademark plaid shirts, also disagreed with the idea of slathering on coatings, and putting on a new finish and stains. His shows were of the same genre as Bob Ross.
Formby's TV productions were half hour shows on weekends at stations across the U.S., where his method was demonstrated. His basic idea? You wanted to do minimal damage to the story of the furniture. None of the shows appear on YouTube, although there are plenty of commercials.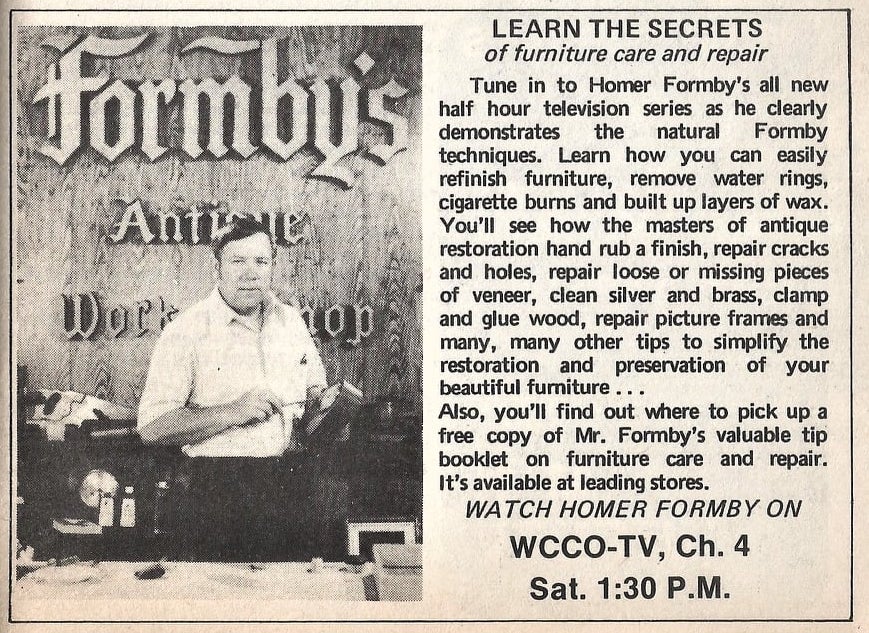 Life in Florida Keys
Formby was not just an entrepreneur and lover of antiques. He should also be remembered for his decades of stewardship of islands in the Florida Keys, including Little Munson Island near Big Pine Key. A Florida Keys history website tells the story:
In 1974, John Spottswood sold Little Munson Island to a Georgia campground owner, County Johnson. Homer Formby, the authority on wood refinishing, wood care and "Refinishing Tips" for 40 years, was the next owner. His better known effort was to provide the island as a home for the "Caribbean Veterinarians Education Trust", a group of 32 doctors to advance the science of veterinary medicine through research and continuing educational courses and limited research facilities for qualified veterinary professionals.

From Keyshistory.org
In December of 1982, he gave the land for what became the Sea Base camp, in the Florida Keys, to the National Council of the Boy Scouts of America. He apparently sold Little Munson to Ben Woodson, who set it on a course to become the Little Palm Island resort. Their website mentions the Formby's as social fixtures in the Keys.
Formby was a true celebrity; he even appeared in TV game show host Wink Martindale's book, Winking at Life. Martindale wrote that he visited Homer and wife Joyce in Memphis.
Other Products & Process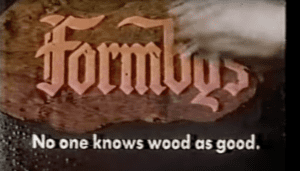 By 1987, he developed Homer Formby's Face Lift, a complete kit that could revive an antique without the refinishing process. There were even colored stains. Minwax eventually acquired the brand; the bottles had the Minwax address of 10 Mountain View Road, Upper Saddle River, N.J.
There was professional criticism for the Formby process; some museum curators blamed him for the overly aggressive restoration of furniture, and the removal of historic finishes. In truth, while some furniture was probably destroyed by amateurs using his products, the real culprit was the use of other strong strippers and scrapers that marred the wood permanently.
There is a slight difference between the practical approach of Formby, and the approach to antiques from true conservators. Formby believed that antique furniture needed be used, and good looking. The antiques restored by the Formby method were usually not museum quality. Keeping a poor finish for the sale of history was not part of the thinking.
In a 1989 Florida Sun-Sentinel article, Formby described his philosophy:
"The idea of rubbing oil into the wood is that when it dries it becomes part of the wood and resistant to everything. If you put anything on the surface of the wood, light will darken the gum base and it will turn dark. The more coats, the more coloring."

Formby also worked with his father in the antique business in Jacksonville. Later, when he went into business for himself, he started reconstituting the finish of antiques because it is important to retain the finish to keep up the value of the piece. "And if the original finish can be reconstituted instead of removed," he says, "you help save the piece. You can't strip a finish and sand it without taking off the patina and color."

Sun Sentinel 1989 article, Furniture Man Formby a Chip off the Old Block
In his absence, a whole school of furniture ruiner spray painters have risen up, to destroy even real mahogany and other rare old-growth woods. While cheap wood deserves to be painted, the whole Tic Toc and Instagram genre ruins many a good piece of furniture with approaches far worse than Formby.
Note: The antiques dealer Harp Gallery in Wisconsin gives a useful roundup of different antique furniture finishes. They say that "No single finish method is right for every piece of furniture, but considerations of cost, durability and beauty are all factors in the choice of preserving and enhancing antique wood furnishings for the future."
Finding the Formby Formula
Online, there are mentions of the actual Formby mixture. It was not complex; the idea for selling the mix was that it was a pain to make, and far easier to buy it formulated properly.
A Fine Woodworking forum discusses it. "It was equal parts of Acetone, Benzene, Xylene (or maybe Xylol) and Tolulene. I think that was all that he mentioned. I am somewhat concerned that there was a fifth ingrediant but I am not positive."
The forum of the International Penturners, had the recipe as this:
From what I have been able to find, my best guess is that it was 25% Acetone, 25% Methanol, 25% Toluene, and 25% Dichloromethane. At least here in Nebraska I think I can still buy all of those materials; however, some of them, Methylene Chloride in particular is quite expensive at $60/quart. I'm sure that the concoction would be really harmful as many of the ingredients by themselves are toxic to inhale and can be absorbed through the skin.

Forum at penturners.org/threads,
Substitutes for Formby Formula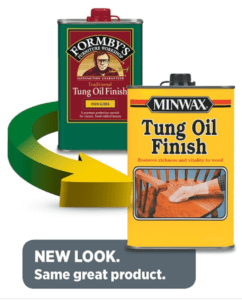 The loss of the Homer Formby brand appears to be the typical problem of a smaller brand that gets lost among a number of larger products at a company. Indeed Sherwin-Williams would do well to revive the brand, and his careful approach to furniture. Bob Ross, a far less attractive person, is not only known for painting, but is a pop culture icon. Formby might be that again too, though the brand does need a spokesman.
Comments on the Minwax replacement for his furniture formulate indicate that it is not the exact thing:
It has cost me at least 4 new color coats to nearly equal the result given me by Formbys. Bring back Formbys refinisher. The Minwax removed much deep seated color staining that Formbys retained. The result is much duller than the work done exclusively with Formbys. With fine antiques, Formbys is mandatory.
I wasted my time and money with this product. I followed the directions exactly as stated but my results were less than ideal. The piece of furniture looks worse than when I started. I guess I will be stripping and sanding after all…
If you thought for a minute that the execs at Sherwin Williams/minwax copied Formbys, you are wrong. This stuff is ok, but not near the level of Formbys. So how does it work? Ok if you have to remove stubborn spots that stripper does not get after a couple of applications. Be prepared with a lot of steel wool and patience. If you have grooves or angles, you will need even more time and patience. Not sure how I will integrate to my use in the future…. But is the last thing I buy. Still tossing up between this stuff and Kutzit…. Which is awful.
There are still a few actual cans of the product available. Today, a search for the product on the Ebay and the like shows numerous overpriced cans, at prices up to $95. Lowe's Home Improvement, the hardware store, shows a graphic that Formby's Tung Oil is now Minwax.