So Circuit City is gone, and it's Best Buy (NYSE: BBY) and Radio Shack (NYSE: RSH). How opportune for Radio Shack, whose stock seems to be in miracle zone, namely above $10 a share.
In August 2007, we wrote on BrandlandUSA some of our ideas for improving Radio Shack. They included bringing back some of its store brands like Archer, concentrating on the male electronics enthusiast and offering education for everyone in how to use new electronics, much as Home Depot (NYSE: HD) and Lowe's (NYSE: LOW) offer Saturday "How to install tile" classes led by sales associates. The idea was to find out the sorts of things that spurred small sales and neighborhood store traffic, and differentiate Radio Shack from the big boxes.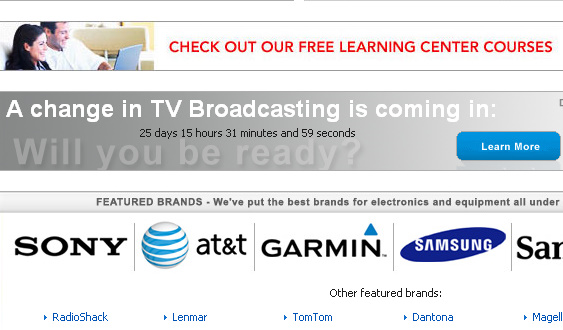 There was one other aspect of the brand that was also being ignored that we mentioned. Namely, Radio Shack's status as a place where the electronics enthusiast could not only buy parts and pieces, but average folk could go in with their questions about AC/DC adapters, and not only get an answer, but plunk down $5 for a part that might cost them $1. The stores would go from being over-merchandised and designed, to a solution-oriented place with lots of plastic-baggie parts and batteries hanging on pegboards, essentially how the store was merchandised (or un-merchandised) in the the era when the company was Tandy.
We got a new comment today on another Radio Shack article from a fellow named Will. I thought it showed perfectly not only the opportunity for Radio Shack, but that they still have a ways to go:
Will: There was a time not so long ago when I spent over $1,200 in a year at Radio Shack and most components were under $2. I do not go there at all now.
This business model was confirmed by no less than Martha Stewart of (NYSE: MSO), though not mentioning Radio Shack by name. I wish I could remember where I read the story, but it bears repeating and is a good example nonetheless. Apparently after hearing Sony (NYSE: SNE) CEO Howard Stringer speak, Martha Stewart raised her hand, with a big tangle of power cords and converters for all of her personal electronics, and said "What can you do about THIS?!" Well, "This" is still around, and Radio Shack can help consumers sort the proverbial cords out. Interestingly, one of the busiest retail stores I have seen lately was a Florida franchisee of Batteries Plus, based in Hartland, Wisconsin.
A look at Radio Shack's website www.radioshack.com mentions all of these points, including that they sell 200,000 items and are the perfect place to buy HDTV adapters. Radio Shack has also moved in the direction of the enthusiast with an Invention Lab where customers win a prize for the most interesting gadget made from all the funky parts found at Radio Shack. And they now offer an online Learning Center where consumers can register for online classes and learn how to set up home wireless networks. This is good, but I don't see evidence of it at stores, which have many square feet of floor space, floor space that could be occasionally occupied by folding chairs for PDA classes and an increased number of racks full of new SKUs.
Radio Shack can still differentiate through product innovation. In the 1970s, its candy colored Flavoradio was almost certainly the inspiration for the original multicolor versions of the iMac. One of my personal favorite products (and one that was in every household with a boat) was the Deskube Weatheradio, a little wood-grained box with piano-key on/off and an antenna on top; it received National Weather Service forecasts. These items were designed by Radio Shack, and were essentially low-tech items. But they were useful, and consumers loved them.
We all know what Best Buy and Wal-Mart are going to do with the closing of Circuit City; sell lots more electronics. But with HD radio and television conversion on the immediate horizon, and radio stations struggling, Radio Shack could have a golden moment. Actual radio station groups including Clear Channel (NYSE: CCO) and CBS (NYSE: CBS), themselves slightly struggling, could partner with Radio Shack to push HD radio. In a time when consumers are cutting back, spending a few bucks for a converter for radios and TVs can free consumers from cable bills.
Radio Shack has one other advantage that it can exploit, even if times get REALLY tough. It can sell stores to managers; many Radio Shack stores are already franchises, some located within other stores.
So there is the opportunity. Radio Shack will just have to seize it in order to get Will, and his $1,200, back.