NEW YORK, Sep 22, 2008 — JetBlue Airways (Nasdaq:JBLU) has set the opening of JFK's restored Terminal 5 for October, and announced retail tenants. T5, the new name for the historic landmark (and Eero Saarinen-designed TWA Flight Center) will have 22 food and beverage and 25 retail outlets with a central 55,000 square-foot dining and shopping Marketplace. (Read our previous post on the restoration Jet Blue Restores TWA Terminal.)
The new hub at this National Historic Landmark at JFK will offer over 50 percent more concession space than JetBlue's current I.M. Pei-designed Terminal 6, which was the former National Airlines Sundrome.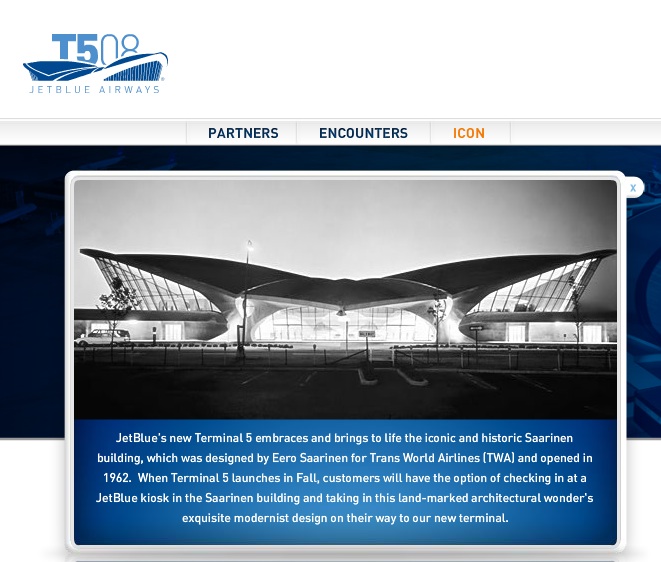 Shopping Experience
"Terminal 5 will provide JetBlue customers extensive and unique options for dining and shopping," said George Sauer, vice president corporate real estate for JetBlue Airways, in a media press release. OTG Management will oversee all food and beverage concessions.
OTG's T5 experience will include nine restaurants, bars and cafes; a gourmet food hall featuring eight quick-serve eateries; grab-and-go gourmet markets; three coffee bars; six bars/lounges; and a gate area program called re:vive that offers table service dining. Through this new concept, customers utilize touch-screen monitors to order meals to be delivered to their gates.
"OTG is determined to revolutionize the airport dining experience and establish a new, higher standard for airport cuisine," said Rick Blatstein, CEO, OTG Management. As a first for an airport dining experience, OTG, who will own and operate each of the T5 dining establishments, assembled a group of New York City's top chefs including Mark Ladner, Lee Hanson, Riad Nasr, Alexandra Raij, Roberto Santibanez and Michael Schulson.
Restaurants and eateries:
5iveSteak With an exciting bar scene and sidewalk seating, 5iveSteak takes a relaxed approach to the classic American steakhouse.
Aeronuova This enticing trattoria features traditional Italian cuisine with a modern translation.
Deep Blue Sushi This popular restaurant and bar at Terminal 6 is getting an update for T5, both in menu and design.
Piquilla, a tapas restaurant
New York Sports Grill With 48 beers on tap and an updated menu, the T5 version of JFK's favorite sports bar
Revolucion is a celebration of the authentic flavors of Mexico, showcasing regional dishes that reflect the spirit of Mexican cooking.
Loft is a large restaurant and bar featuring traditional American fare, evoking the style of the Meatpacking District.
The Food Hall includes Boar's Head, Pommes Frites, Dunkin Donuts, Roma Pizza, Fresco Pasta, Cheeburger Cheeburger and Cibo Express, a sandwich shop with more than 40 sandwiches on the go.
T5 retail will offer retail stores that include Blue Sky Traders, Borders, Brighton, CNBC Newsstand, ExOfficio, Harmony Pharmacy, Lacoste, Muji to Go and Ron Jon Surf Shop. There is also a shop called WFAN, a brand extension of the New York radio station at 660 AM. WFAN will sell a line of sports apparel and collectibles celebrating New York's Professional and Collegiate sports teams.
For information or reservations call 1-800-JETBLUE (1-800-538-2583) or visit www.jetblue.com.