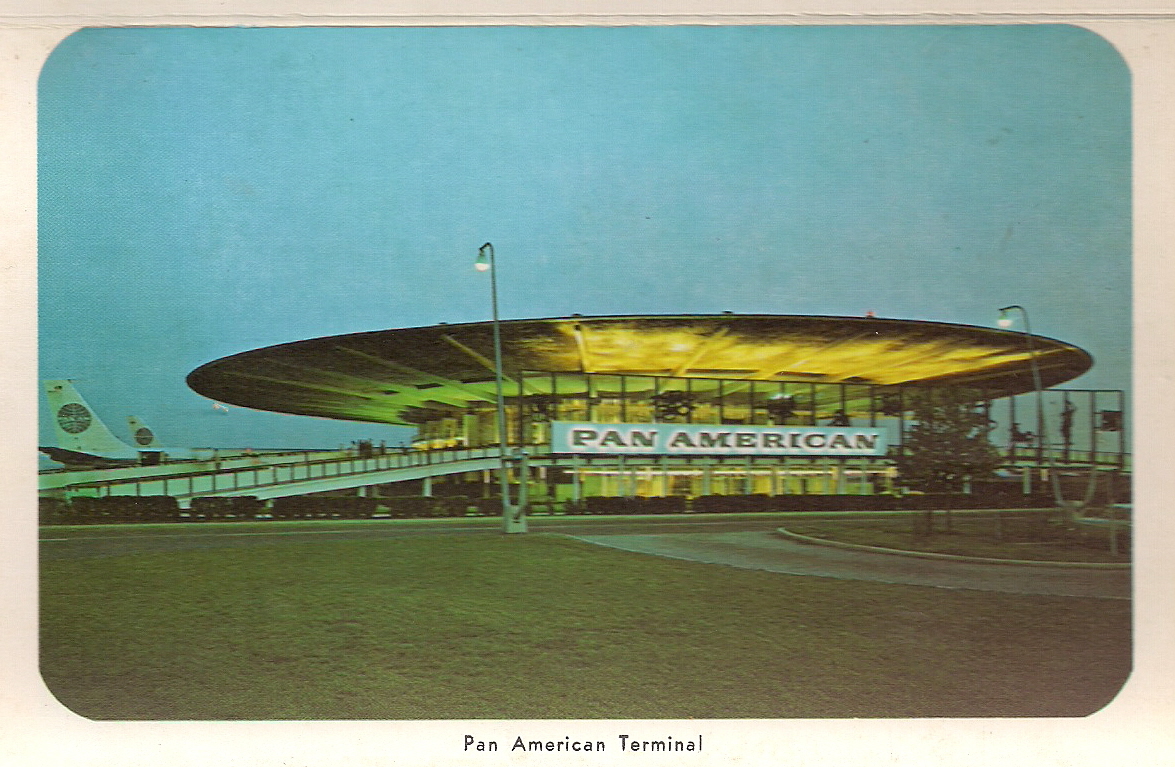 NEW YORK – We read in Crain's New York that the old Pan Am Worldport at JFK might be demolished soon by Delta. The building is one of the great landmarks of aviation, though it has been so abused over the years that few would actually believe it if they toured it.
It's where the Beatles arrived; it was even in the news today as the place where that Cuban hijacker left in 1968; I think then they called it skyjacking. In 1970, millionaire dilettante singer James Brody asked Richard Nixon to come there and talk about world peace. Dozens of great scenes have been enacted in the lobby, perhaps none more frightening than the 1978 return of the remaining, elderly cultists from Jonestown, Guyana. And then there was the arrest of Axl Rose in 1992 at the WorldPort after that St. Louis concert gone wrong.
The terminals, believe it or not, were top tourist attractions in their Catch Me If You Can era. Pan Am's Idlewild terminal was such a snazzy destination that during the Kennedy Administration, Jackie and Caroline left for Italy from the terminal on a commercial Pan Am jet. Likely Caroline got to play in Pan Am's toy-filled nursery, staffed by bi-lingual attendants.
The WorldPort was built in 1961, and designed by Ives, Turano & Gardner Associated Architects and Walter Prokosch of Tippets-Abbett-McCarthy-Stratton. Delta owns the terminal next door, Terminal 2, which was designed in 1962 for Braniff, Northeast and Northwest. Pan Am also had tenants in the building, including JAT, the Yugoslavian airline.
The WorldPort (actually UPS now uses the term for its terminal elsewhere) is of the same vintage as JetBlue's TWA Flight Center nearby, and that building has been preserved, though no one has quite figured out what to do with it. Certainly, it is not as interesting a building as the TWA Flight Center, but the Eero Saarinen building is one of the world's greatest architectural landmarks.
Part of what was so fascinating about JFK was that each of the airline brands had their own branded terminals. TWA was coolest. The most sublime was the Sundrome of National Airlines. This was an I.M. Pei masterpiece of glass that allowed visitors to step into the Sunshine State when they headed into their terminal.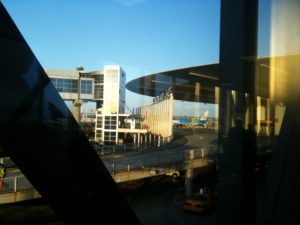 Questions about the building and its future:
How bad? Critics call the building "insufferable" but are its problems beyond fixing? Technology keeps changing, and part of the challenge of the building is that it was built for 707s, but by the time it got just 10 years old it had to adapt to Pan Am's 747s. The other challenge for buildings at airports is that because airport space is limited, you can't leave too many old things around.
Is it eligible to be a National Landmark? As far as we know, that eligibility work has not been done. Even if it is a national landmark, that does not mean it cannot be taken down. What it does mean is that its merits have been weighed.
Are there preservation tax credits if part is saved? If the building is eligible for the National Register, and pieces of it can be utilized in a manner sympathetic to the old, then there are tax credits possibly available. Certainly, much of the building has been destroyed, and a series of renovations have not done well by it. Part of the idea of a building is whether the historic fabric has been destroyed. But if good bits are still there, there might be a case. These questions are not easy, though; someone needs to really look at the structure.
Is there Section 106 review? If a building is eligible for the National Register, and it is threatened with demolition with projects that involve federal dollars, the government goes through a process called Section 106 Review. It basically means that there should be an official process as to whether the building should be demolished. Section 106 review does not always mean that a building cannot be demolished. What it means that there must be a process if it is to come down, more than a decision by the Port Authority and Delta saying that they want it down. If it must come down, it needs to be documented properly, and any pieces that can be saved, must be saved. In addition, there is remediation; that might mean that a replacement building could utilize pieces of the building, such as the Hebald zodiac scupltures that were removed in the 1990s.
Can the Milton Hebald Zodiac be re-mounted? Sometime after Pan Am went bankrupt the first time and Delta took over its European routes, the wonderful Milton Hebald sculptures of the zodiac came down. They are now reportedly in a Port Authority of New York warehouse.
Tomorrow: We will examine the history of the Milton Hebald zodiac and Pan Am's fetish for star designs on its terminals.