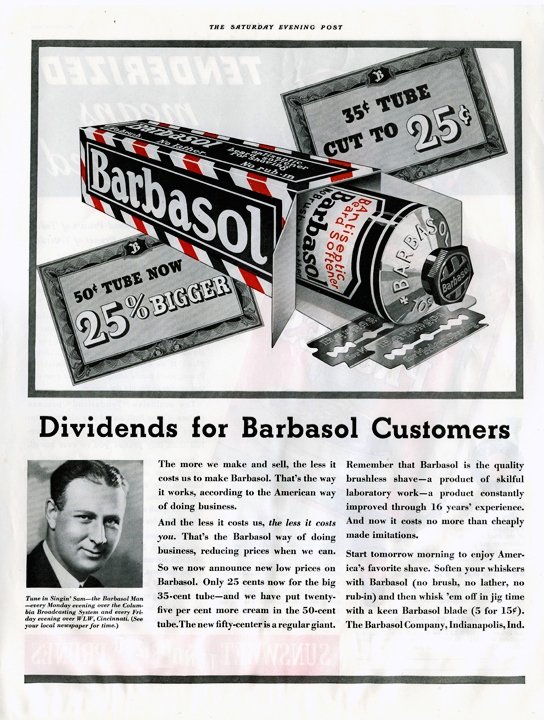 We did some archaeology work, searching up some great American personal care brands at the Dollar Tree. If you like old brands, discount stores like Dollar Tree and Dollar General are a great place to find them.
A few weeks ago, recession-proof classic grocery brands were included in our recent post Top Ten Recession Grocery Brands. But those were just food brands. That inspired us. What brands are American classics that are in our dollar stores?
Turns out there are lots.
Here are a few:
Barbasol. Barbasol is the nation's oldest shaving cream; it revolutionized shaving by freeing men from the tyranny of having to lather up with soap and a brush. Barbasol dates from 1919, when Barbasol Beard Buster was introduced. Barbasol, then sold in a tube, was invented by Frank B. Shields, an MIT professor; it was later advertised by the likes of Babe Ruth and Douglas Fairbanks. Pfizer bought the company in 1960; it was one of a large number of consumer products that the company owned, including Hai Karate, Listerine, Visine, Neosporin and Lubriderm. As Pfizer moved out of consumer products, they sold the Barbasol brand to Perio-Inc of Dublin, Ohio in 2001. Perio has revitalized the brand and is now advertising it again nationally. People swear by it. Unlike many older brands, it is still sold at most drugstores, groceries and discounters.
Certs. Each year it becomes harder and harder to find Certs. Yes, those Certs. Two mints in one. Certs were introduced in 1956, and are now made by Cadbury Adams LLC. Yes, they are two breath mints in one. Watch the commercial below and you will see how Certs became famous. Certs are made with Retsyn. What is Retsyn? It is apparently a mixture of copper gluconate and hydrogenated cottonseed oil; apparently the copper gluconate gives Certs its signature green flecks. One thing that has changed is that the mints say CERTS RETSYN on the side, instead of a big "C."
Ty-D-Bowl. One of the most famous icons of the 1970s was the Ty-D-Bowl Man. The product, invented by one Harry O'Hare, is now sold by Sara Lee House h old and Body Care USA (NYSE: SLE). The slogan for Ty-D-Bowl is "Always there for you" and what Ty-D-Bowl does, mostly, is make the water blue. We are not sure what else it does but it sure is a nice rush of nostalgia to have it blue.
Pepsodent Complete Care. We found some original flavor Pepsodent, in a pretty decent sized 7.2 oz tube of toothpaste. It still tastes the same. First an independent company, it was sold to Lever Brothers in 1944. Unilever recently sold it to Church & Dwight of Princeton, N.J., maker of Arm & Hammer Ba king Soda. Pepsodent was one of the best known consumer brands of the 20th century. Old ads promoted that it had I.M.P. and Irium, whatever that was. Remember, "You'll wonder where the yellow went when you brush your teeth with Pepsodent."
Palmolive Bath Bar. The Palmolive brand of bar soap is apparently still made by Colgate Palmolive, though the bar soap doesn't actually get top billing on their website, which features Irish Spring. Of course, the dish soap of Palmolive is famous, and is one of the top products of Colgate Palmolive. Palmolive soap was once made by Palmolive Peet, which merged with Colgate. Palmolive was once advertised as a luxury product; you can now get three for $1. Other odd soap bar brands associated with Colgate Palmolive include Cashmere Bouquet. Order from them directly at Teebop.com.
Chiclets. While Chiclets are hard to find, you can still find them in a six pack. Chiclets were first made in 1899 by Frank Henry Fleer, the chewing gum tycoon. He sold the company in 1909 and for decades it was part of the Adams division of Warner-Lambert. Pfizer later owned Adams; they sold it in 2003. Today, Chiclets are made by Cadbury Adams, which also makes other gum brands that include Dentyne, Trident, Clorets, Beemans, Adams and Blackjack.