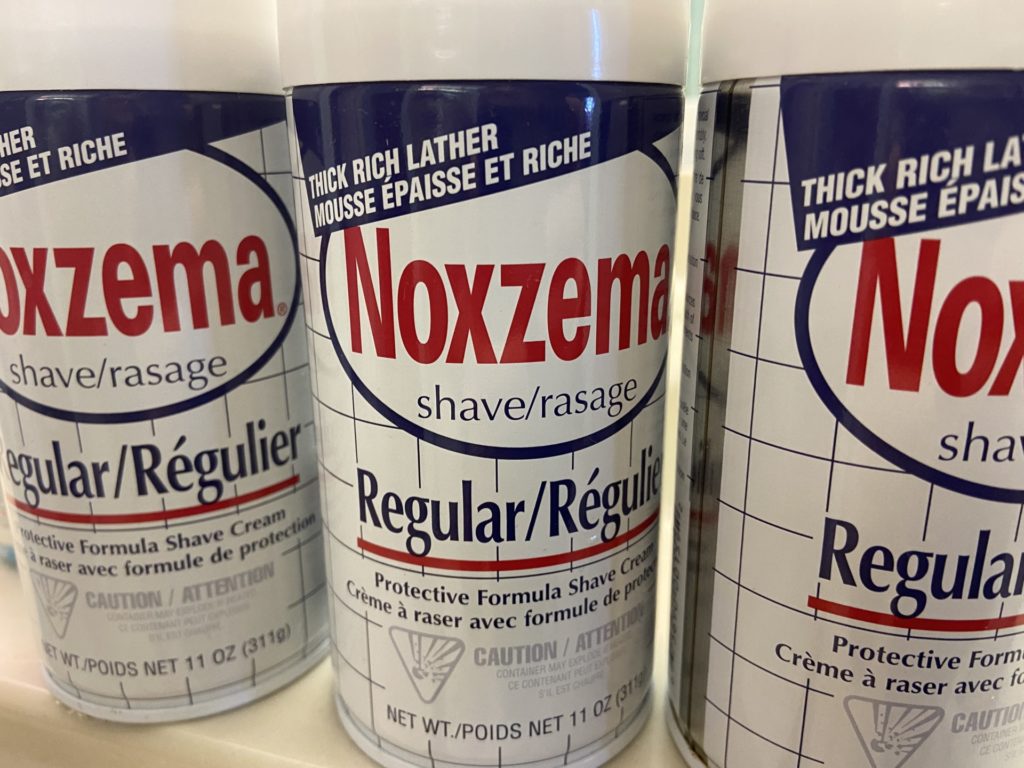 Noxzema Medicated Shave, once a leading shaving cream brand in the U.S., is now apparently discontinued. Supplies of the shave cream online are selling from $30 to $150 a can on eBay and Amazon, as precious as post-Prohibition liquor. They are still available in Europe, however.
The original Noxzema skin care brand of Unilever is very much still alive. The Noxzema.com website for the United States, which shows Noxzema products, has a link to Noxzema Shaving at the bottom, but the link is broken, indicating corporate inattention. Their Instagram page is not well updated; recent posts show a Black Lives Matter type woke platitude. Currently, Noxzema is sold as a face cream and face wash, by Unilever.
BrandlandUSA reached out to Jessica Ostrau at the Unilever media relations office, as well as their general media email address, for comment on the future of the shave brand in the U.S. The company did not reply. Shaving is a major, and growing, category for Unilever. This January, the board of Dollar Shave Club, announced the appointment of Jason Goldberger as CEO effective Jan. 19, 2021 replacing Michael Dubin, who founded DSC in 2011. Unilever purchased DSC in 2011. Perhaps the DSC section would be a good home for a revived Noxzema Shave, aka Old Spice.
As part of the Unilever family, Goldberger will report to Fabian Garcia, President Unilever North America and will be part of the Beauty & Personal Care organization. Sunny Jain, President of Unilever Beauty & Personal Care globally will continue to chair the DSC Board.
Noxzema Shave is still available overseas in multiple varieties. In many countries it is sold by the Sarantis Group of Athens, who reportedly purchased the brand in 2014 from P&G, and now make a version in Greece. Below, the Greek Instagram account of Noxzema, showing a happy father and son in an Instagram post promoting Noxzema Shave. There, the product is called Noxzema Protective Shave.
Born in Baltimore
The brand has had a number of owners. The company started as the maker of a sunburn remedy, Noxzema. It also was said to "Knock Eczema," hence the name portmanteau Noxzema. Entrepreneur and inventor Dr. George Bunting trademarked Noxzema, citing Nov. 1914 as the original first use in commerce for Noxzema Skin Cream. The Baltimore company made the spinoff shave brand a hit, thanks to the product itself, and its advertising. Noxell made many other products; such was the power and halo of the Noxzema brand that its cosmetic Cover Girl was advertised as "clean makeup by Noxzema." The most visible model for Cover Girl was Cheryl Tiegs; the Cover Girl campaigns advertised that "Clean is Sexy" and promoted the ingredients of Noxzema as a central feature. Other Cover Girl models under the Noxzema banner included Jennifer O'Neill and Christie Brinkley.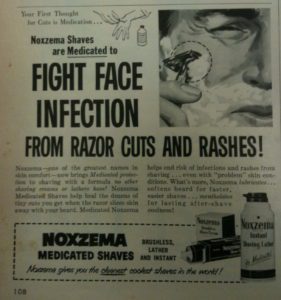 Noxzema Medicated Shave was made from different ingredients over the years, first by Noxzema Chemical Company and the later successor company Noxell. A vintage jar of the shave cream, with no date, is for sale on Etsy. That Noxzema cream, "specially prepared for shaving" for barbers, lists ingredients including carbolic acid, synthetic menthol, synthetic camphor, oil of clove, oil of eucalyptus and lime water. All of it was housed in a cobalt blue jar, the magic brand color of Noxzema. The idea of the shaving cream was not only that it contained ingredients like eucalyptus, but with the aerosol combination, it all tingled when you put it on and shaved. As late as the 1980s, the "clean" factor was so important that Noxzema Shave recommended that you could use the shaving cream as a post-shave lotion.
Noxzema Shave became famous because of its TV advertising, first with Swedish model Gunilla Knutsson. All the advertising was saucy and humorous, but not creepy. Campaigns included:
From 1967 to 1973 Knuttson asked viewers to "take it all off." Guys would also go on TV and say, "Here I am Noxzema. Cream me." If Noxzema creamed your face, the "razor won't."
Later, there were ads with Joe Namath, where we could watch Joe Namath "get creamed."
The late Farrah Fawcett-Majors appeared in ads; then the slogan was "great balls of comfort."
Below, a loop of the advertising, as well as Cover Girl ads by Noxzema featuring Cheryl Tiegs and Christie Brinkley.
P&G Loses Interest
Procter & Gamble bought the brand in 1989, as part of its purchase of Noxell. The company paid $1.3 billion for Noxell. It was in the 90s that the shaving cream fell to the wayside. Cover Girl makeup was the prize for P&G, and they ignored Noxzema Shaving Cream. Later, Alberto-Culver of Englewood Heights, N.J. purchased Noxzema. P&G kept rights to the brand elsewhere. The brand then became the property of Unilever, when that company purchased Alberto-Culver. An excellent history of the saga by Joshula Kennon is HERE, saying that "Procter & Gamble had destroyed what took generations of Buntings to build into a must-have consumer staple."
In the U.S., Noxzema shave was most recently made in Canada and distributed by Universal Razor Industries, under license from Unilever. During the U.S. period of licensing, their were brand extensions, as well, including a utilitarian, and unimpressive, Noxzema disposable razor.
In 2015 the formula apparently changed. A great post on the Badger & Blade forum from 2015 tells the story:
Noxzema has indeed changed the formula in their classing cleansing cream. I know a lot of us love to use Noxzema as a pre-shave, but now, just like they did with their canned shaving cream years ago, they have removed the camphor, phenol and menthol from the Noxzema cream. Here's the response I just received from Unilever:

Thank you for contacting us regarding Noxzema Classic Clean Original Deep Cleansing Cream.
In order to stay competitive in today's market we responded to consumer's requests to improve our product. In addition, the new formula was subject to extensive consumer testing before reaching the retail market place. We were encouraged by the very positive response received from consumers regarding the new formula.

Badger & Blade, 2015
There are other products that may have some of the same characteristics. Recently, Procter & Gamble released a number of retro shaving products, including the King Gillette line. The product line takes a nostalgic look, and includes traditional safety razors with changeable blades, in an echo of earlier decades. They also now sell a Gillette Pure branded shave cream, which comes in a white can, and promises a tingle. Amazon sells the Italy-made Proraso brand shaving cream, which promotes a menthol ingredient.
Below, a slide show of images relating to Noxzema Shave.
1940s Noxzema Shaving for Barbers. Etsy Photo

Original Noxzema trademark.

A 1960s can from a commercial screen shot. SCREENSHOT/YouTube

Farrah advertisement. SCREENSHOT/YouTube

Farrah in the clouds with Noxzema. SCREENSHOT/YouTube

A version of Noxema for sensitive skin.

The most recent package design for Noxzema Shave.

New King Gillette line from P&G, which formerly owned Noxzema Shave.

The Greek version of Noxzema Protective Shave.