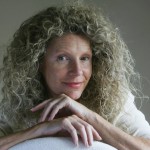 Editor's Note: In our study of American brands, we talked to Roanoke, Virginia writer Elizabeth Barbour, who is the model for the Palmolive hand. While she is not as famous as Madge, her hands do look like the famous ones on the Colgate-Palmolive package.
BrandlandUSA: When did you first become a hand model?
Barbour: My career began in 1981 and took off in 1982.
BrandlandUSA: How did you find out about the possibility of the job?
Barbour: On December 10, 1980 — the day John Lennon was shot — I returned from Paris to New York after a season on the couture runway circuit. Soon thereafter I realized that being a hand model might be a good idea. As an aspiring print model I made the rounds of fashion photographers. I was not classic model material — just under 5'8" with hair much too curly for the era. But as these little go-sees would wind down the question was almost always HAVE YOU EVER THOUGHT ABOUT BEING A HAND MODEL?
This was a foreign concept to me. But in point of fact my professional trajectory was right in front of my face. One day through a funny turn of events I was hired as the hand model holding a hairdryer in a corporate annual report for GE. That pay check made being a hand model a clearly good idea.
My career as a hand model was the result of shoe leather, dimes in pay phones and persistence. I became a fixture of lower Fifth Avenue's phone booths calling for appointments with still life photographers who congregated in the mega-square foot light-rich lofts of the neighborhood. Little by little jobs were mine to do.
As my portfolio grew I courted Ford Models with polite persistence. The agents there weren't sure another hand model was needed. But finally my client base and revenue stream could not be ignored. I was on my way when Ford asked me to sign a contract for exclusive representation by them. Now, appointments and bookings came through Ford. No more phone booths.
I worked almost a decade with Ford as one of the top hand models in the industry and wore long gloves about 24/7. Hours were often long, work could be tedious and physically demanding. Life on sets ran from boring to raucous.
My trade was a lucrative. I found ample spare time and was able to afford travel all over the world. By 1989 my hourly rate for print was $350. with a day rate of $2500. Television was about $1,000 a day but that ramped up with multiple spots and residuals. And the overtime rate was astronomical in TV. I was a member of both SAG and AFTRA. Incidentally, SAG offered fantastic health insurance. Those were the days.
BrandlandUSA: Tell me about the photo shoot.
Barbour: The shoot was on a warm fall day in about 1983 at a studio on lower Broadway near Union Square. Sadly I have lost track of the photographer's name. The set was completely simple with one assistant to help with lighting and loading film. No art director was present. The goal was to reproduce the look of the hand on the label which had been on Palmolive dishwashing liquid forever. I remember it as a child because my mother used it for our bubble baths.
After some attempts at actually holding the wine glass used as a prop in the shot a tripod was set up and a thin metal pipe attached to it. Then, the glass was fixed to the pipe with Bondo and duct tape so that I could freely pose my hand to get the right look. The shoot took two hours. I recall that 8 x 10 film was used — this was in the old days when the photographer disappeared under a black piece of cloth to peer in his large format camera and shoot real film. The photo was subsequently air brushed and that is why the image of my hand holding the glass has an illustrated appearance.
BrandlandUSA: What agency did you work with on the assignment?
Barbour: Ford was my exclusive print agent. Nearly all of the top ten hand models were signed there. Colgate Palmolive was the client—I don't recall whether there was an advertising agency in the mix. In that era NY was king of print advertising and most table-top TV ad shoots—that is why there were few hand models of note in LA. The few of us at Ford worked all the time. It was a singularly unique and terrific gig.
BrandlandUSA: How much did you get paid for it?
Barbour: My two hours on the Palmolive dishwashing liquid set paid $650 and a penny for every bottle sold—just joking!
BrandlandUSA: Do you use Palmolive?
Barbour: I do use Palmolive because it is a great dishwashing agent and it is honestly easy on the hands. What more could you ask? Incidentally, whenever I travel internationally I look to see if Palmolive is there. The Bottle was in a tiny grocery store on Folegandros in Greece last summer. I've found it on sink ledges at restaurants on Caribbean islands. I've seen it in Rome. Palmolive dishwashing liquid — representing my funniest of little secrets — is used everywhere.