One of the best known repeat Christmas commercials is the Folgers "Peter" commercial where college student "Peter" comes home for Christmas in a snowstorm, and makes Folgers coffee with his little sister. While the 1986 commercial hasn't been running recently, it has been shown so much at holiday time that people think it runs. (It also spawned a less beloved redo a decade ago.)
Actor Greg Wrangler was the original Peter. Since his 1986 role, he has, according to his IMDB, starred on soaps like ABC's All My Children and CBS's Young and the Restless, and guested on prime time classics like Friends, Hawaii Five-0 and CSI-NY.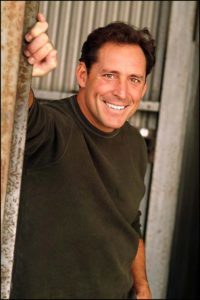 Folgers had roots in San Francisco, but it gained national prominence with Proctor & Gamble (NYSE: PG), which turned it into a national brand. They sold the brand to J.M. Smucker (NYSE: SJM) for $3 billion. Founded in 1850, Folgers is the leading coffee brand in the U.S.
They shot the commercial in 1986. The agency was Cunningham & Walsh, one of the great agencies (it merged into N.W. Ayer, and it is now called Publicis). The agency was credited by John Pepper in his What Really Matters: Service, Leadership, People, and Values with making Folgers a household name.
We caught up with California actor Greg Wrangler, who played Peter and still does commercials (you will recognize him in this Capital One commercial). He has also done soap operas, and dozens of other roles, including He is an actor, known for Hawaii Five-0, All My Children and CSI: NY.
BrandlandUSA: Does the commercial run each year? Or how recently has it run? I feel like I saw it a few years ago, but not sure exactly when.
Wrangler: People constantly tell me they "Saw it just last Christmas". The truth is that it hasn't been on for at least a couple of years now… at least four I think … but the spot ran for over 17 years, so it stands out in people's minds, and memory.
BrandlandUSA: Does its perennial popularity surprise you?
Wrangler: At the time (when we shot it) there was talk…and there's ALWAYS talk about how big the spot would be. But I don't think anyone could have anticipated that kind of longevity. I've always been very grateful for that job. I have a good friend here in Santa Monica…who only lives a few minutes away, and was an actor in N.Y. at the same time, AND auditioned for that spot.. AND almost got it.. AND still gives me a hard time about it.
BrandlandUSA: The commercial came right in the midst of Reagan years (strangely it looked visually like a happy version of the movie Ordinary People). I wonder if its success was its timing, or was it just so darned holiday filled that it was bound to be a success?
Wrangler: Well I remember they were really concerned about the "look" of the spot with regard to it's "timeliness" and when I say that I'm not meaning timing. I'm referring to their choices on wardrobe…the Irish wool sweater, the VW beetle that drops me off.. they didn't want it to be dated… which I think was a big factor in their ability to run in for so long… and then when it became "dated" people started to see it as "Classic"…it DID win Proctor and Gamble's best commercial award.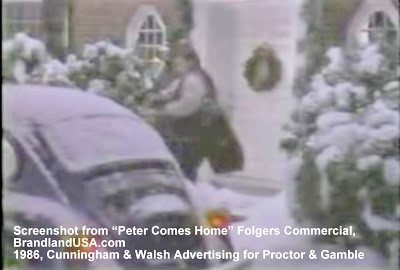 BrandlandUSA: Do you still get residuals if they run it, or has that changed with move from P&G to Smuckers?
Wrangler: Yes, I believe we renegotiated that spot about 4 or 5 times across two to three different agents from New York to L.A. In fact, I don't think my original agency that represented me on that spot is even in business anymore.
BrandlandUSA: Do you drink Folger's?
Wrangler: Yes, I DID for a LONG time, but with the recent rise in all these "gourmet" brands I rarely drink Folgers… but don't get me wrong.. I look at Starbucks like a cult. Still not convinced that there isn't some additive chemical in their product. I used to have a girlfriend who got up at 6 a.m. and would walk down the street in her PJ's with a jacket on to get her Starbucks (before they sold it at the market)….insane!! I like my coffee in bed.
BrandlandUSA: What do you have coming up, or just recently done, that I should plug?
Wrangler: Lately I've been doing some "spokesman" type spots. What I'd really like to do is host a cable show of some kind. My friends always mentions Mike Rowe from Dirty Jobs, and tell me THAT should be me. Is that good?! I wouldn't want THAT particular job. But Jeff Probst (Survivor) and Ty Pennington (Extreme Home Makeover) have the two best jobs in TV, in my opinion.
Below, the original commercial"