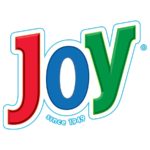 GREENWICH, Conn. – In 2019, Procter & Gamble sold one of its longest held brands, Joy, for a reported $30 million. Since then, JoySuds LLC has reinvigorated with brand with new packaging, consistent social media, and usage-focused marketing.
This summer, it came out with its first three-part dishwashing gel pak, Joy Blast. Joy Blast has a degreasing agent, rinse aid and powder detergent while also fighting "negative effects of hard water minerals."
Since its creation, Joy had been one of the best known dish soap brands of P&G, and was reportedly the first liquid dish soap sold. The ads for joy in the 70s made the phrase "I can see myself" part of the culture. The guest came over, looked in the plate. It was so clean, they could see themselves in the reflection. Kids repeated the phrase too; it became a national thing.
The classic Joy commercial is below.
Throughout much of the life of the product, marketing also focused on the "lemon fresh" smell of Joy. But with P&G's 1973 introduction of Dawn, Joy began to take a back seat.
The reality was simple; consumers were now seeing a dishwasher as an essential part of the kitchen. And so fewer plates were getting washed in the sink. Some wealthy households did not even have dishwashers; with fine bone china, you did not want to put it in a dishwasher.
As consumer habits changed, what still got washed in the sink were pans, and it was Dawn, not Joy, that focused on grease cutting.
In recent decades, Joy has been marketed for its lemon scent, which was an ok proposition at a time when moms were spending lots of time at a sink.
The brand also suffered from women leaving home for work, and the disappearance of household help. Procter & Gamble not only owned the space around soaps, it owned the soap operas, of which Joy was seen in exclusive commercials viewed by maids, homemakers and hung-over college students. When the soaps died, so did an avenue for the products.
In the last two years, JoySuds has come up with new marketing, new packaging, and an optimistic tone that befits the long history of the brand.
"Though this is a new product, we wanted to preserve the core traits that consumers associate with Joy," said Mike Cassetta, President and CEO of JoySuds. "Joy is a household name with a long-standing reputation for high quality cleaning at a value price, and we believe Joy Blast is the next logical extension of that."
P&G Gleanings Strategy
Procter & Gamble is to be commended for its sale of underutilized brands. What has happened with the sales of these brands has been a universe of spin-off companies, creating value out of an underutilized asset. Many companies tend to bury or hide their underutilized brands. Because P&G has a strong pipeline of new products, the languishing older products either get reinvented, or sold.
This practice might best be explained as a gleanings strategy. The idea of gleanings came from the Hebrew Bible, where Deuteronomy and Leviticus state that farmers should leave the unproductive edges of fields unharvested.
The idea of gleaning benefits both parties. The rich have a method of keeping the fields in check, and keeping focus on the larger picture. All the while, the smaller local parties gain with something unprofitable for the rich. All of the community gains, as prosperity is spread wide.
For instance, The J.M. Smucker Co. owns the former P&G brand Folgers. P&G merged the Folgers coffee business into much smaller The J. M. Smucker Company in an all-stock reverse Morris Trust transaction in June of 2008, in a $3.3 billion deal. The company had previously sold Crisco and Jif to Smucker. Smucker, in turn, sold Crisco to B&G Foods in 2021.
At the time of the Folgers sale, A.G. Lafley, Chairman of the Board and Chief Executive Officer of Procter & Gamble, laid out the gleaning idea, though it was not named as such. "Strategically, P&G has exited certain categories in order to focus on our core businesses and enhance the growth profile of the portfolio," said Lafley in a P&G release. "Smucker has proven to be an excellent steward of Jif and Crisco since taking ownership of the brands from P&G in 2002 and I am confident that Folgers will continue to thrive as part of The J. M. Smucker Company."
Colgate Palmolive has only recently begun to seriously revive brands like Palmolive, though it has ignored classics like Cashmere Bouquet, which was the nation's first mass marketed scented soap, debuting in 1872.
P&G Brand Strategy Evolves
P&G was not always so wise with brands that fell by the wayside. Some of the BrandlandUSA insights into P&G's changing brand strategy over the last decade:
Below, a typical item from the Instagram feed of Joy. They are focusing on all the other possible uses of dish soap, such as glasses cleaning, grill cleaning, and as well as some creative uses, such as how kids can make stained glass type window art out of Joy, glue and food coloring.
About the Company
JoySuds was formed in November 2019 to acquire the Joy and Cream Suds brands for the US, Canada and certain other Latin American and Caribbean territories from the Procter & Gamble Company. JoySuds is focused on reinvigorating the distribution and product offerings of both the Joy and Cream Suds brands. The Joy brand continues to be sold by P&G in other countries.